No7 [Book] The best place to drink in the world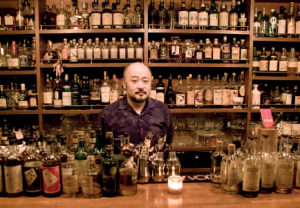 According to author Chris Bunting, Tokyo has a lot to offer the curious drinker.
Is Tokyo the best city for booze in the world? English writer Chris Bunting is pretty sure it is. People outside Japan probably would not agree, but the Tokyo-based British journalist has gathered a huge amount of information to back up his opinion. This information is now available in his book, "Drinking Japan," that was published in 2011 by Tuttle.
The author calls himself a booze fan more than a real expert, but after spending a year and a half focusing on the subject he certainly has many stories to share. "It was a bit of a voyage of discovery," he says. "I think the time I spent in Okinawa and Kagoshima getting to know awamori (distilled rice spirit) and sweet potato shochu was the most eye-opening. I hadn't realized how deep the distilling traditions went in the south of Japan and touring those distilleries and trying those drinks was really fun". Bunting thinks that Tokyo in particular is a unique drinking place when compared to other cities. "More than unique," he points out, "I think it's better. I realize that many people are going to disagree with me on that point". Beauty is in the eye of the beholder, after all, and Japan would not be a contender on every criteria (cheapness, for instance), but there is little doubt that it does offer exceptional riches for the drinker at the moment.
"The two things that really blew me away were the breadth and the quality of the drinking experiences on offer," he says. "The whisky bars are just phenomenal. I've heard it described as the 'single malt drinker`s heaven on earth.' Also, there have been serious debates over whether the Japanese cocktail scene is the best in the world, and there are rum and tequila bars with selections that are jaw-dropping. Let's not forget the craft beer pubs, wine bars, etc". That turns out to be only half the story because there is a whole world of superb alcohol that is almost completely inaccessible anywhere else. "Once you start to immerse yourself in the endless variety of the sake scene, the many types of premium shochu, and the island of Okinawa`s awamori tradition, you begin to realize the phenomenal energy of Japan`s drinking culture".
According to Bunting, one of the things that makes drinking in Japan an unforgettable experience is seeing the bartenders in action.
"They truly are perfectionists. They have a real sense of vocation and are devoted to good alcohol. I'm not saying that bar staff in other countries do not have similar commitment, but to give you an example, here they don't just pour you a martini. Their attention to detail is such that it takes up to 20 minutes to make one".
There are a few things a dedicated drinker should not miss while in Japan. "Japanese whisky has been justly praised worldwide, but I would also urge people to try out Japan's indigenous spirits, starting with sake. As a specific example of what the world is missing, I would pick out koshu (awamori that has been aged for at least three years). Okinawa has a centuries-old tradition of aging their alcohol that is quite distinct from the techniques used in the West, and the variety and richness of the spirits it produces is definitely worthy of notice. If we are talking about experiences in a broader sense, then I will be a bit boring and advise visitors to seek out a really traditional izakaya (pub). There are so many other types of drinking places to try out, but to come to Japan and not experience an izakaya would be a shame".
Bunting recalls how researching his book often put him in some funny and embarrassing situations. "It was pretty much a constant embarrassment," he says. "I was trying to find out about people's lives and their businesses with some pretty mediocre Japanese language skills, so it was an interesting experience, but I think I bemused a lot of people along the way. Perhaps the worst moment was when I was in a bar talking to the owner about featuring it in the guide when a big fat rat ran across the floor. I had to continue the conversation with a straight face and then quietly find another bar that I liked to fill that space in the guide. I'm not sure he saw the rodent". It has been observed that many Western men in Tokyo drink way too much. Bunting somewhat agrees. "I would say that there are men (and women) in every major city drinking way too much, and I think it is true that there is an issue here. I've not really thought about this seriously, but I suppose part of the issue may be that many people are meeting up with fellow foreigners in central Tokyo, and that the main focus of the places where they are meeting is drinking. If we were in our home countries we might have slightly less centralized social lives, based more in the suburbs and in places that were not devoted to drinking".
I asked Chris Bunting what his top three bars in Tokyo are. Here are the three drinking establishments that should not be missed.
The Aldgate
3F Shin Iwasaki Bldg, 30-4 Udagawa-cho,
Shibuya-ku, Tokyo
This is a super little British-style pub with 19 beers on tap, some of them from the U.K. (e.g. "Abbot Ale," and "Old Speckled Hen"). This is also a good place to start your education in Japanese craft beer. "Aldgate Ale", for example, is made by Swan Lake beer in Niigata prefecture specifically for this pub, and is justly famous for its refreshing balance of caramel sweetness and hoppy, citrusy bitterness. Of course the British atmosphere would not be complete without The Aldgate's famous Cornish pasties – big bombs of delight filled with good-quality meat and potato in a pool of spicy beans.
Shusaron
2F Keikyu Shopping Plaza Wing Takanawa West,
4-10-18 Takanawa, Minato-ku, Tokyo
This is, quite simply, the best place in the world to drink aged sake. Owner Nobuhiro Ueno has just published the definitive book on koshu, and here you will find a selection of 100 types. The taste of koshu tends to be much richer than average un-aged sake. Beginners are advised to start with Shusaron's excellent nomikurabe setto (tasting sets, 1,500 yen and 2,400 yen), which offer three different types of aged sake.
Shot Bar Zoetrope
3F Gaia Bldg. No. 4, 7-10-14 Nishi Shinjuku, Shinjuku-ku, Tokyo Zoetrope is the best place in the world to drink Japanese whisky. Over 250 whiskies from every distillery in Japan line its shelves, as well as more than a hundred other weird and wonderful Japanese alcoholic drinks, including Japanese rum, vodka, mead and even grappa. Owner Atsushi Horigami recommends the "Yoichi 12-year-old single malt" (quite smoky and with a lot of presence) to people who really know about whisky. For people with less experience "Komagatake 10-year-old" is quite easy to drink and very refined.
G. S.
Photo: Chris Bunting