No15 [Record] Great dishes in little boxes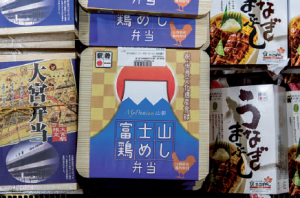 There exist approximately 3,000 varieties of ekiben across Japan. Zoom Japan is going to let you in on which ones are the best.
Jérémie Souteyrat for Zoom Japan Our regular readers will know by now that at Zoom Japan we love to travel by train and will never miss an opportunity to discover a region in this way. When we go by rail we always treat ourselves to the delicious ekiben sold in the various stations along the route. All our journeys have allowed us to try out a huge variety of dishes while taking in the beautiful scenery. So here comes a selection of those that we thought were the best. On the JR Shinetsu line between Takasaki and Niigata, ekiben can be seen everywhere but if you were to pick only one, it would have to be the Toge no kama meshi (900 yen), which can be translated as 'Mountain pass rice pot'. This incredible lunchbox is sold at Yokokawa Station and consists of chicken simmered in delicious broth, with fresh, lightly cooked vegetables served in earthenware in the shape of a small Japanese cooking pot. It is served hot and is the perfect dish to eat in this chilly mountain region. Lovers of ekiben stop at Yokokawa to buy some from the platform- side shop that has served high quality meals ever since it opened in 1957. To taste Kakimeshi (an oyster based dish costing 900 yen), you need to get on the JR Nemuro line in Hokkaido that connects Takikawa and Nemuro via Kushiro. This ekiben was first sold at Akkeshi Station (between Kushiro and Nemuro) because the oysters used come from Lake Akkeshi and it has developed a strong reputation over the decades. Served on a bed of rice cooked in a lightly spiced broth, the oysters have been simmered in a slightly sweet sauce and literally melt in your mouth. It is a moment of pure pleasure as you enjoy the beautiful view of the Pacific Ocean from the train while eating this epicurean delight. Last but not least, we also enjoy one of the most classic ekiben. You can buy Anago meshi (a conger-eel based dish costing 1,470 yen) in Miyajima Station on the JR Sanyo line. It has been in existence for over a century but you can never get enough of the grilled conger-eel delicately laid out on a bed of white rice. The presentation is very simple but the flavours are particularly tasty and this particular recipe is so popular that many stations along the Inland Sea offer variations of it.
O.N.
Photo: Jérémie Souteyrat