No17 [Interview] Easy-Peasy Sushi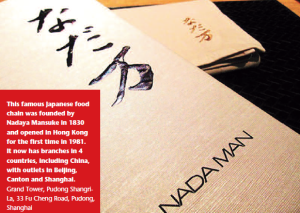 Many foreign chefs travel to Japan to learn the techniques of preparing traditional Japanese cuisine.
The rising interest in Japanese cuisine around the world has led many international chefs to study washoku's rigorous techniques, and the most serious ones have gone all the way to Japan in order to learn Japanese cooking from its source. One of these dedicated kitchen samurai is Pierre-Maël Belaifa, a 37-year-old chef from St Barthelemy, a French island in the Caribbean Sea.
How did you become a chef?
Pierre-Maël Belaifa : When I was still young there were two things I loved: cooking and children's picture books. Following my parents' advice, I decided to become a chef, and at the age of 17 I began to work in kitchens. I was lucky enough to learn cooking from some of the best chefs as I worked in a three-star French restaurant. After that, a friend opened a cocktail bar which served sushi and asked me to work there.
Why did you decide to study in Japan?
P.-M. B. : In St. Barthelemy we like sushi very much but very few people know the real thing. Even the chefs who work in sushi restaurants usually learn the trade by watching others. So when I decided to learn sushi making, I thought the best way was going to a sushi school in Japan and studying with some of the best local chefs. There are a lot of sushi schools all over the world but I believe that if you want to become a real sushi chef, the best way to learn all the secrets and the real skills is to go to Japan. That's why I went to the Tokyo Sushi Academy (TSA).
How was it like at the TSA?
P.-M. B. :Working at the TSA for two months was awesome! I met some great teachers, sushi chefs and amazing classmates from Japan, Taiwan, Malaysia, Mexico, Guatemala etc. It was really tough, even for an experienced French chef like me, but it was definitely one of the best experiences in my professional life. We used to work five days a week, from 9.00 a.m. to 4.00 p.m. During class we learned different skills, like how to shape the rice base, how to make a roll or slice sashimi. We generally used the rest of the day for training at the academy or even at home. To get the certificate, we all needed to pass the final test, which consisted of making 18 nigiri-zushi in three minutes.
What is the most important thing you learned?
P.-M. B. : For a sushi chef, attention to detail is the most important thing. The way we use the knife or cut different fish, each move we make is repeated until with get it perfectly right. That's why we need to train so hard. We want to be perfect. Basically you can compare sushi making to martial arts. Also, Western chefs cut most fish in the same way, but a sushi chef applies a different technique depending on the fish he is cutting. The most surprising thing about sushi is how fast you can progress if you practise every day. When I started, I was barely able to make 12 nigiri in three minutes. I thought I would need ten years to make the 18 pieces required to pass the final exam, but after two months I was able to make 21 pieces. There is no secret, only training hard every day.
Didn't you find the course a little expensive?
P.-M. B. :You have to consider that about a quarter of the cost covers the ingredients we need to practise. Each student is provided with his own fish, and that doesn't come cheap. When you add in all the rest, it's not all that expensive. It is well worth it though.
Any future dreams?
P.-M. B. : In a few years I'd like to go to Tokyo again and show my sensei at the TSA how much I have improved.
Interview by G.S.
Photo: Nadaman