No17 [Interview] Shinkai Makoto's words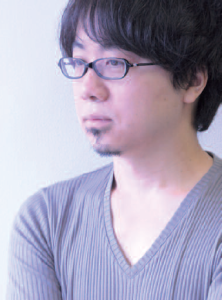 The director of The Inner Earth and Realm of Agartha signals his comeback with The Garden of Words.
His first work, The Place Promised In Our Early Days was enchanting, 5 Centimetres Per Second was touching and The Inner Earth and Realm of Agartha was intriguing. Shinkai Makoto is back with The Garden of Words, a deeply moving film about maturity.
What was your inspiration for this movie?
Shinkai Makoto: Firstly, I wanted to make a movie about the rain. I also knew a park that I often went to, and where part of the film takes places. These are the two elements that made me want to make this film.
The Garden of Words is completely different from The Inner Earth and Realm of Agartha. did you want to return to your roots with this film?
S. M.: After The Inner Earth and Realm of Agartha, I had three projects in mind. The first was intended for a young audience, the second was a science fiction story and the third would have taken place in a world similar to that in 5 Centimetres Per Second, because many fans liked it. I submitted these three ideas to my producer and he picked the last one, The Garden of Words. Then again, I was not aiming to distance it from The Inner Earth and Realm of Agartha; I just thought about what I wanted to do. There was not the slightest intention of returning to my roots. Every time I produce a piece of work, I ask myself many questions afterwards about what I have just done. I do this after each production and did so for The Inner Earth and Realm of Agartha and for 5 Centimetres Per Second. If I hadn't made 5 Centimetres Per Second, I wouldn't have made The Inner Earth and Realm of Agartha. I'm more interested in how my drawing and script writing is developing. Each time I make progress and then feel capable of moving on to something different. So I didn't feel like I needed to react to the critics who said that The Inner Earth and Realm of Agartha didn't resemble what I usually do. On the contrary, I took advantage of the techniques I acquired while making those films to start The Garden of Words and my ambition was to use this film to improve those skills even further to use in other films in the future. Like I said before, of the three ideas I had after finishing The Inner Earth and Realm of Agartha, one was going to be a film for kids in a style similar to Miyazaki. I really
don't reject the use of that style, and would like to explore it more.
The Garden of Words is quite short, which is rare for animated films nowadays. Was it planned that way?
S. M.: When the project was launched, I did indeed plan a medium-length film. The story takes places over a short period of time, between 3 and 4 months, from the start of the rainy season and the end of summer. A medium-length film was long enough to tell the story of this encounter between a high-school student and an older woman. On the other hand, the length was a problem when marketing the film, it's practically impossible to screen a 46-minute film at the cinema and my producers knew that too. Nevertheless, it was interesting to face the challenge and convince the cinema to show it. I didn't want to make a 90-minute film just to comply with distribution demands. So we developed various strategies in order to ensure its release. In the end, we decided to launch the screenings at the same time as the DVD and Blu-Ray releases, as well as rentals in video-clubs and VOD. The film's quality had to be perfect in order to encourage those who had bought the DVD to go and see it on the large screen. Fortunately it turned out to be a success as sales both of the DVD and tickets were good. Some people bought the DVD first and then came to see it at the cinema and those who enjoyed the film on the large screen bought the DVD to watch it at home.
You found a miraculous solution to save Japanese cinema…
S. M.: No, no (he laughs). But an increasing number of animated films might be distributed this way. We were able to prove that it's a successful strategy.
You were talking about the importance of quality earlier. Your film is of such good quality that we sometimes wonder if you were tempted to shoot some real-life scenes. Did you think about it?
S. M.: I don't think I'd be good at that. I'm sometimes asked to do so but deep down, I know that's not what I'm good at. Yes, my films are very realistic, but all the characters are hand drawn. When filming live action shots the film belongs both to the actors and the director. That is why the casting is extremely important. I prefer to work behind a desk and I really don't see myself directing actors on a set with a loudspeaker. This doesn't mean I don't like directing actors; I do when we record the voices. And that's a very important point for me. The human voice is what interests me the most. In all, I'm just better suited to animation.
What is the theme that you wanted to develop in The Garden of Words?
S. M.: I wanted to explore maturity. I, myself, am 40 years old, but I still have this childish side and wonder what it means to be adult and mature. I think it's a subject that interests lovers of animation and that is why I decided to bring these two characters to the screen. The first is a 27-year-old woman, an adult, but someone who has trouble acting as one. And the second is a teenager who wants to become an adult. The adult has difficulty in coming to terms with herself as she encounters so many problems. This is what Yukino has to face up to; she's no longer even able to go to work.
And what about Takao, the teenager?
S. M.: I wanted him to have a real passion in life. I chose handicrafts because it requires a lot of personal investment and maturity to succeed. I wanted him to be a shoemaker because it's visually interesting. It's also something useful that helps others walk. From that starting point, I did some research about this occupation and met quite a few shoemakers, who gave me a better idea of their world. When I found out that they work without shoes, I became aware of the fetishist and erotic dimension of feet. This fitted well in a story between a teenager and an older woman. From then on, I willingly included erotic scenes in the storyboard.
Interview by G.B.