No17 [Cooking] Su-no-mono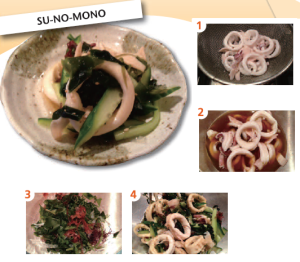 Su-no-mono
The ultimate pallet cleanser, 'su-no-mono' is an understated gem of Japanese cuisine. Refreshing and healthy, it is a perfect substitute for a conventional salad. Use of rice vinegar helps stimulate the appetite and helps our all-important digestive system. Typical ingredients are sliced cucumber and wakame (seaweed), they are delicious on their own but an addition of squid makes the dish go the extra mile. If you cannot get hold of fresh squid , try cooked prawn or crab meats instead. Enjoy cooking!
Ingredients:
– 3/4-1 cucumber
– 1 squid
– dried wakame or mix vegetable salad
– 1 tsp sea salt
Sauce
– 2 tbsp rice vinegar
– 60 ml Katsuo dashi soup stock
– 3/4 tbsp Light soy sauce
– 1/2 tsp brown sugar
– 1 tbsp mirin
– Yutaka Japanese rice vinegar
– Yutaka white roasted sesame seeds
– Yutaka yuzu citrus seasoning
How to prepare:
1. Cut the ends off the cucumber and cut it in half lengthwise. Scrape the seeds out with a spoon and then slice the cucumbervery thinly into (2mm) thick half moon shapes. Place into a bowl, sprinkle with salt and mix well. Leave for 5 to 10 mins. Squeeze the cucumber very well with both hands and toss with the wakame and mixed vegetables.
2. To prepare the squid, remove the tentacles and clean with tap water. Slice them into 1cm wide rings. Fill a pot with water and bring to the boil. Add the squid and cook for 2-3 mins until it turns milky white. Drain and pat dry with paper towels.
3. To make the sauce, put all the ingredients into a small bowl and mix together. Make sure to let it cool down in the fridge. Put the cooked squid into the sauce and marinate for 10-15 mins.
4. Place the cucumber and mixed vegetables into a small bowl then pour the sauce and marinated squid on top. Garnish with sesame seeds.