No20 [Movie] Tsukamoto's hard-hitting film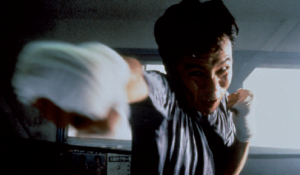 Third Window Films, true to its habit of delivering some of the best Japanese films to grace the silver screen, presents Tokyo Fist.
Tsuda meets Kojima again by chance, a friend he's lost sight of for years. In their time apart he has become a professional boxer and worms his way into Tsuda's relationship with his partner. Director Shinya Tsukamato's own brother had also become a professional boxer, which inspired him to make a film about boxing. At first he wanted to produce a documentary to reveal a boxer's training and then his fights. Ultimately though, he met Isaishi Saito who wrote the script, or more accurately, inspired him to introduce a love triangle into the story with boxing as a backdrop. As with his other films, which are very personal, this Japanese director plays one of the leading roles and he gave the part of the professional boxer playing opposite him to his own brother. Tsuda is an ordinary guy who is surrounded by modern comforts. His life is organized around his daily grind, all work and no play. There is no pleasure in walking through the streets of Tokyo when you're imprisoned on all sides by never ending buildings that wall you in and crushed by the city's unbearable heat. Having to go door to door selling insurance, our hero is at the end of his tether and is completely exhausted! In the unforgiving modern city, Tsuda's mind wanders far from his body, as if he were sleepwalking through life. A chance encounter with boxing will save that life. Work-outs and throwing punches remind him that he is still made of flesh and blood and provide a way for our "hero" to escape the lethargy that has overwhelmed him. As for his apparently dull wife, she slowly reveals her darker side and masochistic tendencies, through tattoos or body piercings. Naturally, she becomes attracted by the boxer Kojima's primal rage rather than her husband's submissiveness. All this gives Tsuda another reason to throw himself headlong into boxing, although he doesn't quite understand what his wife is searching for.
The format and themes from Tokyo Fist might appear complicated. The third character, the boxer Kojima, in addition to his shared past with Tsuda, introduces elements that might appear strange at first. But everything comes together; everything demonstrates how Tsuda fell into a sort of apathy in the change from being a student to becoming an employee. His rage, sparked by a tragic event, has disappeared and he continues to live on without any goals in his career or as a human being. Waking up from this state will take him longer than for his wife, who doesn't hesitate to land her punches when she hits him repeatedly, as if they were merely to gently wake him from a doze. Of all Shinya Tsukamoto's films, Tokyo Fist is his biggest success. Though incredibly hard-hitting, it doesn't forget to tell a story or to develop ideas that the director attempts to make accessible to the viewer. Yet Tokyo Fist is not an easy film to watch. Violence is always present and never fails to move the viewer. The characters on screen keep taking the blows and in the same way, so does the audience sitting comfortably in their seats. As in Tsukamoto's first six long feature films, Tokyo Fist showcases his unique his cinematography. Electric, hard-hitting, raging and furious, but also intelligent. The camera is rarely steady; nearly always shifting, though maybe less in Tokyo Fist than in Bullet Ballet. As with Testuo 2, his previous feature, or earlier still with Gemini, the images take on blue and red hues to underline either the coldness or the sensual nature of the places or situations. Released for the first time overseas, Third Window Films introduce us to a beautiful edition of this film available on both DVD and Blu-Ray, with the director's exclusive interview as a bonus.
Odaira Namihei
Reference
TOKYO FIST, by Shinya Tsukamoto with Shinya
Tsukamoto, Kahori Fujii, Koji Tsukamoto. Third
Window Films