No64 [PRODUCTION] Japanese sake, brewed in the UK
A venerable Osaka sake brewer decided to build a new brewery in the bucolic English countryside.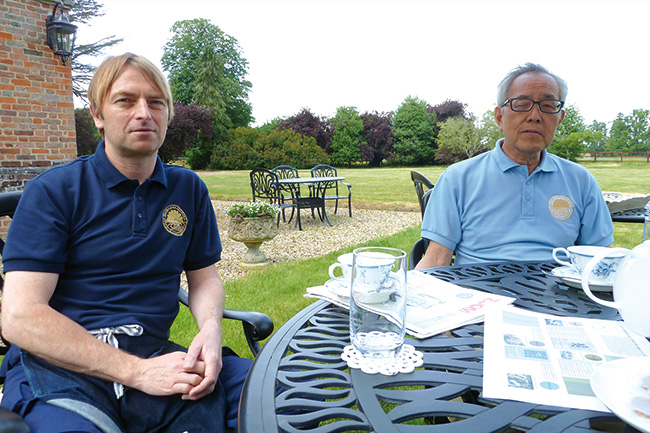 Owner & founder, Yoshihide Hashimoto (right) and sake brewing manager, Tony Mitchell.
It was two years ago that London's sake enthusiasts first began to hear rumours about the Dojima brewery. It was whispered that the son of a long-established Osaka sake brewer was planning to open a brewery in the UK. They were going to import all the equipment and ingredients they would need – rice, koji, yeast, a rice-polishing machine – from Japan. It sounded like a massive and expensive project. From my experience as a sake expert, they had set themselves a huge challenge. Variables like water, temperature, humidity, climate, and personnel all play vital roles in the making of sake. And even before that, there is a massive difference in regulations and the ways things are done in the UK and Japan. The founder, Yoshihide Hashimoto, wanted to build his brewery next to a historic manor house, and gaining approval took several years. All of these problems delayed the start of brewing dramatically.
Hashimoto certainly managed to locate a beautiful site for his brewery, about 70 miles from London, near the city of Cambridge. The manor house was built in 1790, an old farmhouse with vegetables, apple, pear and fig trees, and two pigs as pets. On the 75 acre property, they have built a brewery with big glass windows in the shape of the Japanese character for sake (酒) near the entrance. To see this character floating over the bucolic English countryside, I felt certain that the Osaka comic spirit is here.
I entered the brewery with Hashimoto and his sake brewing manager, Mitchell. Mitchell had worked as a sake brewer at the Wakatake-ya Brewery in Fukuoka. He lived in Japan for ten years and speaks fluent Japanese. As he showed us around, I asked Mitchell about the biggest challenges he has faced in trying to make sake in the UK. He replied, "the weather right now". The ideal temperature for brewing sake is normally around 5°c. But it was 22°c on the day I visited in June. He was having to use a crazy amount of ice, so his Japanese ice-making machine was working overtime.
But he said that the most important step in the sake making process, the making of koji rice, had gone smoothly. The koji mould had been added to rice and was inoculating it just the way he wanted. Like most sake brewers, Mitchell was checking his koji rice every three hours, day and night. Numerous sleepless nights and unwavering dedication had led to his first 50% polished rice sake, Yamadanishiki, being a great success. The taste was even better than they could have hoped for. With its soft and gentle aroma and clean delicate taste, it will make a great pairing for delicate fresh sashimi or lightly smoked salmon.
They import all their rice, Yamadanishiki and Akita Sake Komachi varieties, their koji and yeast from Japan. The day we visited, Hashimoto was making sake with Yamadanishiki rice with a 70% polishing ratio. The nine day fermentation tank smelled beautiful, with a scent like green bananas. It was a scent I often came across in Japanese sake breweries when they used the famous Yeast Number Nine. For the water, Hashimoto dug a forty-metre deep well near the brewery. Fortunately the water was excellent. He uses filtration, but the water contains no iron, which damages sake, and an ideal amount of minerals to support the fermentation.
I asked Hashimoto why he had decided to brew sake in the UK. "I want people in the UK to taste freshly made sake," he said. "Fresh sake is one of the most delicious types of sake, but it is only available in Japan. Many people outside Japan are becoming interested in sake brewing, so one day we want to turn this place into a sake making academy. People can come to study here instead of going to Japan."
Interest in sake in the UK is already growing. The Wine & Spirit Education Trust (WSET) is now running sake courses in London, and more people are choosing to learn about this fascinating drink. The Dojima Sake Brewery will provide visitors with a wonderful opportunity to learn all about the key processes in sake brewing without having to endure a 12 hour flight to Japan.
Brewery tours will be available from autumm 2018. Spaces are limited so booking via the brewery's website is essential.
TASAKA ASAMI
▶︎PRACTICAl INFORMATION
Dojima Sake Brewery
39 Newmarket rd, fordham, Ely CB7 5ll
https://dojimabrewery.com/