No.81 [AMBITION] Orion looks up to the stars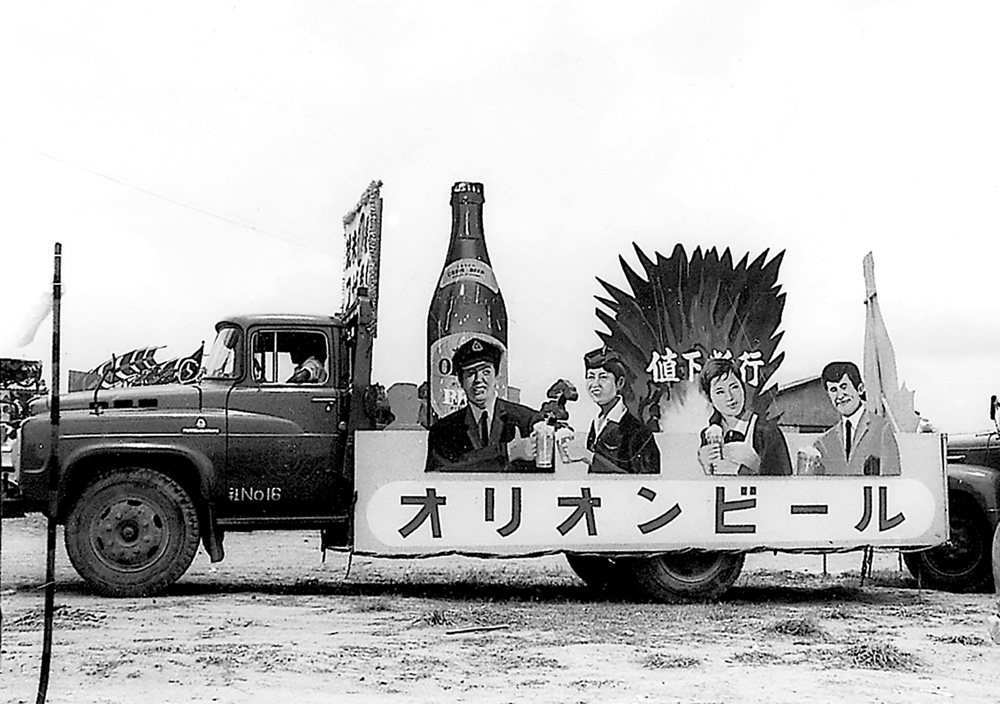 Founded in 1957 as the Okinawa Beer Co. Ltd., the brewery was renamed Orion in 1959.
Although its strong local roots enabled it to rise to the top, the brewery is now threatened by competition.
Some people say that Okinawa is not in Japan, and in some respects they are right. with its subtropical climate, Chinese influenced culture and American military bases, the former Ryukyu Kingdom almost feels like a separate country. After all, the archipelago is 1,560 kilometres away from Tokyo, and more than 650 kilometres separate its capital, Naha, from Japan's southernmost tip. So it does not come as a surprise that these islands have a few original features. take entertainment. many Japanese are crazy for professional wrestling but, until recently, Okinawa had its own league. Okinawa Pro wrestling was a completely different world inhabited by goofy characters who relied more on physical slapstick comedy than traditional athletic prowess. one of them was mensore oyaji (aka NAKAJImA Yohei). A caricature of the stereotypical good- for-nothing lazy Okinawa guy (at least as seen by the rest of Japan), he sported a Kariyushi shirt (the Okinawan equivalent of the Aloha shirt from Hawaii), wore a mask, balanced a bowl of ramen on top of his head and always had a can of Orion Beer in his hand.
In fact, Orion Beer is another unique Okinawan thing and the reason for this long-winded introduction. Few things are as Okinawan as Orion. this brand has dominated the local market for 60 years, and its 1% national market share, though tiny in comparison with the Big Four (Asahi, Kirin, Sapporo and Suntory) still makes it the fifth-largest beer brewery in Japan. Founded by GUSHIKEN Sosei in 1957, the company's original name was Okinawa Beer Co., Ltd. only a decade had passed since the islands were devastated in the final stages of the Pacific war when a quarter of the civilian population died. while in the rest of the country the Allied occupation had ended in 1952, Okinawa remained under American mil- Itary rule, and the local manufacturing industry was struggling.
Actual beer production did not start until 1959, when the company adopted its current name. "they were very hard times," says KOJIMA mariko, who is in charge of Orion's public relations. "Every night, the president himself would lead all his employees in door-to-door campaigns, trying to sell their beer to the many cabarets, snack bars and eateries lining Sakurazaka Street in Naha City."
At first, Orion struggled to compete with the other major Japanese breweries, but after changing from a german-style to an American-style beer, it gained the largest share of the Okinawan market. "During the seven years from 1957 to 1966, beer consumption in Okinawa tripled from 5,533 kilolitres to 15,452 kilolitres," KoJImA says. "the share of Orion Beer consumption in Okinawa increased dramatically from approximately 14% to 95% during the same period."
Orion became a big hit both with the locals and American servicemen. According to Stars and Stripes, the American military newspaper, "the refreshing draft – with its unique flavor profile that is light, crisp, malty, with a hint of citrus and a slightly bitter finish – has endeared itself to U.S. service members stationed in the islands. It is often the first thing mentioned by nostalgic veterans recalling their Okinawa deployments." By the way, you may wonder where the name Orion comes from. "It was the winning suggestion in a public competition," KoJImA says. "the company was in search of a more appealing name and on November 1, 1957 it placed an ad in the newspapers, inviting all the islanders to take part. As participants had a chance to win money prizes, the competition attracted more than 2,500 entries. out of the 823 names proposed, Orion was selected for its association with Okinawa and its popularity with the locals."
Orion, needless to say, is the name of one of the most conspicuous and recognisable constellations in the night sky. "Stars are often used as a symbol of dreams and aspiration," KoJImA says."Besides, the commander of the U.S. forces at the time was a three-star general."
Companies often go to great lengths to create logos and mottos with widespread appeal and profound meanings, but Orion Beer's logo is especially interesting. the cut "o" in Orion, for instance, is actually an incomplete circle. "this signifies our desire to pursue our ideals and complete the circle," KoJImA says. "Also, the "i" in the centre portrays a person, and the dot on top of it, that's the person's head, stands for the southern sun. our logo, in other words, is the symbol of a future-oriented company which grows by maintaining solidarity around a complete circle."
The Orion constellation even played a part in the choice of the corporate colours, red and blue. In fact, Orion's brightest stars are blue- white rigel (Beta Orionis) and red Betelgeuse (Alpha Orionis). "there are other reasons too," KoJImA explains. "Orion red stands for the southern sun. It's also a symbol for burning passion, and expresses energy and solidarity. Orion Blue represents the sea and sky of Okinawa, symbolises harmony with nature and is an expression of water, freshness and purity." water, of course, is a fundamental ingredient in beer making, and Orion is always careful to give credit for the quality of its beer to its water source. "Orion uses water that comes from springs from the mountain just behind the brewery," KoJImA says. "of course, other important ingredients contributed to Orion Beer's taste. though Orion is often described as an American-style beer owing to its light, non-bitter flavour, its ingredients come from several different places. we only select the highest quality malt, primarily from Germany, but also from Australia. our hops are grown in the Czech republic's Saaz and Germany's Hallertau regions. they are then nurtured a step further, as they are fully ripened during the controlled production process to bring out their full flavour."
Aside from beer-making, Orion prides itself on being a responsible, environmentally friendly company. recycling is a byword at Orion, with everything being allocated a second life after the beer has been brewed. Hops, yeast, malt and grain mash are recycled as fertilisers or animal feed, while glass beer bottles are cleaned and sterilised and used an average of 20 times. Even the old, worn plastic beer cases are crushed and remoulded into some- thing else.
All these factors should have turned Orion into a successful brewery. Yet the reality of the Japanese beer market is such that the Big Four leave precious little space for competitors. Even a company with such a long history as Orion continues to struggle not only to expand its reach but even to defend its home turf from other brands.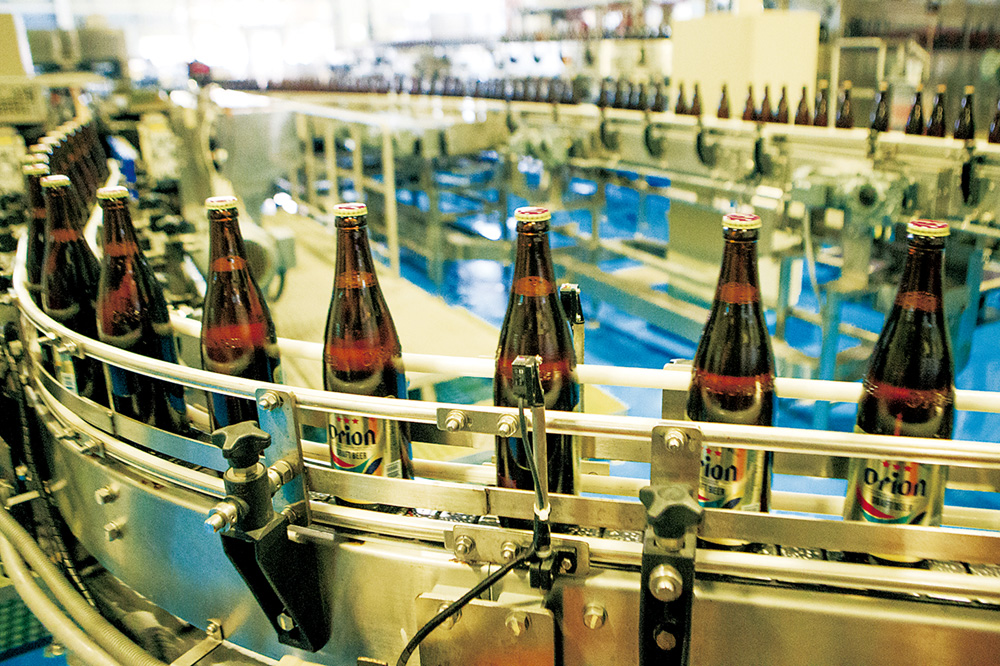 Orion's share of the market has fallen from 95% to 44% today.
For many years, Orion enjoyed the preferential treatment accorded by the government to Okinawan firms. when the United States returned the archipelago to Japan, in 1972, local beer companies were exempted from paying the notoriously punitive alcohol taxes. the exemption was supposed to last for only five years, but it was repeatedly renewed until 2007. to give an example of the kind of safety net that Orion enjoyed for 35 years, in the 2001 fiscal year, the exemption saved the brewer 2 billion yen or 1.6% of the company's net profits.
In the meantime, the Big Four's superior marketing resources and affordable products including their cheaper happoshu – were eating away at Orion's dominant position in Okinawa. In 2002, its local market share, which once stood at 90%, had dwindled to 60%, while Kirin had reached an alarming 25%.
This prompted the company to join forces with Asahi. In 2002, in a move that was criticised by many local observers, Orion agreed to manufacture Asahi beers in Okinawa, in return for Asahi's technical, marketing and product development support and its assistance in selling Orion beer in the rest of the country through its sales network.
Nearly 20 years on, the gamble appears not to have paid off, and things have increasingly worsened on the home front as Asahi's expansion in Okinawa has been mainly at the cost of Orion's share. And the decline does not seem to be easing: the brewery has continued to lose ground in each of the last six years. Its current market share is 44%.
Apparently, changing habits in beer consumption at home are hurting Orion the most. Since the pioneering times of founder GUSHIKEN, the company has cultivated its relationship with bars and restaurants, and even now the volume sold in such places is very high. However, the level of sales in supermarkets is low as the same people, when they are at home, tend to drink other brands. this prompted Orion to enter the chuhai (shochu highball) market in 2019.
the situation abroad seems better. In 2016, Orion opened its first overseas sales office in Taiwan, and the company has started expanding in countries already familiar with Okinawa. Orion Draft is now sold in a number of Asian countries as well as Russia, Australia, New Zealand, Canada, and the U.S. where it was voted Best Beer at the Northern California Premium Sake Fest four years in a row.
MARIO BATTAGLIA