No11 [Interview] Ajikan, rock made in Japan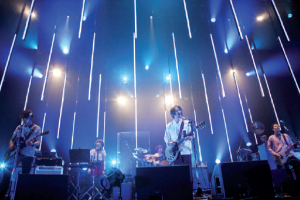 Before setting out on their first European tour, Asian Kung-fu generation (ajikan) agreed to answer Zoom Japan's questions in an exclusive interview.
If you've never heard of Japanese rock, it's about time you opened your ears! Asian Kung-fu Generation is travelling to Europe for their first tour there. Ajikan, as their fans call them, gained recognition when popular animated cartoons such as Naruto or Fullmetal Alchemist used some of their music. However, the four band members are actually closer to Weezer and to the Beatles. Their music doesn't have much to do with J-pop "idol" bands. It carries us much further into the musical heart of this little archipelago, with a prolific imagination that mixes all sorts of sounds resulting in something completely original. Ajikan formed in 1996, has released over 140 songs and is amongst the most famous bands in Japan. Their poetic album illustrations are reminiscent of Miyazaki Hayao's female heroes or the grace of Yoko Tsuno. Behind the pure rock aspect of Asian Kung-fu Generation is a concept of Asia that has reached out beyond the musical sphere since the disasters on the 11th of March 2011. After Fukushima's nuclear catastrophe, vocalist and bandleader, Goto Masafumi, appointed himself editor-in-chief of a free newspaper, The Future Times, for which he also does most of the reporting. While launching Landmark, their seventh album, in 2012, working alongside Sakamoto Ryuchi, Ajikan also organized the first anti-nuclear festival in Tokyo, called No Nukes. "Our goal isn't to be militant, but to encourage young people to think about the essential questions," says Goto. Like their beautiful song Marching Band, Ajikan seems to be marching hand in hand with Japanese youth towards a better world, and you don't need to understand Japanese to like that!
This is your first European tour, what do you imagine the audiences will be like?
Goto Masafumi, vocalist : I don't know, I hope people won't come dressed up in cosplay costumes! (laughs) Otherwise we'll also have to dress like that! Most Japanese bands that are popular in Europe have very extravagant looks and the men wear makeup. They are "idols". But we're very ordinary.
Kita Kensuke, guitar : Yes, and we're ojisan, we're old! (laughs)
Can you tell us about how you started the band?
G. M. : We met at Yokohama University, 17 years ago, and we never parted, so we've spent half our lives together! At first we played little concerts with practically no audience. That lasted 4 years. Then we left university and from then on decided to commit ourselves completely to music. We played more concerts in Tokyo and then were invited to play in evening events. In 2003 the Ki/ oon Records label contacted us to reissue our album Hookai Amplifier on an indie label. So we signed, gave up our jobs, because we were also working on the side, and we became freeters, part-time workers.
Your indie period lasted from 1999 to 2003. Was it difficult to find venues?
G. M. : Yes, it wasn't that easy, we weren't sure how to proceed. We produced everything oursleves. I had a Mac and I would deal with our online promotion
K. K. : I didn't know how to do any of that, so I ironed t-shirts.
G. M. : Everything was expensive, the parking, the petrol. We were always back at square one after our concerts or just broke even after sales!
Some of your songs were used over the titles and credits of animated shows. Are you fans of manga?
G. M. : Frankly, we weren't really that into them and it's quite hard to start at our age. Our references are more likely to come from Miyazaki Hayao. We wrote those songs first and they were used in cartoons afterwards. It helped a lot to make us well-known. And I really like the ninja character Naruto. Ninjas are unique; they're the Japanese equivalent of James Bond!
The name asian Kung-fu generation alludes to Asia. It's quite an original choice.
G. M. : Yes, although we do listen to Western music as well, we consider ourselves Asian. It's also a way of saying that we can write good music in Asia too; there's no difference. But if we were to produce the same piece of music as an American group, the Americans would probably get an audience, not us! I listen to quite a few Korean bands as well and traditional music such as Indonesian gamelan. But mixing Japanese melodies with rock produces a particular genre. We'll be really happy if the Europeans like it!
The band's image revolves around original illustrations by Nakamura yusuke. Have you known him for a long time?
G. M. : He is part of the Ajikan family. We knew him when he was still making indie albums. We've been working together for 10 years now. We discovered him thanks to a postcard. His Japanese graphics made me think that it would be a great way to develop our image abroad. It turns out that my intuition was right!
You founded the Nano Mugen Festival in 2003 that welcomes asian and Western bands, including Weezer who played in 2012.
G. M. : Yes. Originally I thought it would be fun to organize an event with two stages. At first it was in Shinjuku just in a live house, then it picked up with 12,000 people per day. But the idea stayed the same: introducing young bands on a small stage with famous bands playing on the bigger one.
In March 2011 the Fukushima catastrophe engulfed Japan as well as the rest of the world. What were you doing that day?
G. M. : We were practising in Tokyo. The Earth shook in an unimaginable way. I didn't think of the nuclear risk then, Japanese-made technology could not be doubted, and with what the media kept telling us, we all trusted it would be all right. I went back to Shizuoka and when the explosions started I asked the other members of the band to join me. I was very upset. Nobody could get hold of Geiger counters and we had no idea of what was going on.
K. K. : I stayed locked inside my home in Yokohama. It was a very dangerous environment for the 13 million people living in the region. But something stopped us from moving. I think it was very hard to believe.
In July 2011, Goto became both an editor-in-chief and a journalist. He launched the first issue of The Future Times. What did the other members of the band make of this?
G. M. : They had no problem with it. We're reasonable adults! It's normal to take action in times like these. If we have no idea about what's going on, it's shameful, especially after such an accident. Imagine my son asking me, "Dad, what do you think of nuclear power?" and not knowing what to reply. The artists that don't express their opinion on this topic are business-oriented and don't want to compromise their sponsors. But we, Ajikan, don't care about that. We don't exist for business. Even though we make a living from it now, if we stop being paid, we'd still go on with the music. And we will go on attacking nuclear power. Have you seen what is going on in Fukushima!
K. K. : Me too, I went to an anti-nuclear demonstration in Tokyo for the first time. I met many musician friends there. It was crazy yet reassuring. This was when the Oi nuclear power station's reactors were started up again last July.
You also have a connection with Sakamoto Ryuichi and together initiated Japan's first anti nuclear festival; the No Nukes festival. alongside this you now play on stages powered by solar energy. How do your audiences react to this?
G. M. : It is still as crowded and all our fans ask us for The Future Times, although it isn't about music. Organizing festivals under the anti-nuclear banner doesn't change our music. On the contrary, it increases our energy. And when we play with instruments and lights powered by solar energy, we're forced to face the future. Speaking of which, the technology developed by the Eco Live System Company, our partner in Nano Mugen, was chosen as "Best new product in 2011" at the International Live Design Fair in the United States. It's very encouraging and many Japanese artists are interested in it. In Japan, being green has nothing to do with being a hippie!
Do you have other projects?
G. M. : Yes, we would like to translate The Future Times in English. Tsuge, the newspaper's illustrator, was also a member of Ajikan in the very beginning and he made a career in design. Of course, that's no coincidence! I'm glad that our foreign fans like the paper's design although they may not understand its contents.
Do you plan to do some sightseeing in between your European concerts?
G. M. : Unfortunately we will be performing every day except for the last one, in Germany. If I find time, I would like to write an article about renewable energy for The Future Times. It's a field in which the Germans are leaders. As for France, I hope there won't be any strikes when we're there! Although, as far as that matter goes the French do have a lot to teach the Japanese. (laughs)
Interview by A. D-T.
Photo: Mitch Ikeda