No18 [Cooking] Kakiage-don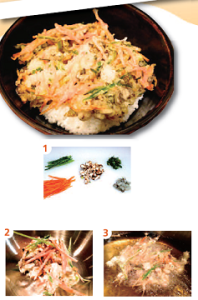 Kakiage-don (prawn & vegetable fritters on rice)
Kakiage-don is a type of tempura in which several ingredients are mixed and deep fried in tempura batter. Super crispy, kakiage is delicious on its own as snack, but why not try it on a bed of rice as a main meal. Be adventurous with the choice of ingredients, any combination of vegetables will work as long as they are finely chopped, making this fantastic dish to use up left overs.
Serve kakiage on a bed of boiled rice. Sprinkle on a little soy sauce or Tsuyu soup stock and serve…
Ingredients:
Serves 2
– 50g Yutaka tempura batter mix
– 100g water
– 50g uncooked prawns
– 1/3 carrots
– 1 spring onion
– 2 mushrooms
– a bowl of rice
– soy sauce or tsuyu soup stock
– flour
– mange tout
How to prepare:
1. Finely chop the prawns, mushroom and spring onions. Cut the carrots and mange tout into the fine strips.
2. Mix the flour with water in a bowl, add the ingredients and stir well.
3. Add oil to a large saucepan to a depth of 5cm. Heat to 170°C over a medium-high heat. Add half the mixture as one lump and cook for two minutes each side or until golden brown. Transfer to a plate lined with paper towels to drain the oil. Repeat the process for the other half of the mixture.