No24 [Travel] Walking sacred paths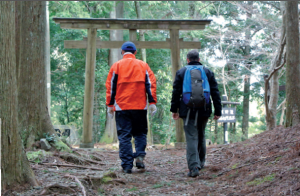 Kumano and its sacred pilgrimage routes were jointly registered as a UNESCO World heritage sites ten years ago.
A good place to start your journey through this sacred area is at the summit of Mount Koya (koyasan) where you will find a large cluster of 120 temples and monasteries founded in 816 by the famous monk Kukai, originator of Shingon Buddhism, one of the archipelago's principal religions. You reach this sacred site after a two hour train ride from Osaka, and it is worth spending the recommended two days and a night in one if the monasteries (shukubo) to savour the famous vegetarian cuisine (shojin ryori). From here you can follow one of the pilgrimage routes (Kumano kodo) leading to the sacred sites in the south of the Kii peninsula in Wakayama prefecture. These paths have been walked by hundreds of thousands of pilgrims over the past thousand years, but just 10 years ago they were registered with UNESCO World Heritage under the name "Sacred sites and pilgrimage routes in the Kii Mountain Range". Not only did this recognition help increase their international reputation, but more importantly it helped guarantee their maintenance and repair by national and local authorities. You can follow one of these routes and step into an amazing world made up of beautiful landscapes and out-of-the-ordinary encounters. They present different levels of difficulty, but it is easy to find the one that is best suited to you. Nowadays, all the paths are very well signposted and maps are handed out to tourists to help them plan an itinerary best suited to their wishes and physical capabilities.
The famous Kumano kodo network consists of several routes, but the most difficult is undoubtedly Kohechi, which cuts across the Kii Peninsular, linking Mount Koya to Kumano Sazan (three sacred shrines) in the south-east. 70 kilometres long, in parts it is characterised by steep tracks and thousand metre high passes, for which you need to be well prepared. You do not have to be an experienced rock climber to traverse this route but it is certainly not just a pleasant stroll through a park. Your efforts won't go unrewarded however, especially as the route goes through fantastic landscapes lending a mystique to the journey undertaken by so many over the centuries while following their strict religious rituals. A little further east, the Omine Okugake route connects the south of Nara to Kumano Sanzan.
Legend has it that the trail was opened by En no gyoja, founder of shugendo, a spiritual practice where a fundamental relationship is maintained between man and nature. When you walk along these paths, you understand why the pilgrims attached such importance to this connection with nature. Omine Okugake, which is just as difficult as Kohechi, has 75 stops (nabiki) where pilgrims can perform their rites. One of the best known is Misen, where En no gyoja is said to have reached inner peace.
If you're not in the habit of performing great feats of strength in harsh environments, you can also choose easier routes. Nakahechi is the first of these, a central path that winds its way through the mountains from Tanabe, on the west side of the peninsula, towards the most famous shrines on the east coast. This route is well known as it is used by the imperial family, which explains why there are so many inns all along its route, making for an agreeable journey. Less physically demanding than the two other routes, it is best suited to those wishing to hike over several days (3 or 4 days is ideal). The starting point for this route is located at Kumano Pilgrimage Centre (Kumano kodo Kan) at Takijiri, a forty-minute bus ride from Tanabe station. The first bus leaves at 6:24am and the last at 8:40pm. Opened after the pilgrimage routes were registered as UNESCO World Heritage, this establishment provides all the information necessary for making the journey on foot, and there is also a shop with all the essential equipment needed by the 21st century pilgrim.
Ohechi is another route starting at Tanabe and going towards Kumano Sanza (120km). It runs along the west coast of the Kii peninsula, offering those who love wonderful views over the sea an opportunity to gather fantastic memories and take memorable photos, especially at dawn and dusk. Especially noteworthy is the amazing panoramic view at Kushimoto. The town became famous after the Turkish frigate Ertugrul was shipwrecked in September 1890, when many local inhabitants distinguished themselves by rescuing sailors. Considered as the start of international friendship between Turkey and Japan, this event lead to the building of a Turkish museum (Entry: 260 yen, open 9am to 7pm). This last route is also the longest, a total of 170 kilometres between Ise Sanctuary and Kumano Sanzan. Iseji runs along the east coast of the Kii peninsula. It is characterized by its numerous cobbled paths and the variety of the landscape it crosses, probably offering the most of any of the routes in this regard.
Of course, there is no obligation to follow the sacred routes in their entirety, especially as they are still not all completely accessible for the average tourist. Some of them are signposted, but parts of the routes haven't been maintained for decades, although they are gradually being restored since the site's registration as World Heritage. This is just one of the positive impacts of registration. A network of buses enables tourists to discover parts of each of these routes and to walk in the forests and mountains of this beautiful region. For example, when travelling on Nakahechi, you could be perfectly content with walking from Hosshinmon-oji to Kumano Hongu Taisha, a 7 kilometre trek through forest areas and stone lined paths. This offers a good sample of the different landscapes experienced by pilgrims who travelled the whole route, without the required hardships. They would head to the three main shrines (kumano Sanzan): Kumano Hongu Taisha, Kumano Nachi Taisha and Kumano Hayatama Taisha. Originally situated on the banks of the Kumano and Otonashi rivers, the first of these shrines was moved to higher ground after flooding in 1889. On its original site, a giant torii (entrance gate to a shrine) was erected, which can be spotted from a distance along all of the routes. Kumano Nachi Taisha is famous for its 133-metre waterfall, the reason the shrine was first built there. The third shrine is located at the mouth of the Kumano River, where every year on the 16th of October, the Mifune Matsuri Festival takes place and the local youngsters race paddle-boats to Mifune Island. But never fear, after a day of trekking, you won't be required to row.
Gabriel Bernard
Photo: Gabriel Bernard