No42 [Trend] Secondhand goods are so good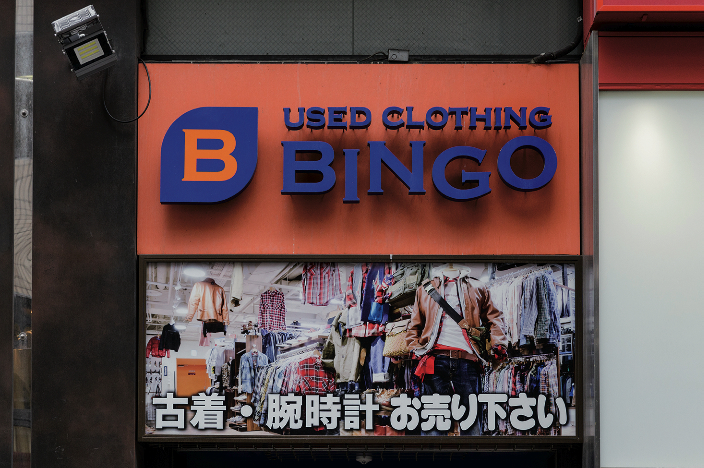 Secondhand shops are part of life in Japanese cities, and people love to visit them.
It's 4pm in the bohemian district of Shimokitazawa. Here, to the northwest of Tokyo, the streets are full of secondhand shops. People come here to look for a bargain with a touch of style that won't break the bank. However, you won't need to rummage through layers of clothing piled on trestle tables. No, not in Shimokitazawa, where the secondhand shops could be mistaken for high street shops selling new goods. One example is "Stick Out". Here, the items of clothing, including shirts, jumpers, and t-shirts, are all on sale for 700 yen (£4.50) each. Like is is on every bank holiday, the shop is full to the brim. "I come here often", explains a forty-something who lives in the neighbourhood. "I always find some nice jeans, even designer brands. I must confess, nearly all of my clothes come from here. I have a job but I don't have a lot of money, so I find what I can afford to buy here".
The clothes are all displayed on hangers on racks and the shop assistants give advice just like in any other shop. Until recently these secondhand shops were considered a little old fashioned and messy, and there was no guarantee you would find quality clothes. But things are different now. "In Japanese the term mottainai (もったいない) describes the sense of regret that comes with wasting things", explains a spokesman for the Book Off Group, a leader in this growing market. A good example to illustrate this principle is that it is considered impolite to leave a grain of rice at the bottom of your bowl; out of respect, you waste nothing. Whether this concerns food or any other item that could still serve a purpose, mottainai describes both physical and figurative waste. The expression became known internationally when it was used by Kenyan Wangari Muta Maathai, the first African woman to receive the Nobel Peace Prize in 2004 for her fight to protect the environment and its resources, as well as work for women's rights.
Although it still has great meaning for Japanese culture today, "The concept of mottainai has been neglected these last few decades", says Mitsujiro Garan, the publisher of The Japan Journal of Remodeling and the magazine The Re-use Business Journal. "Back during the economic boom Japan forgot about this principle. Everyone had money and wanted to buy new at any cost. Then, with the financial crash in the 90s, all this changed. The young generations have tighter budgets and have to be careful about how they spend their money: they've returned to more traditional values".
As it happens the rise of this new market in secondhand business began with Book Off. Takashi Sakamoto had the idea of opening a shop selling secondhand books in a high-end store. Back in 1991, aged 49, he opened the first shop of the chain. "Unlike the furuhon-ya, booksellers who sell rare secondhand books, like you'll find in the Jimbocho district in Tokyo, for example, there's no need to be an expert to shop in Book Off", the spokesman explains. "It's a popular concept that appeals to everyone. It's like a real shop, clean and tidy. The atmosphere is friendly and welcoming. There's no problem about rummaging around. The owners of furuhon-ya are experts: some of their books can cost a small fortune as prices are determined by how well-known the book and its author are: here the price is determined by the state of the book, and that's it. Anyone can cope with that".
At Book Off prices start at 108 yen (less than £1) for a manga. It is very rare for a book to be sold for more than several thousand yen (about £50), maybe for a photography book or a dictionary. 95% of the books displayed on the shelves are sold to the shop by individuals. These are pricedat 10% of their original value, though prices can vary depending on the state of the book. The store has a sign asking its customers: "Please sell us your books". The shop also gives away books that they cannot sell. Today Book Off has 852 shops in Japan and 11 abroad. The company has widened its scope and is now also selling furniture, tableware, and house appliances, through its branch "Hard Off", and videos games and instruments through its subsidiary "Hobby Off". It even sells smart phones – all secondhand.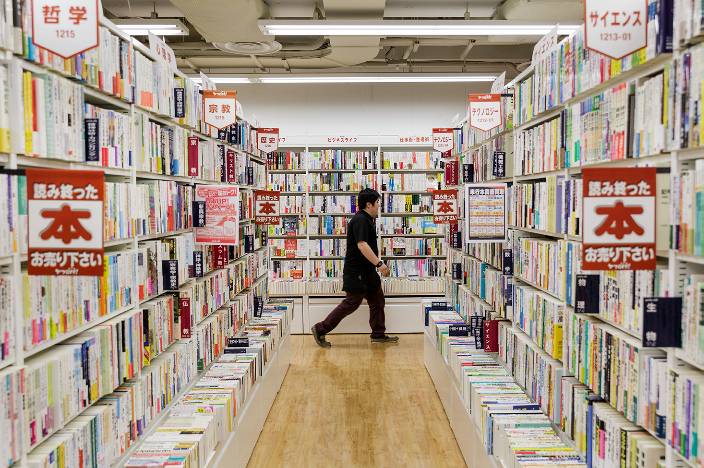 Nowadays the Japanese second-hand market includes nearly every kind of item: from clothes to furniture, including electronics, cars, motorbikes… though the most sought after are luxury goods. In Nagoya, in Kansai Prefecture, the first shop named Komehyo opened in the 1980s. Here you can find handbags, clothes and watches — from Chanel, Hermes and Rolex. Very popular with young women who can spoil themselves with luxury items at 70% of their original retail price. The store's success is due to several different factors, above all "the impeccable maintenance of the displays", Mitsujiro Garan states firmly. "The staff are also trained to recognize the difference between genuine and imitation goods. Guidelines are updated daily, allowing them to spot defects, so clients can come to our shops without fearing they'll be sold fake goods". This is a great selling point that attracts the many Chinese tourists who insist on visiting one of Komehyo's 18 Japanese outlets as part of their package tours. This franchise has 17,000 customers each year, including 50 Chinese customers every day. A store has opened in Hong Kong recently.
The interest in secondhand luxury brands is so great that the market for these sought-after goods is estimated to be 23,100 billion yen (around £142 billion) per year. This includes sales of books from Book Off, and clothes, as well as furniture, household appliances, video games, mobile phones, cars (Gulliver) and motorbikes (Bike O). Everything possible has been done to reassure the customer, to change once and for all the reputation of secondhand goods as being shop-soiled and worn. The "Treasure Factory" brand insists on the quality of its electrical appliances, with multiple tests for the goods before they go on display. They also include a short-term guarantee, and their prices range from 50% to 60% of the cost of brand new items.
Other shops, which previously specialized in rentals and were experiencing difficulty with the rise of online shopping, are now launching themselves into the secondhand market to boost their ailing businesses. In fact Geo (pronounced Gueo), who were the experts in CD, DVD and video game rentals, made an about-turn seven years ago and decided to include secondhand goods in their 3,000 outlets. This was a good move as, since last year, the chain is earning more from secondhand sales than from its rental business, and with the help of its existing infrastructure its gross earnings are four times those of Book Off. Inspired by this Tsutaya, the leading rental brand, decided to follow suit. "Parts of the rental market are losing out with the loss of interest in Playstations and the increase in downloading games onto smartphones, which is extremely popular in Japan", emphasizes Mitsujiro Garan. "The market for secondhand goods has proved to be an ideal solution".
The internet has contributed to this trend and new business models are appearing. Yahoo Auctions, the most popular website in Japan for this type of transaction, represents a £61 million turnover. A new type of smartphone app, the 'Freema app', has also been very successful. One of these, 'Mercari', allows you to put an item you haven't used in a while on sale with just a few quick steps on your mobile phone. It has become immensely popular for clothing. The website acts as an intermediary and charges a commission. The seller pays for the delivery and receives payment once the customer confirms he has received the item. If there is a problem the purchase can be returned. "At this rate, before long, this type of app will be generating more income than Yahoo", predicts Mitsujiro Garan.
JOHANN FLEURI