No43 [Restaurants] Restaurants in London that serve Tonkatsu
Tonkatsu is not yet popular enough in London for it to be advertised as the main draw for a restaurant. However, it plays a great supporting role to the main cuisine in several Japanese eateries, such as sushi restaurants, izakaya and ramen places. The style in which the tonkatsu is served varies greatly between establishments, with some opting for the simple, orthodox Japanese style presentation while others throw in a few surprises with sesame sauce, skewers with spring onion or pairing with sashimi to make luxurious tonkatsu bentos. One might even consider taking on the challenge of a London tonkatsu walking tour, trying out a different version at each place along the route?!
Akari
020 7226 9943
196 Essex Road, Islington N1 8LZ
Lunch: Sat-Sun / Dinner: Tue-Sun
Defune Restaurant
020 7935 8311
34 George St W1U 7DP
Lunch, Dinner: Mon-Sat
Inaho
020 7221 8495
4 Hereford Rd W2 4AA
Lunch: Mon-Fri / Dinner: Mon-Sat
The Japanese Canteen
There are several branches, each with different menus on offer.
It is a good idea to check before visiting. www.thejapanesecanteen.co.uk
Kiraku
020 8992 2848
8 Station Parade, Uxbridge Rd W5 3LD
Lunch, Dinner: Tue-Sun
Mai Food
020 7835 0100
7 Kenway Rd, Earl's Court SW5 0RP
Dinner: Mon-Sat
Matsuba
020 8605 3513
10 Red Lion St, Richmond TW9 1RW
Lunch, Dinner: Mon-Sat
Moshi Moshi
020 7247 3227
Unit 24, Liverpool St Station EC2M 7QH
Lunch, Dinner: Mon-Fri
Nagomi
020 7165 9506
4 Blenheim St, Mayfair W1S 1LB
Lunch, Dinner: Mon-Sun
Nambu-Tei
020 7486 5026
Berkeley Arcade, 209A Baker St NW1 6AB
Lunch: Mon-Fri / Dinner: Mon-Sat
Okawari
020 8566 0466
13 Bond St, Ealing W5 5AP
Lunch, Dinner: Mon-Sun
Saki
020 8141 1579
33 Broadway Parade, Crouch End N8 9DB
Lunch: Sat-Sun / Dinner: Mon-Sun
Shimogamo
020 7424 9560
108 Parkway NW1 7AN
Lunch, Dinner: Tue-Sun
So Restaurant
020 7292 0767
3-4 Warwick St W1B 5LS
Lunch, Dinner: Mon-Sat
Sosharu
020 3805 2304
64 Turnmill St EC1M 5RR
Lunch, Dinner: Mon-Sat
Sushinoen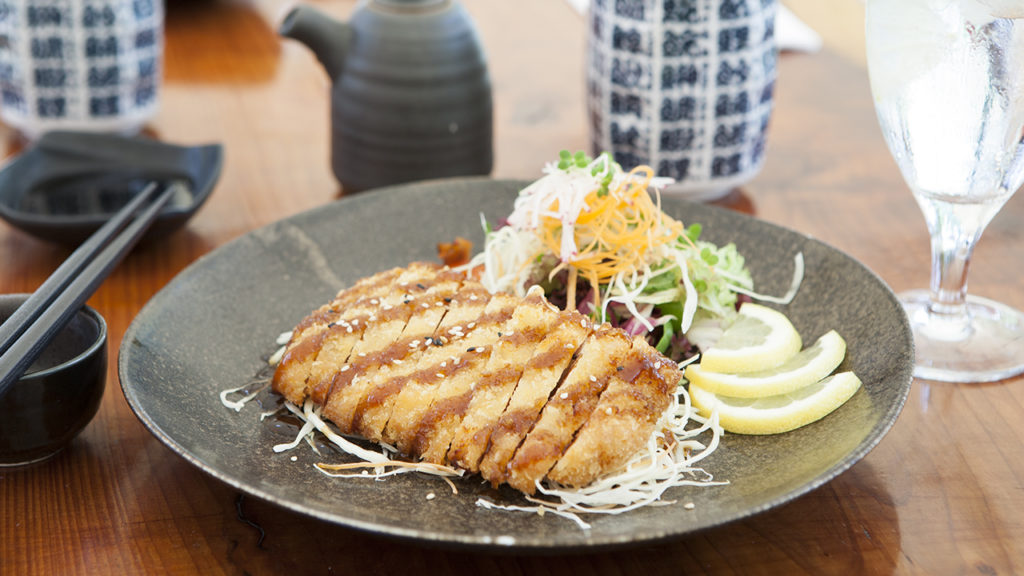 A sushi restaurant situated relatively close to Aldgate East station, just a way down the high street. The main menu consists of nigiri and maki sushi and sashimi made from fresh seafood ingredients. In particular they offer a huge variety of sushi rolls, from the simple to those that contain a wealth of fillings, making choosing what to try great fun in itself. In addition to the sushi and sashimi there are also authentic Japanese starters, grilled fare, noodle dishes and sukiyaki to enjoy. The number of regular customers who are Japanese makes it easy to see the quality of the flavours on offer. The restaurant itself is bright and spacious and they even have a karaoke room in the basement and offer a great value lunchtime menu.
020 3645 6734
2 White Church Ln, Whitechapel E1 7QR
Lunch, Dinner: Mon-Sun
Suzu
020 8741 1101
170 – 172 Hammersmith Rd W6 7JP
Lunch: Mon-Fri / Dinner: Mon-Sat
Yokoso
020 7515 8420
Orion Point, 7 Crew St E14 3TU
Lunch, Dinner: Mon-Sun
Yokoya
020 7388 8595
9A Delancey St, Camden Town NW1 7NL
Dinner: Mon-Sun