No47 [Cooking] Mouli and carrot salad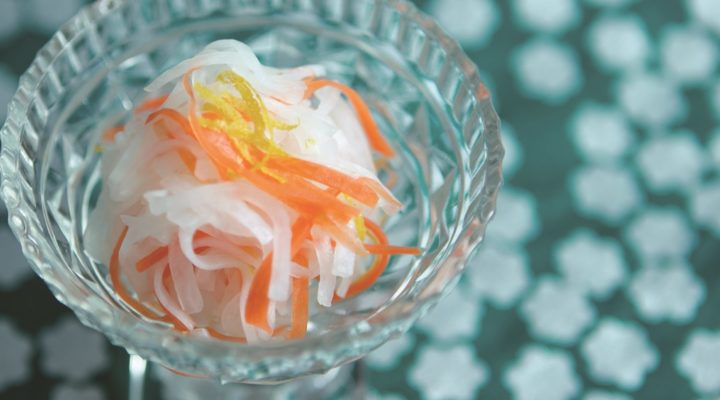 Mouli and carrot salad
For a traditional Japanese housewife there is no such thing as the post-Christmas blues, as she will be busy shopping, preparing and cooking OSECHI RYORI, the name given to the multi coloured celebratory dishes served only at the New Year. OSECHI RYORI is cooked food and features a wealth of vegetable dishes, so a busy mum can stay well clear of the usual chores for the first 3 days of the year. Nama-Su is one such dish. It is a super easy to make, refreshing sweet and sour salad with mouli and carrot. Suitable for vegetarians and vegans.
Ingredients (serves 2)
150g mouli
30g carrrot
lemon peel from 1/4 unwaxed lemon
50ml rice vinegar
30g sugar
650ml water
1 tablespoon salt
Instructions
Peel the skin off the mouli and carrots, before cutting them into fine strips with a julienne peeler or mandolin. Place the vegetable strips in a bowl containing 500ml water and salt, then drain after 15 minutes and remove excess water with kitchen towel.
Mix the rice vinegar, sugar, lemon peel and 150ml of water in a bowl, then add the mouli and carrot strips and marinade for 30 minutes.

Prepared by Akemi Yokoyama