No41 [Restaurant] 20 Years of Revolving Sushi in the UK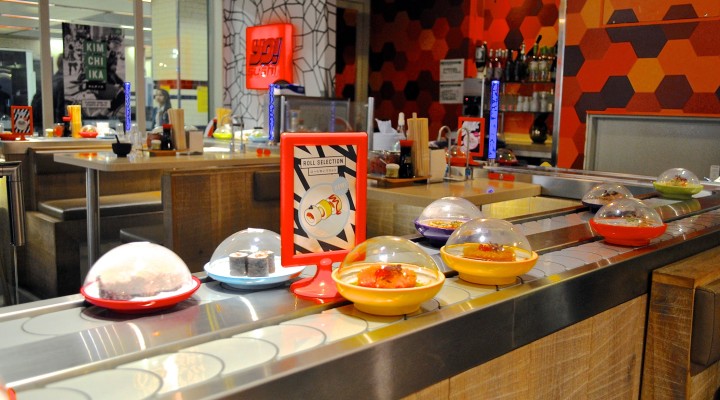 YO! Sushi first appeared in 1997, in London's Soho, and went on to become the pioneer of conveyor sushi in the west.
The dining entertainment that is YO! Sushi was born in London, brought into being by British entrepreneur Simon Woodruff. The original concept of sushi rolls and nigiri going around on a conveyor undoubtedly came from "kaiten sushi" establishments in Japan. However, while remaining broadly similar, YO! Sushi has become a different beast in its own right. The whole core package, featuring its pop style industrial interiors and automated service, came about from a unique perspective only possible from looking at the mysterious land of Japan through European eyes.
In 1997, YO! Sushi opened their first branch in Soho and the freshness and innovation captured the imagination of Londoners. Many will still remember the long queues of those early days, but 20 years have passed since the establishment of that first eatery and the chain now has 25 branches across London, over 70 in the rest of the UK and has even expanded its business to become a major brand overseas, with 18 locations in areas like America and the Middle East. It was none other than YO! Sushi that was responsible for fixing conveyor sushi, first invented in Japan 60 years ago, in the global culinary imagination.
Since then they have made many innovations that have moved away from these Japanese inspired origins, and there is almost nothing that is not delivered on their conveyers now. The YO! Sushi menu, created by Executive Chef Mike Lewis, has expanded to cover over 100 dishes, from sashimi and tempura to tonkatsu cutlets, gyoza dumplings and even okonomiyaki cabbage pancakes and sweet dorayaki.
The company has also opened a Sushi Academy in their Clerkenwell Head Quarters where they diligently train the next generation of chefs.
The appeal of conveyor sushi is difficult to sum up concisely, with the entertainment factor, the ability to adjust the amount you order to your budget and the speed with which you can settle the bill among the many draws. In YO! Sushi's case they even regularly publish their take-away menus in a pamphlet format, featuring articles on fascinating aspects of Japanese subcultures to also act as an ambassador for Cool Japan.
There is no doubt that Japanese cuisine has attracted much attention worldwide, but it has still not achieved what cuisines like that of Italy has done, where everyone is familiar with its distinctive flavours. Building on what YO! Sushi has achieved in that climate, the UK now has many other fast food chains that act as a gateway into Japanese cuisine, but which were founded by non-Japanese people. It seems that Japanese food has now finally left the hands of the Japanese and begun its evolution into a new style of dining.
REFERENCE
YO! Sushi Baker Street
194 Baker Street, London, NW1 5RT U.K.
Mon-Sun: 11:30 – 22:00
TEL: +44 (0)20-3595-1297
http://yosushi.com/
EKUNI MAYU