No23 [Cooking] Tofu, Edamame and Wakame salad with Yuzu dressing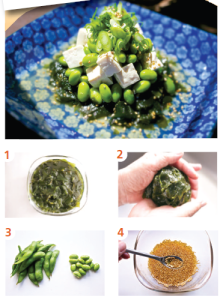 Tofu, Edamame and Wakame salad with Yuzu dressing
This simple oriental salad went down a storm with my parents during a recent visit to Japan. Virtually no cooking is involved, just some light chopping and squeezing. Yuzu is a citrus fruit grown in Japan with a unique flavor that is both tart and acidic but also highly floral. It will happily replace lemon in most cooking. When blended with roasted sesame seeds, the flavour of the yuzu dressing is seductive. A well-balanced low calorie salad, this month's recipe is an easy introduction to anyone who is new to Japanese food. Best served chilled.
Ingredients:
Serves 2
Cooking time : 15 minutes
● 150g Yutaka Tofu
● 100g Yutaka Ready salted
● Edamame in the Pod
● 20g Yutaka Dried Wakame
● 1 Spring Onion
Yuzu dressing
● 1 tsp Yutaka Yuzu Citrus Seasoning
● 1 tsp Yutaka Japanese Rice Vinegar
● 2 tsp Yutaka Organic Tamari Soy Sauce
● 1 tsp Sugar
● 1 tsp Olive Oil
● 1 tsp Yutaka White Roasted
● Sesame Seeds
How to prepare:
1. Place the dried wakame into a bowl, Place the bowl full of water and leave to soak until the wakame softens. This will take about 5 to 10 minutes.
2. Drain th e wakame in a si eve, then firmly squeeze it in your hands to remove any that remains.
3. Cut the tofu into cubes of 1 inch square and finely chop the spring onion, putting the cuttings to one side.
4. Place all the ingredients for the salad dressing into a small bowl and mix well.Make a shallow bed of wakame on a plate. Add a layer of tofu on top, followed by the edamame beans on top of them. Finally sprinkle on the chopped onion and pour on the yuzu dressing to serve.