No.77 [ENCOUNTER] Suginami delights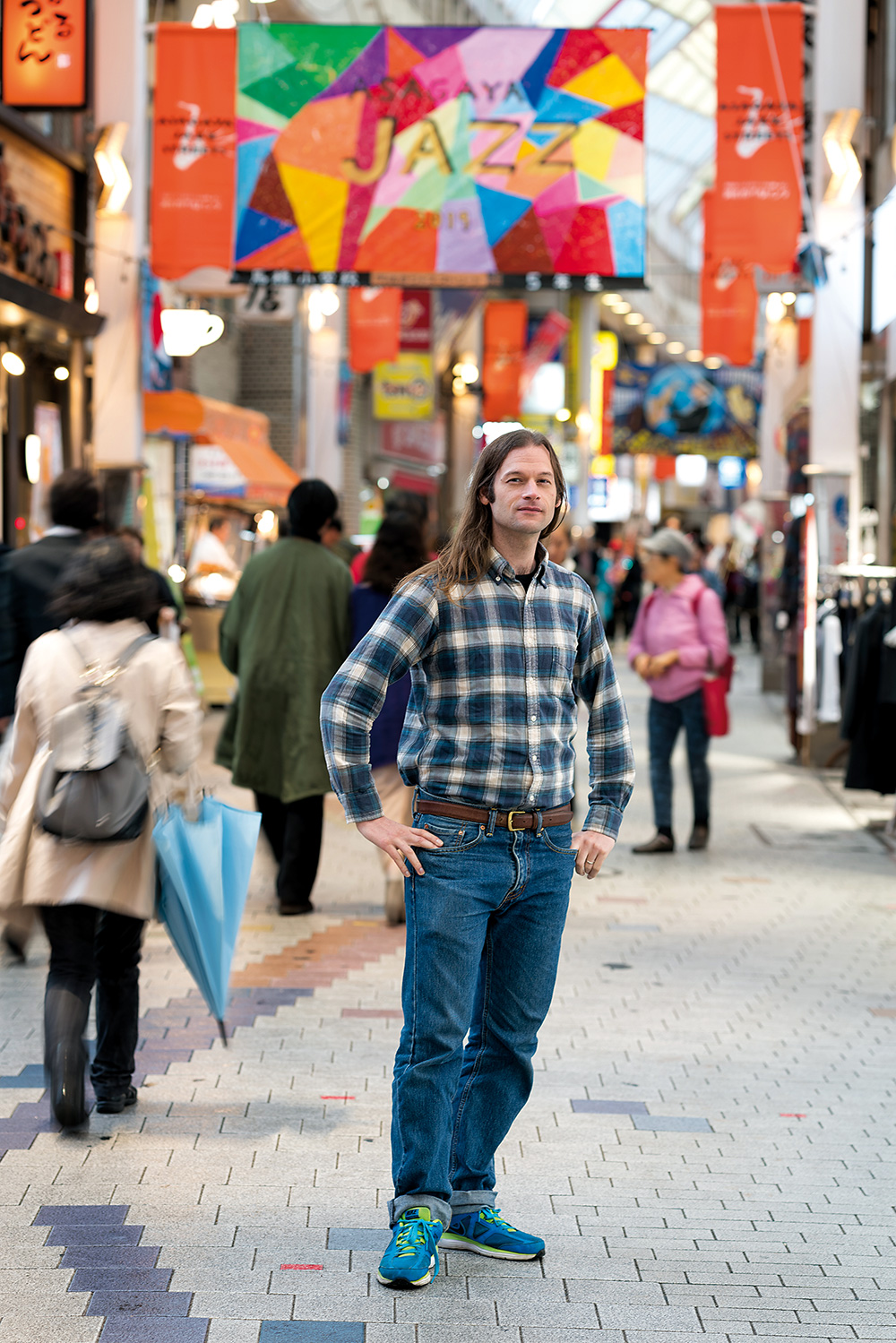 Greg Mudarri passionately defends his adopted neighbourhood.
In charge of promoting the district, Greg Mudarri defends its original character.
The westbound Chuo Line trains travel through the Tama plain before crossing into the prefectures of Kanagawa and Yamanashi. However, you don't have to go that far in order to have fun. In fact, some of the more exciting places along the line can be found very close to Shinjuku – in Suginami district. All too often this area is overlooked in favour of trendier, flashier places such as Asakusa or Harajuku, but the four local stations served by the Chuo Line (Koenji, Asagaya, Ogikubo and Nishi Ogikubo) have a lot to offer curious travellers who like to wander off the beaten track. Zoom Japan talked about these Suginami delights with Greg Mudarri, director, writer and photographer at Experience Suginami Tokyo (https://experience-suginami.tokyo), a tourism website that is part of the Chuosen Aruaru Project.
How did you end up in Suginami?
Greg Mudarri: I've been interested in Japan since I was a child. I learned Japanese in college, and even came here for one year to improve my language skills. After returning to the States, I kept studying at the Japan Society in Boston, where I lived. One day, in 2008, my Japanese teacher said that a group from Japan were visiting Boston and needed someone to guide them around and translate for them. So we met and got on very well, and then I mentioned that I was hoping to go back to Japan. During my first stay, I had taught English, but this time I was looking for more creative opportu- nities. Later, they offered me a position at TFF, a company that creates websites and other media mainly in and around Suginami, including Experience Suginami Tokyo. In 2010, I came back to Japan for a longer period, and have worked for them ever since.
For many people of your generation it all starts with otaku culture. They like manga and anime, and then they get interested in other aspects of Japanese culture. Was it the same for you?
G. M.: I'm more of a rare case because my passion was actually origami. I started when I was a kid. I like anime and video games too, of course, but origami was my first love. I wish it was my regular job (laughs). unfortunately, I don't have as much time for it as before.
Currently you're a sort of Suginami cultural ambassador as your main activity is spreading the word about the district. Which one came first: your job or your love for Suginami?
G. M.: Well, actually it was the job that introduced me to Suginami and helped me realise it was my favourite place in Tokyo. I used to live in Saitama when I started working in Suginami, but because I fell in love with the area I kept looking for an opportunity to move here. For us, spreading the word about Suginami is a sort of mission. As you know, Suginami is one of Tokyo's 23 special wards, and though it has so many amazing things to offer, its name is not that widely known. It's not the kind of place people from abroad would visit. It takes a lot of work, but all the people who are on this project are passionate about it. I myself live here, in Ogikubo, so I guess I feel it even more strongly.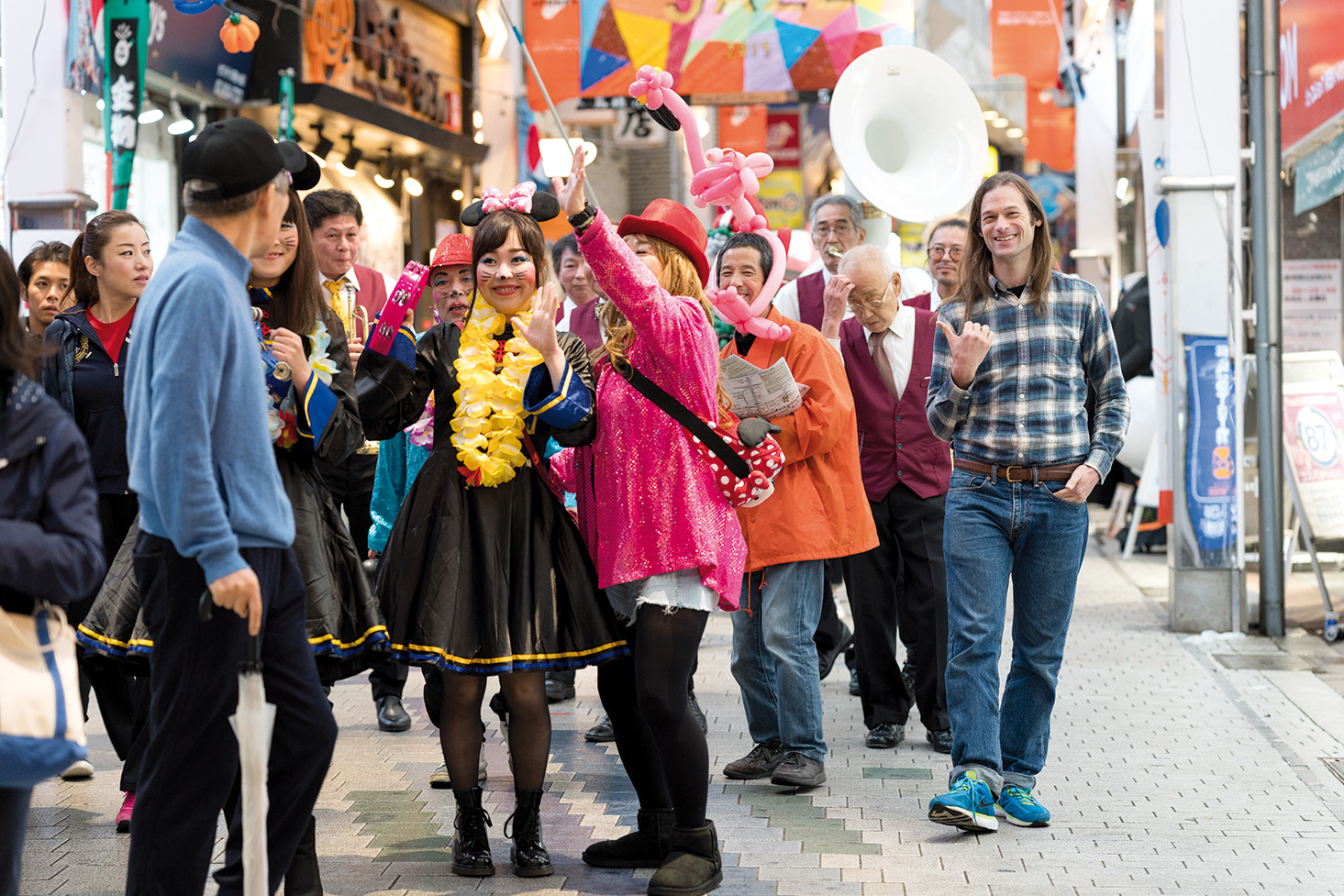 Alongside many other attractions, Suginami is notable for its musical entertainment.
In your opinion, what makes Suginami so appealing?
G. M.: It's off the beaten track, that's part of its charm. Most first-time visitors to Japan go to all the usual places – Asakusa, Akihabara, Shibuya, Harajuku – which is only natural. Suginami has more of a local vibe, but at the same time there are lots of great events that you'd be foolish to miss if you are in town, starting with the Tokyo version of the Awa Odori Dance Festival, which attracts one million people to Koenji on the last weekend of August. Then we have music, fashion, art, handicrafts and, of course, great food. I feel life here is lived at a slower pace, and the old ways have survived better than in other neighbourhoods. In Koenji, for example, there's an anti-gentrification movement to keep the district as it is now. They welcome more visitors, of course, but they don't want to sacrifice their lifestyle for commercial considerations. That's one of the reasons why Koenji is probably my favourite place in Suginami. That and the music scene that goes hand-in-hand with that attitude.
Experience Suginami Tokyo specifically covers the areas around four railway stations along the Chuo Line: Koenji, asagaya, Ogikubo and Nishi-Ogikubo. Though they're pretty close to each other, they each seem to have their own distinct character.
G. M.: Yes, you're right. As a whole, Suginami has always appealed to creative, artistically in- clined people, and the farther from Shinjuku you go the more local the scene becomes. Koenji, for example, has a sizeable underground music scene. Vintage is also big, with many shops selling clothes. Asagaya has a strong Showa-era (1950s-60s) nostalgic feel especially along Pearl Center, a 700-metre-long shopping street with old family-style sweet shops and restaurants that have been there for decades. Ogikubo attracts plenty of foodies because it's here that Tokyo-style ramen (wheat noodles), or soy sauce ramen, first appeared. Harukiya began in the 1930s as a soba (thin buckwheat- flour noodles) shop, but after the Second World War created a new style of ramen that has be- come synonym with Tokyo cuisine. By the time you reach Nishi Ogikubo, you may feel you're no longer in Tokyo. That's one reason I live in Ogikubo: it's very peaceful, but it's still close to more "exciting" places like Koenji. Anyway, Nishi-Ogikubo's major claim to fame is its close-knit art community. There also hap- pen to be more antique shops in Nishi-Ogikubo than anywhere in Tokyo.
Then there's music. Interestingly enough, each district has its own distinct music scene as well. Koenji has a strong rock scene, especially – but not only – punk and underground rock. Asagaya is famous for jazz, and even has a jazz festival at the end of October when its streets are invaded by dozens of bands playing outdoors. Ogikubo, on the other hand, is all about classical music and is also home to the Japan Philharmonic Orchestra. The Ogikubo Music Festival, in November, features four days of concerts at the Suginami Public Hall. Famous music critic Otaguro Moto, who introduced the likes of Debussy and Stravinsky to Japan, used to live there, and the area around his house has been turned into a beautiful Japan- ese-style park.
There's also anime, right?
G. M.: Yes, there are some 70 anime studios scattered around Suginami, that's the biggest anime concentration in the country. Of course, you can't visit them, but otaku culture is every- where, from shops and themed cafés to annual events and even the Suginami Animation Museum, which is located between Ogikubo and Nishi-Ogikubo. It's rather small but offers a unique opportunity to experience how anime are made. And it's free.
Obviously, your job is to spread the word about Suginami. But aren't you afraid that the area may become too popular and lose its original character?
G. M.: That's the hardest part of my job. On the one hand, I don't understand why Suginami isn't as famous as other Tokyo districts, because we have so much to offer. Take ramen. It's be- come almost as popular as sushi, even abroad, yet very few foreigners know about the ramen scene in Ogikubo. It's true that most people look for the thick and greasy tonkotsu (pork bone-based) variety that's so popular now, but soy sauce tastes great and isn't as heavy on your stomach. Or why aren't people flocking to Nishi-Ogikubo's antique shops?
On the other hand, though, I personally do not want Suginami to become another Shibuya or Asakusa. I don't want it to lose all the things that make it special. Koenji, for example, is often compared to Shimo-Kitazawa. Now, Shimo-Kita is certainly more famous than Koenji, but it has recently lost some of its original vibe, probably because of its popularity. Hopefully, Suginami will be able to find a middle way between appealing to visitors and retaining its character.
INTERVIEW BY G. S.