No.134 [TRADITION] Gymnastics for everyone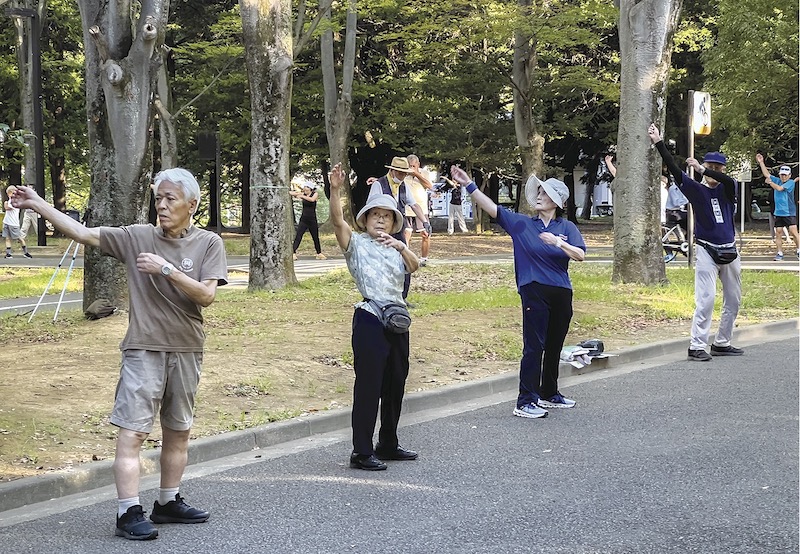 A daily appointment with rajio taiso, a radio programme that encourages millions of listeners to get moving.
It's 6.30 a.m. on a muggy summer's day. The sun is already up in the sky, beating down on people slowly making their way to the station to commute to work. Others take out their rubbish, trying to remember whether today they are supposed to dispose of plastic or organic waste. And in many parks and schoolyards, elementary school students gather, some of them accompanied by their mothers, and start doing calisthenics to the sound of a programme on a radio cassette player brought by the organizer.
Westerners may be baffled by the idea of young kids getting up early during their summer holidays and leaving their air-conditioned homes for some quick physical exercise, but, in Japan, these scenes have long been a summer tradition, and community groups throughout the country consisting of volunteer parents host these early morning sessions. Welcome to the fascinating world of radio calisthenics, or rajio taiso, as this practice is called here.
Fans of Murakami Haruki's Norwegian Wood already know what we are talking about as "Storm Trooper", the protagonist's roommate in the student dormitory who is obsessed with health and cleanliness, exercises every morning at the crack of dawn to everyone's annoyance. But for the majority of people who don't know what this is all about, rajio taiso are warm-up calisthenics performed to music and guidance on the radio. These daily broadcasts have become a beloved institution in the same way that the Shipping Forecast has in the UK.
The first radio gymnastics programme was aired in the United States in April 1922, and by 1925 similar broadcasts had appeared in Germany and elsewhere. The Japanese first became acquainted with this practice in 1923 when Inokuma Sadaharu, director of the Postal Life Insurance Bureau of the Ministry of Communications, visited the United States to research their insurance business and heard an exercise programme on the radio. In August 1927, at a Postal Insurance Bureau meeting, Inokuma proposed the introduction of rajio taiso to celebrate the enthronement of Emperor Hirohito. The programme was also seen as a way to improve the physique of the Japanese people; an exercise regime that all citizens could and should take part in, regardless of age or sex.
Radio broadcasting in Japan had begun on 22 March 1925, and the medium quickly won people's hearts through such popular programmes as sumo wrestling (first aired on 12 January 1928). So on 24 May 1928, the Postal Life Insurance Bureau, the Nippon Life Insurance Companies Association and the Japan Broadcasting Corporation (NHK) commissioned the Ministry of Education to devise the appropriate exercises for radio gymnastics – something that anyone could do anywhere, indoors or outdoors.
Officially announced on 29 October as the National Health Exercise and publicized nationwide by postal workers, rajio taiso was finally broadcast at 7.00 a.m. on 1 November. To be sure, it was a bumpy beginning. The first announcer, Egi Riichi, was a musician in the military band of the Army Toyama School. On the day of the very first broadcast on 1 November, Egi appeared at the studio in military uniform (complete with a sabre) and proceeded to give instructions as if they were military commands: "Attention! Get ready to start radio exercises!" Understandably, the listeners did not like the harsh military atmosphere, so the next day, Egi changed his approach: he entered the studio in gym clothes and welcomed his listeners with a warmer "Good morning, everyone", which became instantly popular.
A military man through and through, Egi always got up at 4.30 every day, left his home at exactly 5.00 and took the first tram to work at NHK. He actually performed the exercises in front of the microphone, but one day, on hearing that Princess Terumiya Shigeko was a fan of his programme, he wore a tailcoat and a bow tie instead of his trademark gym clothes.
Though Egi had softened his approach, there's no doubt that the government was well aware of the connection between physical exercise, military training and nation-building. After Japan invaded Manchuria in 1931, a full-scale war with China broke out in 1937. Following that, radio calisthenics were encouraged as a means of national mobilization through the so-called National Mental and Physical Training Movement. In addition, for one week from 13 October of the same year, it was broadcast at the Time of the National Morning Assembly, whose purpose was to emphasize the "mobilization of the national spirit".
As Igarashi Yoshiyuki writes in Bodies of Memory: Narratives of War in Postwar Japanese Culture (1945-1970) (2000), the movement gained official attention not only as a way to help produce healthy babies and support national production but also as the medium through which the official ideology of a nation could be realized. In 1929, the University of Tokyo Professor and nationalist ideologue Kakei Katsuhiko came up with mythological interpretations for each physical movement. Also, in 1939, Ko-A Taiso (advancing Asia calisthenics) was devised to produce physical education personnel to serve as the driving force in advancing Japan's colonial interests in Asia. Then, toward the end of the Pacific War, participants in rajio taiso were made to exercise to the jingoistic slogan "Bei-Ei-geki-metsu" (destroy, perish America and England).
Jingoistic excesses aside, ordinary people have maintained a healthy, no-nonsense approach to exercising over the years, and the calisthenics with their straightforward and simple approach have served their main purpose of keeping people in shape.
Two types of calisthenics were devised: rajio taiso no.1 (a simpler, less demanding exercise), and rajio taiso no.2, which began in 1932. Originally intended for the workplace (to be done before starting your day's work), the latter focuses on strengthening muscles and its melody has a slightly faster tempo than no.1. More jumping movements are also incorporated, and it's made up of more complicated combinations overall. Most of the songs performed during the routine are original piano compositions, but some exercises sometimes include nursery rhymes and popular songs to match the season.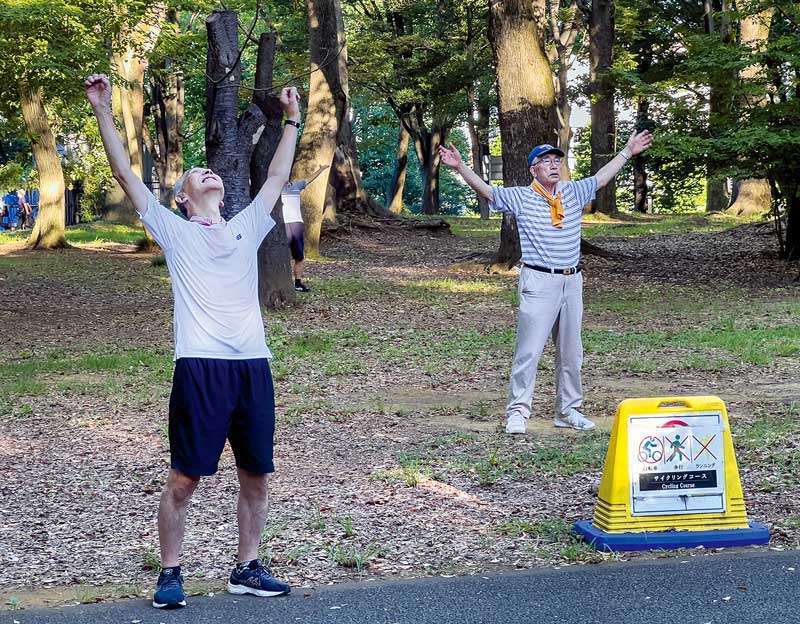 The current calisthenic exercises were introduced in 1951 (no. 1) and 1952 (no. 2) respectively and are the third version since rajio taiso started in 1928. They are broadcast every morning at 6.30 on NHK Radio 1 and every afternoon at noon on NHK Radio 2 except on Sundays. In addition, Radio 2 rebroadcasts them later in the day.
There's also a TV version, Minna no taiso (Calisthenics for Everyone), which first aired on NHK in 1999 to reach a wider audience (it can be viewed on NHK World both in Japan and overseas). The TV programme differs in several ways from the radio version to make it more visually appealing and suitable for a wider range of people. For that reason, two versions were devised, a shorter one (five minutes) and a longer one (ten minutes) with supplementary exercises, and the contents change every two months according to the season. Probably the biggest innovation is that the demonstrations are conducted both standing and while sitting on a chair for less mobile viewers. Also, to make it easier for the elderly, the number and intensity of exercises is reduced compared to the radio broadcasts.
The performers appearing on TV are the instructor, the piano accompanist and several assistants. Explanations and demonstrations by the instructor are performed without referring to the script, and since the broadcast time is fixed and sudden changes in the programme may occur, the pianists are required to have good improvisation skills so they can make small adjustments in a matter of seconds.
Throughout the years, new local versions have been added to the output, and from Hokkaido to Okinawa, the instructions are given in different dialects and languages and different instruments used. They are available on CD.
Minna no taiso is aired every day except on Saturdays and Sundays – the 10-minute version in the morning on NHK's educational channel, and the shorter version both in the morning and afternoon on NHK's main channel. Every year, the early morning broadcast on New Year's Day becomes a special programme called New Year TV Gymnastics, and all leaders, assistants and accompanists appear on screen.
NHK's commitment to rajio taiso and the programme's popularity among the general population is such that only extremely serious and important events cause it to be postponed or cancelled. For example, the programme was cancelled between 15 to 22 August 1945 during the week following the end of the Pacific War. More recently, on 7 January 1989, it was replaced by the broadcast of the emergency news of Emperor Hirohito's critical condition, and again the day after due to the airing of a special programme about the death of the emperor.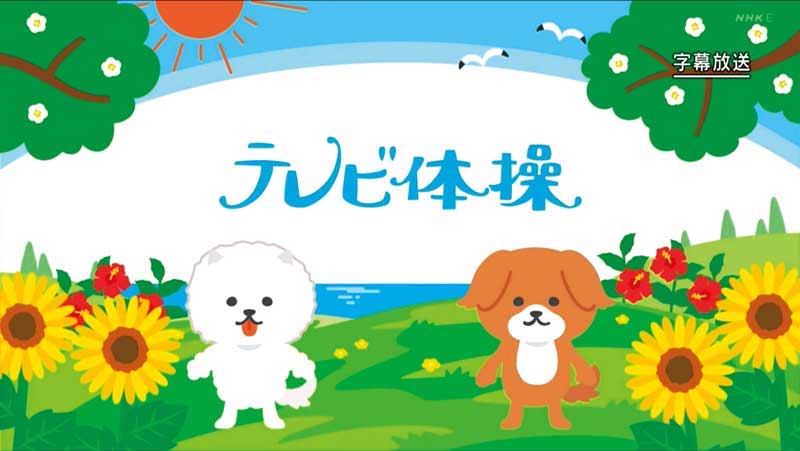 Natural disasters can also cause the schedule to change, as on 27 February 2010 when an earthquake near the main island of Okinawa triggered a tsunami warning at around 5.31 a.m., or on 12 March 2011 when all calisthenics on both TV and radio were suspended due to repeated tsunami warnings and safety information broadcast following the massive earthquake that hit Tohoku the previous day. That was, by the way, the first time in 22 years since the death of Emperor Hirohito that the radio exercises were not broadcast nationwide.
North Korea is not a friend of the Japanese calisthenics programme either. On 5 July 2006, the programme was shown five minutes late to make space for news regarding North Korea's missile launch. And again, on 29 August 2017, the activation of J-ALERT (National Instant Warning System) led to the programme being cancelled.
On a lighter note, the TV programme was suspended on 12 July 2010 when the 2010 FIFA World Cup final in South Africa between Spain and the Netherlands went into overtime.
On the other hand, rajio taiso has given hope and promoted a sense of community during some of those tragic times. After the Great East Japan Earthquake in March 2011, for instance, the city of Ishinomaki, Miyagi Prefecture began to hold meetings in the local dialect, which proved a success. A CD was also released, and part of the proceeds was donated to the reconstruction of the damaged area.
What never runs the risk of being affected by national or international events are the summer holiday sessions. The very first gathering dates back to 1930, when rajio taiso was less than two years old, and a police officer in Tokyo's Kanda-Manseibashi district who was in charge of children's activities thought that radio calisthenics would be a good way for the local kids to exercise and keep their minds busy during the summer break.
So in the early morning of 21 July, he held the "early bird radio calisthenics" at Sakuma Park in Kanda-Sakumacho. Other places in central Tokyo claim to be the birthplace of those meetings (and have even erected a monument to support their claim), but whatever their origin, the practice quickly spread across Japan, so much so that a total of 25.93 million people took part in the 1932 July Nationwide Radio Exercise Meetings.
In recent years, due to the effects of a declining birthrate, the decrease in children's clubs and the problem of noise caused by music, more and more places have discontinued the meetings, and even in those where they still take place, the period the exercise sessions last has been shortened to about two weeks instead of the entire summer holidays. Another factor negatively affecting the gatherings is that more children now attend early morning practice for sports and club activities. As a consequence, according to a Benesse survey, about 40% of schoolchildren did not participate in summer radio exercises in 2014.
However, those who remain loyal to the programme are still rewarded with prizes. Each child is given an attendance card produced by the sponsors of the event, Japan Post Insurance, and distributed free of charge through schools and associations (with the spread of smartphones, there's now an official app with an attendance card function). At the end of each session, their attendance is rubber stamped on their card – or they get a digital stamp – and on the last day of the sessions, those who haven't missed a single one are rewarded with stationery, sweets and book coupons.
While attendance at these events is decreasing both in parks and in welfare facilities, radio calisthenics seem to remain quite popular among middle-aged people and the elderly as they promote a healthy life. Indeed, many adults who don't otherwise have the time or the possibility to exercise, religiously do their calisthenics day in and day out.
Rajio taiso is nearly 95 years old, but doesn't look its age. This exercise can be easily done anytime, anywhere, by anyone. Each session lasts about 3 minutes and 15 seconds. That may seem a short time, but these calisthenics consist of 13 types of exercise, including aerobics, muscle training, stretching and balance exercises, which require the use of about 400 muscles throughout the body.
You can also find those exercises on YouTube, so why don't you give them a try?
Gianni Simone
---
To learn more on the subject, check out our other articles :
No.134 [PASSION] Ekiden, the race first and foremost
No.134 [ENCOUNTER] Promoting social cohesion
No.134 [TRAVEL] Tokyo, the cradle of modern sports in Japan