No3 [Travel] Monsters and all that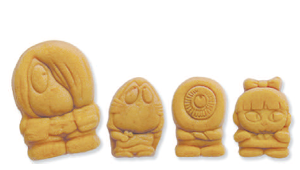 Sakaiminato is the birthplace of mangaka Mizuki Shigeru, a charming port city that pays tribute to his comic strip characters.
Since the end of March there has been a certain soap opera broadcast on Japan's NHK at 8am that has achieved a passionate following. "Gegege no nyobo" is an adaptation of Mura Nunoe's autobiography in which she tells of her life married for forty years to the famous mangaka Mizuki Shigeru.
Mura tells the story of her time spent together with this giant among comic strip creators, one of the few still left alive. The success of this television show has renewed public interest in Mizuki's work as well as the many places he frequented throughout his life. French readers discovered Mizuki in 2007, when his manga "NonNonBâ to ore" (Drawn and Quarterly) received first prize at the Angoulême graphic novel festival and this international recognition even encouraged those who had never been interested in manga before to discover a unique universe of strange stories, full of the bizarre creatures, monsters and ghosts (yokai) which have evolved as part and parcel of Japanese folklore. Evidence of this tradition can be seen in artist Toriyama Sekien's (1712-1788) famous Gazu hyakki yako [The Illustrated Night Parade of a Hundred Demons], a fantastic inventory of all of Japan's mythical monsters published in 1776. Irish author Lafcadio Hearn introduced the Japanese love for monsters and ghosts to Europeans with the works "In Ghostly Japan" (1889) and "Kwaidan, Stories and Studies of Strange Things" (1903), which in turn influenced the Japanese ethnologist YANAGITAKunio in his undertaking to comprehensively research the monster stories found in local folklore.
In Nonnonba Mizuki recalls an elderly servant telling him many old stories and legends populated with strange and fantastical creatures and the strong impression that these left on him. As a consequence, all of these supernatural characters consistently haunt his work. Among his most popular and memorable works, Gegege no Kitaro, a tale about a little ghost who becomes disillusioned with human nature, ranks as a first class story. Kitaro is one of the first of Mizuki's characters that the traveller encounters when visiting Sakaiminato, where the master of manga horror is worshipped as a hero. The train between the port and Yonago, the nearest big city, is decorated with Kitaro reproductions and this sets the tone for the visitor, immersing him in the strange universe of Mizuki Shigeru almost as soon as he gets off the train. Proud of this heritage, the authorities have re-named the main street leading from the station in his honour and the first statue a tourist encounters there portrays the author sitting at his desk. It is a warning to the tourist that he is about to enter a new world populated with over a hundred distorted and sometimes terrifying beings, whose sole aim is to entertain. Statues and reproductions of Mizuki Shigeru's characters await the visitor all the way along Mizuki Shigeru Road. Many stop and admire these statues although one might expect they would run screaming from their grotesque appearance! Though they may well be scary, there is still something charming and attractive about these characters. In Mizuki's work at least they are reminders that ghosts and monsters are there to reawaken man's conscience, which has a tendency to fall dormant over time. The statues are also there to whet your appetite and the local shops overflow with sweets in the shape of the characters you will already have met in the streets.
Yôkai Manjû (Hideous Manjû) sell manjû (little cakes filled with red bean paste) in the shape of characters from Gegege no Kitaro. Situated right opposite the museum dedicated to the author and his monsters, this delightful shop is never empty. For many, boxes filled with tasty morsels and wrapped in special Kitaro paper, make an ideal souvenir of their trip down Mizuki Shigeru Road. If not, then they will surely return home with pictures of Kappa's Fountain (kappa no izumi) where Kitaro can be seen imitating the Belgian little peeing boy for the amusement of visitors, or the Spook's Warehouse (Yokai Soko) whose walls are covered with beautiful paintings of hideous looking monsters. Before leaving don't forget to drop by the post office where the post is stamped with a special commemorative postmark. Some fear they will have an overdose on monsters in Sakaiminato but they may rest assured that the city also has many other assets justifying a visit lasting several days. After leaving Mizuki Shigeru Road and the eponymous museum, you need only turn left to find yourself walking along the Sakai Channel that leads to the sea. Sakaiminato is a port city and one of its greatest specialities is the snow crab. Sakaiminato provides 60 % of the Japanese production of this delicacy so it goes without saying that the local cuisine is definitely worth tasting. Every year, in mid-October, a seafood festival (Suisan matsuri) takes place in the fish market that presents a great opportunity to feel the pulse of the city. You can taste delicious crab soup early in the morning while watching several fascinating local customs. Other than crab, Sakaiminato also produces a lot of mackerel, with autumn and winter being the best times to eat this fish, when its flesh is most succulent. Saba misoni (simmered mackerel and miso) and other delightfully tasty fish specialities can be found in the many little restaurants dotted around the town. It would be a great pity to miss Sakaiminato in autumn but you could try visiting in spring instead, another good time to take advantage of the city's treasures. The weather is good and in Daiba Park close to the Sakai Channel you can admire 350 cherry trees in bloom around a wooden lighthouse built at the beginning of the last century.
It is a pleasant walk that can be prolonged to take in another green area running alongside the sea, heading to another park called Yume Minato. Here we can find another of the City's treasures, the Yume Minato tower with its observation platform from where you can enjoy the beautiful scenic landscape around the port. To end your visit, have a look at the hot water fountain by the entrance to the tower and you will then be ready to try one of the city's many fine restaurants. Following a good night's sleep, turn the television on at 8 am and watch an episode of Gegege no nyobo but don't wait too long as the series is only scheduled to run until September 25th!
Gabriel Bernard
Photo: DR