No7 [Restaurant] iBUKi: Breathing New Life Into Japanese Cuisine!
iBUK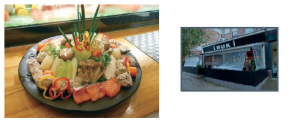 i: Breathing New Life Into Japanese Cuisine!
Aunique and attractively modern Japanese sushi restaurant has recently opened in Maida Vale and there is no doubt that this is a place you will want to visit again and again. "iBUKi" is run by Mr. and Mrs. Hoshino who are a lovely couple and very friendly and inviting. Upon entering the restaurant, the decor is stylish, elegant and sophisticated. There is a sushi counter near the back of the restaurant displaying the magnificent skills of Mr. Hoshino who has perfected the art of sushi making for over 35 years; and once you take a look at his food, you can clearly see a reflection of his skills. Some of his hand-crafted work includes making a dragon out of sushi, a centrepiece that is incredibly impressive. The sushi really does perfectly resemble a dragon; right down to the crafting of the slithering snake-like body. Looking at this makes one wonder just how much time and dedication it takes to be able to create such a masterpiece. In addition to the dragon sushi, there are also many other delightfully creative sushi available for you to try, such as the "Maida Roll" and the "Vale Roll" that are inspired by the local area. In addition, in front of the counter are high rise stalls which adds to the feel of actually being in an authentic sushi restaurant in Japan. Now, onto the food. "iBUKi" is first and foremost a sushi restaurant, but on top of the sushi there are other dishes that tempt you to try such as tempura, teriyaki, home-made Japanese desserts and much more. For example, the spicy miso nabe. It is a fact that the winter season has descended upon us all, and so perfect for this bitter chilly winter period, guests can enjoy a spicy and warming miso nabe. This hotpot contains a wonderful flavoursome stock which gets the level of spice absolutely perfect. Within this miso-based broth, an array of vegetables cook together with fish, meat and seafood such as salmon and oysters, as well as chicken and sesame balls which are a combination that compliments each other very well indeed. The taste of the broth eaten together with the vegetables, meat and fish are like a perfect marriage! iBUKi is a delightful restaurant if you want to try delicious sushi rolls as well as a range of other wonderful dishes. Especially recommended is the spicy miso nabe. This truly is a special winter treat but just remember to order it in advance before you go!
Destiny Rose
www.ibuki-sushi.com