No16 [Travel] Welcome to Tokyo-upon-Avon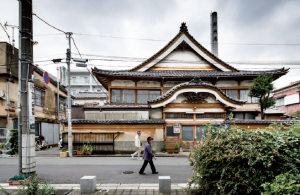 If you feel like wallowing in one of the capital's 700 thermal baths, here are three top places to visit.
On the morning of the 1st of September 1923, there were more than 2,000 sento in Tokyo. Just two days later only 400 were still standing following the biggest earthquake to ever hit the city. Most of the 700 establishments remaining today are concentrated in the shitamachi or working-class districts in the east side of the city. Zoom Japan has visited three of the most beautiful, representing old and new approaches to this centuries- old tradition.
Takara-yu (meaning "treasured water"), as the name suggests, is a real jewel of a place. Hidden in one of the backstreets of Kita-Senju, its exterior has remained unchanged since 1937 when it was first built – an exceptional feat in a country where wooden buildings – including temples and shrines – are regularly rebuilt to replace the worn out materials.
Some of its finest features can be enjoyed even before setting foot inside. The carving above the main entrance, for instance, features the Seven Lucky Gods of Buddhism. Created from a single wooden panel, this masterpiece was made by the same artist who carved the famous three monkeys at Nikko's Toshogu shrine. The carving is topped by a crane – a good luck charm – and a pine tree, or "matsu" in Japanese, which stands for the owner's name, Matsumoto. Another typical sento-related symbol (from the Edo period) is the bow and arrow dangling off to the left. They are said to attract customers as their combined Japanese name, yumiya, is a pun on the expression "yu ni iru" which means "getting into the water". Another one of Takarayu's jewels is a gorgeous Japanese garden with a pond whose resident koi carp are 50 years old. Shimizu-yu, in the southern Shinagawa Ward, is a stylish example of how public baths have evolved in order to meet popular tastes. First opened in 1924, according to third generation owner Kawagoe Taro, his father decided to dig for a hot spring in order to revive their declining fortunes. They struck "black gold" (the colour of hot-spring water in Tokyo) in 1994 and in 2007 they found something even better: a "golden water" that is famous for its curative qualities. Black hot-spring water comes from 200 metres underground but in order to find the golden water they had to drill all the way down to 1500 metres. The curative effect of the iron-rich water contained in the granite-made bathtub is enhanced by a process called nano-bubbles. Shimizu-yu is now the only sento in Tokyo with not one, but two different kinds of hot spring water that people can enjoy at a sento's traditionally low prices. It is so popular that on the morning we visited there was a long queue of people waiting outside to be the first into their small outdoor bathtub. With its atmosphere of old Tokyo, Myojin-yu is one of the city's most famous public baths. Established in 1957 in Ota Ward (one of Tokyo's main sento areas), it was built, like Takara-yu, in the characteristic temple style with high ceilings that can only be found in Tokyo. Its main feature is the hafu, a curved wooden shape hanging over the entrance. According to sento expert Machida Shinobu, traditionally this design can be found in four very different places: a shrine, a sento, on top of a hearse and at the entrance to a red light district. In all these cases it symbolizes – in one way or another – an entrance to paradise.
Originally, public baths were much simpler affairs and it was only after the Great Kanto Earthquake (1923) that carpenters specializing in temple and shrine construction were asked to rebuild the damaged sento. That style became very popular, but only in Tokyo. Traces of Buddhist temple architecture can even be found in the dressing rooms, with high ceilings and a unique 's' shaped structure at the juncture between the roof and wall. Decoration gives way to functionality inside the bathroom area. The water coming from underground (in Myojin's case from their private well) is pressurized through a complex piping system, thanks to which it flows at a specific angle. Even the floor in the shower area is slanted at a certain angle to avoid pools of water, which would cause mold. This is of the utmost importance as otherwise the constant humidity and steam would cause serious damage. Indeed, it is almost a miracle that traditional public baths last for so long without extensive repairs.
Gianni Simone
Photo: Jérémie Souteyrat