No25 [Cooking] Chicken Nikujyaga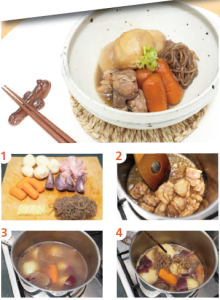 Chicken Nikujyaga (Japanese stew of chicken, vegetables and shirataki noodles)
Nikujyaga is the heart of Japanese home cooking, a stew of meat and vegetables in soy sauce. Shirataki noodles, thin transparent noodles made from yam potato, bring a pleasant texture to the dish. They are also low calorie and totally gluten free. In this recipe, chicken is used but thin slices of beef or pork can take their place quite happily. Potatoes are the dominant ingredient, making it quite filling, but Nikujyaga is typically served as a side dish, or as an accompaniment to drinks before a main meal.
Ingredients:
● 300g Potatos
● 1 medium Carrot
● 85g Yutaka Japanese Shirataki
● Noodles
● 100g Chiken Breast or Thighs
● ½ Onion
● 1 tsp Fresh Ginger
● ⅓ Chicken Stock Cube
● 1 tsp Vegetable Oil
● 200ml or more Water as required
Sauce
● 2.5 tsp Yutaka Soy Sauce
● 2.5 tsp Yutaka Mirin
● 1 tsp Yutaka Cooking Sake
● 1 tsp Sugar
How to prepare:
1. Cut the chicken into bite-size chunks, peel the onion and carrot before cutting them into several pieces and chop the ginger into short, fine strips. Peel the potatoes and cut them into halves or quarters depending on the size.
2. Heat the oil in a pan, add the chicken and half of all the sauce ingredients and then cook over a medium heat for 3-4 minutes or until they are slightly brown, constantly stirring to avoid burning. Once cooked, take the chicken out of the pan and put it aside, keeping the remaining sauce inside the pan.
3. Add the onion and carrots to the pan and cook lightly over a medium heat for 1-2 minutes while stirring. Add enough water to cover the ingredients, then add the shirataki noodles, ginger, chicken cubes and the rest of the sauce ingredients and cook over a medium heat. Just before it boils, reduce the heat slightly and simmer for 15-20 minutes or until the ingredients are fully cooked.
4. To check if properly cooked, skewer the sharp end of a chopstick into a potato and if the chopstick goes right through to the middle then everything should be done nicely. Finally, stop the heat. The ingredients absorb the sauce as they cool, so for best results, leave to cool naturally and re-heat after an hour or more. Serve with pre-cooked chicken.