No24 [Cooking] Tofu Teriyaki Burger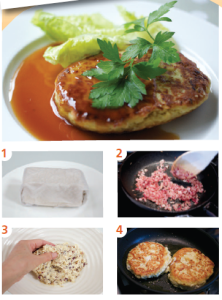 Tofu Teriyaki Burger
Whether you are a vegetarian or an omnivore, tofu is a healthy and versatile ingredient that works with a wide variety of Japanese dishes. 'Meat of the fields' as they are often called, tofu burgers are surprisingly rich and savoury. Teriyaki sauce thickened with corn starch gives a succulent texture and shine to the dish and it never fails to surprise me how utterly delicious it is.
Ingredients:
Serves 2
Cooking time : 15-20 minutes
● 120g Yutaka Tofu
● 30g Yutaka Panko Breadcrumbs
● ½ Egg
● ½ Medium Red Onion
● Salt and Pepper
● 1 tsp Vegetable Oil
Thick Teriyaki Sauce
● 2tsp Yutaka Wheat Free Reduced
●Salt Soy Sauce
● 2 tsp Yutaka Mirin Seasoning
● ½ tsp Sugar
● ½ tsp Corn Starch
● 1 tsp Water
How to prepare
1. Prepare the tofu by wrapping it in kitchen towel to remove excess water.
2. Chop the onion into fine pieces. Pour 2/3 of the vegetable oil into
a frying pan and then fry the onions over a low to medium heat for 4-5 minutes, or until golden brown. Keep stirring to avoid burning. Put the onions aside in a bowl to cool. To make the sauce, add water to the corn starch in a small cup and mix well until it is fully absorbed. Mix together the soy sauce, mirin, sugar and hydrated corn starch in a small saucepan and cook over a low heat for a few minutes until the sauce lightly thickens.
3. Add tofu, egg and panko breadcrumbs to the onions and mix well by hand until the texture becomes uniform. Season with salt and pepper.
4. Divide the tofu mix into 2 equally sized pieces and press them into burger shapes using your fingers. Add the remaining oil to the frying pan and cook the tofu burgers over a medium heat for 2 minutes each side or until golden brown. Cover with teriyaki sauce to serve.