No46 [Book] All about the art of tattoos
Always at the top, Tuttle publishing has recently brought out an excellent book about irezumi.
Since Donald Richie's 1980 book first piqued western readers' interest in Japanese tattoos, many books of differing quality have been published on this subject. Most of them have obviously focused on traditional irezumi's visual beauty and had precious little text – which in a sense was a good thing because most descriptions were quite superficial and tended to naively romanticize Japanese culture.
Enter Brian Ashcraft, a veteran expat and fearless explorer of Japanese high- and lowbrow culture, who has already tackled such exciting subjects as game centres and schoolgirls. This time around, he teamed up with Osaka-based tattooist Hori Benny to (as Tuttle's blurb says) "explain the imagery featured in Japanese tattoos so that readers can avoid getting inking they don't understand or, worse, they'll regret". However, the book is much more than that because, in order to explain tattoo iconography and the meaning of the main motifs that are usually inked on people's bodies, the authors delve into the larger subject of Japanese history and culture, in the end offering much more than the book's title suggests. Another good thing about the book is that Ashcraft and Hori Benny have a refreshingly open-minded approach to the subject and step out of traditional tattoos' long shadow, giving the reader a wide-ranging tour of Japanese tattooing. Japan may be famous worldwide for intricately designed bodysuits, but the local tattoo scene actually has much more to offer. That's why in this book you'll find traditional tebori (tattooing by hand) and kanji tattoos side by side with modern designs, western motifs and otaku-inspired work.
The book opens with an introduction in which the authors present their subject in a lively, engaging way, avoiding the kind of dry, academic style that all too often mars this kind of publication. However, this does not mean that it is not a wellresearched book. Starting with the meaning of the word irezumi (and other words the Japanese use for "tattoo"), Ashcroft and Benny tell us everything we need to know about the Japanese tattooing tradition, its connection with the underground and its current fusion with pop culture, providing interesting images to illustrate each point at every step. Also, throughout the book we find useful explanations about the tools each tattooist uses, the changing rules and laws, the different types of bodysuits (i.e. full body tattoos) and so on.
Each of the following chapters focuses on different tattoo motifs and their significance to the wearer. Japanese traditional tattoos consist of a single large narrative or symbolic subject taken from Japanese history, myths and legends, usually embellished with other complementary elements. From Chinese characters, flowers and animals to gods and folk heroes, we are told why people choose certain images and what goes well with what (and why in many cases the central motifs are surrounded by water or clouds). Personally the parts I enjoyed the most were the interviews. At the end of each chapter we find very interesting profiles of famous tattooists who talk about their philosophy and approach to tattooing. They are followed by conversations with people who have decided to get inked, which delve into the motivation behind their choices.
Obviously in a book about tattoos the stars of the show are the photos, and here too there is no reason to be disappointed. The quality of the 350 colour photos displayed here is pretty high — even though they come from different sources (most of them were contributed by the tattoo artists themselves) and some images are better than others — and they are consistently good, including those gorgeous bodysuits that traditionally distinguish Japanese irezumi from western one-point tattoos. There are many tattoo cultures around the world that deserve equal attention, but Japanese tattoos undeniably occupy a special place in many fans' hearts because of their powerful meanings and exquisite aesthetic. Following in Tuttle's fine book-making tradition this publication features a clean layout and is very well organized. The choice of rather glossy paper for the pages is a good one for this picture-heavy publication and makes it easy to turn the pages. This is a sturdy tome that you can confidently handle without fear that it will fall apart.
I really enjoyed this book. I liked the clear and engaging writing style of the authors, the bits and pieces of insider knowledge, the presence of female tattoo artists and all the practical advice to people who are thinking about getting that crucial first tattoo. If you're thinking about getting a Japanese-style tattoo this book will answer all the questions you may want to ask. But even if you have no tattoos and no intention of ever getting one you'll get a new insight into an important and all too often misunderstood side of Japanese culture.
Jean Derome
Reference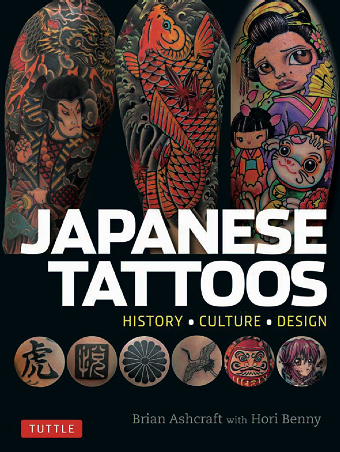 Japanese Tattoos: History, Culture, Design
By Brian Ashcraft and Hori Benny, Tuttle, 2016, 160 pages, $17.95.