No54 [TECHNOLOGY] Rheon always at the top
This Japanese company has designed industrial bread-making machines, which have achieved outstanding results.
fried kare-pan, a mountain of pink and green macaroons, shokupan, plaited brioches with a sugar and chocolate crust: the list of goods that the Rheon labs' employees are testing with their machines is never- ending. There's no means of escaping the delicious smell of freshly baked bread and cakes when walking down its corridors. Today, a customer has travelled from Singapore to Utsunomiya, in the prefecture of Tochigi, north of Tokyo, to come and see Rheon's machines for himself before making a decision. Seeing the happy smile on his face while tasting the freshly made products, he appears satisfied and about to place an order. "Here, just a few hundred metres away from our factory, there are three research laboratories,"explains Kaneko Tamotsu, Rheon's technical director. The first is devoted to bread-making of all kinds, the second specializes in Japanese pastries, and the third focuses on Western pastries for the Japanese and international markets. "The aim of these laboratories is twofold: they are used as show-rooms for customers, but they also allow us to test the machines to detect any problems and consider how best to improve them, with the ultimate goal of creating new recipes."
With seven production units worldwide, the company has 736 employees. It was the first company to create a machine capable of both making and filling bread products, and its name stems from rheology, the scientific term for the study of the deformation and flow of matter under the effect of applied constraint. Since the dawn of time, mankind has been shaping his food with his hands, and the aim here is to automate this practice with the same delicacy and precision. By creating this unprecedented know-how, Rheon has founded a new branch of studies focusing on the most meticulous food-processing possible. Rheon is the marketleader in this area, and one has to admit that its internationally renowned machines are impressive in the precision of their food preparation. As the first production line is finishing off a batch of the famous shokupan, a second machine is stuffing little breads rolls with Japanese curry, while a third produced perfect macaroon shells earlier in the afternoon. Another production line is plaiting thin layers of sweet pastry for the melon-pan, Japanese style pains au chocolat. To make them, all you need to do is pour the ingredients into the machine, and it will do all the rest by itself without any human intervention. "A machine is capable of doing the work of four craftsmen, without having any effect on the taste or the quality of the bread," says Kaneko Tamotsu. "Our machines' reputation is built on precise attention to detail; the process is efficient and doesn't alter the taste of the bread. Anybody would think that it was made by a baker."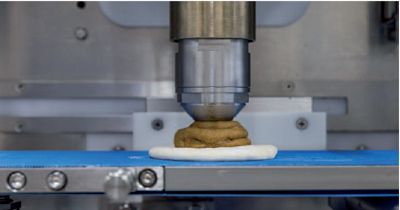 In Japan, where population decline is critical, the question of a viable workforce is crucial. It's necessary to find solutions to continue food production in sufficient quantities for the population. "Japanese companies have been finding it hard to recruit," says Shinga Takeharu, head of marketing at Rheon. "But the consumption of bread hasn't decreased. We need to provide professionals with machines that are capable of responding to the challenge facing the domestic market." Accordingly, the laboratories unveiled the Cornucopia KN551, the "Rolls Royce" of bread-making machines, last June at Fooma Japan, a trade fair in Tokyo devoted to agribusiness technology. "The Cornucopia KN551 is capable of producing 115,200 cookies per hour," says Kaneko Tamotsu with pride. Displayed proudly, Rheon's latest creation attracted quite a few passers-by. Filled bread products, meatballs, chocolate churros, cookies, steamed buns, quiches, cheesy beef burgers – the machine can make just about anything you want at a speed of a hundred per minute. "This includes very delicate products. Every one of our machines is delivered along with a list of recipes that we have developed especially for it," adds Kaneko Tamotsu. "That way, the machines are always very easy to use, even for a beginner who doesn't have the knowhow or is not particularly good at baking. We supply everything that's required for the whole process."
Another machine at the cutting edge of this cooking technology is the "Flexing roster", which produces freshly baked filled bread rolls. This machine was being tested in the Rheon labs when we visited. An employee places pieces of dough on circles printed on a conveyer belt, and turns the machine on. It slides over the pieces of dough, flattens them like pancakes and delicately places the required amount of curry on them before neatly folding up each portion. Rheon technology is expensive, and this machine alone costs 10.5 million yen [£74,600]. Nevertheless, orders are flowing in, increasingly from abroad. "We have just sold 30 of this type of machine to China," Shinga Takeharu informs us. "Our machines are very successful in countries where the population is growing fast." Furthermore "our machines can adapt to the customer's needs and to local tastes in the countries to which we sell them." The range of possibilities offered by Rheon machines seem limitless: baguettes, pastries, white bread, ciabatta, Danish pastry, pizza, nan, etc. They number the giant Japanese industrial sandwich loaf maker Yamazaki Pan among their customers, as well as the Bridor group in France. "Two hundred companies worked with us last year. In 2016, our catalogue of recipes which are possible to produce with our various machines reached 10,000." Renewal is essential to remain competitive, especially in the domestic market. And customers are particularly demanding in Japan as far as novel and original products are concerned. The range offered needs to be crafted with precision, quality-driven, tasty and constantly updated. "The Japanese love to experience new tastes, they like exclusive and original products that are available for a limited time. They want to be surprised, astonished, as well as captivated by the taste. One novelty is constantly chasing after another to replace it, and the expected level of quality is very high. That's also why we constantly focus on innovation," he adds.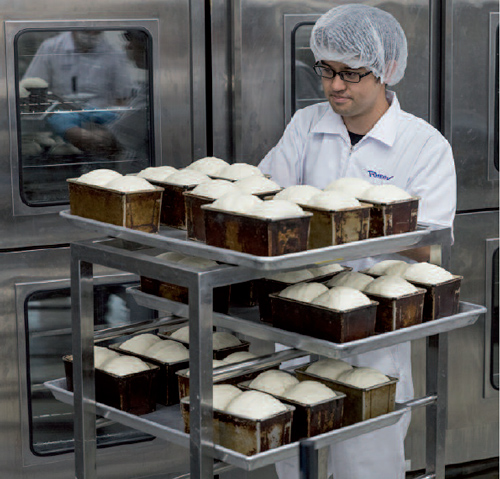 Japanese sliced white bread, shokupan, is one of the main products concerned. "In Tokyo, an increasing number of bakeries and craftsmen are solely concentrating on producing this bread, such as the Pelican bakery in the popular district of Asakua. That leads to an increase in quality, and we need to constantly excel," notes Kaneko Tamotsu. Nevertheless, he regrets that these specialist bakeries are just restricted to the capital and other big cities. "There aren't any in Utsunomiya, for example, although it's just an hour away by train from the capital." Another remark made by one of the Rheon team: "The decrease in interest of young Japanese in traditional pastries is worrying. I have a 24-year-old daughter, and she hates red bean paste, and it breaks my heart," he says. "She isn't the only one. For the past few decades, more and more young people have been rejecting this flavour that's found everywhere."
China is one of the markets that Rheon hopes to conquer in the future, as it obviously has vast requirements. "The population is rapidly increasing unlike ours, which is declining. We're also thinking of strengthening our presence in Africa, because we believe that some of its countries will be interested in making products that are both high quality and good value," he explains.
J. F.