No62 [FOCUS] Yasugi's taste of the eternal
Thanks to the Adachi Museum of Art surrounded by its magnificent garden, this small city is an essential place to visit.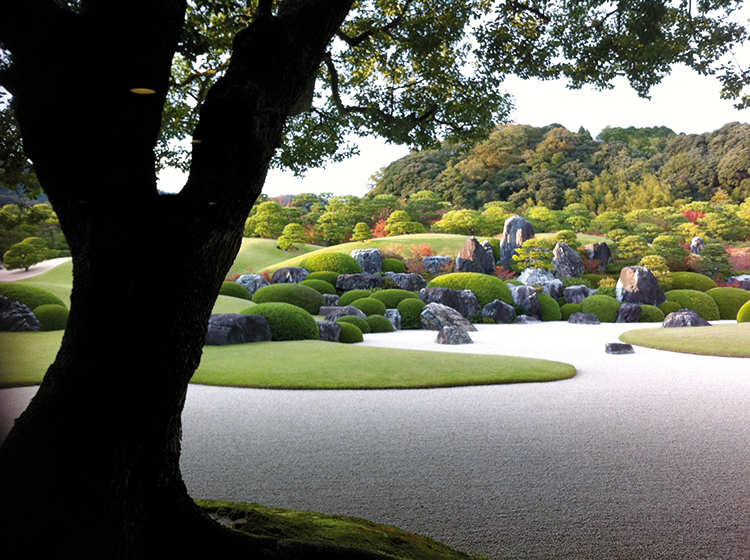 From behind vast bay windows, visitors can watch the way nature changes over the course of time.
François Berthier, one of the great historians of Japanese art and an expert on Japanese gardens, stated, "in a garden, a snapshot of the whole of nature, a person can recognise themselves". This phrase often comes to mind during my frequent travels through the archipelago, where, it's true, there are innumerable gardens. There are even lists to help the curious discover, here and there, some of the wonders among the wide range of Japanese gardens. There are three that stand out above all the rest in that they have featured in the top three for decades: Kenroku-en in Kanazawa, Koraku-en in Okayama and Kairaku-en in Mito. They undoubtedly deserve a visit as they display a unique savoir-faire and are a source of great pleasure to all who go there. But I have to admit that none of them thrilled me as much as the garden at the Adachi Museum of Art in Shimane Prefecture, in the western part of the archipelago. As well as having one of the most extensive collections of Japanese art, this institution, founded by the businessman Adachi Zenko is surrounded by a natural masterpiece divided into six glorious scenes, which can be viewed through enormous windows. No one can remain unmoved in the face of such beauty. More than just its beautiful layout, this garden is an expression of the notion of eternity, an idea made manifest for the Japanese through change and impermanence (mujo). Next to the canvases capturing individual moments, this living picture perfectly illustrates the passage of time through the sometimes imperceptible seasonal changes in the garden. So I rarely miss an opportunity to visit the garden at different times of the year, just to let myself be filled with this feeling of grace, which gives more meaning to my life than any glowing rhetoric. So keep that in mind when you next visit Japan.
ODAIRA NAMIHEI
▶︎HOW TO GET THERE
FROM TOKYO STATION, take the shinkansen to Okayama. From there, a train on the Hakubi line in the direction of Izumo will take you to yasugi Station (2h20). There's a free shuttle service (20 minutes) to the museum.