No.72 [IN SITU] Like a fish in water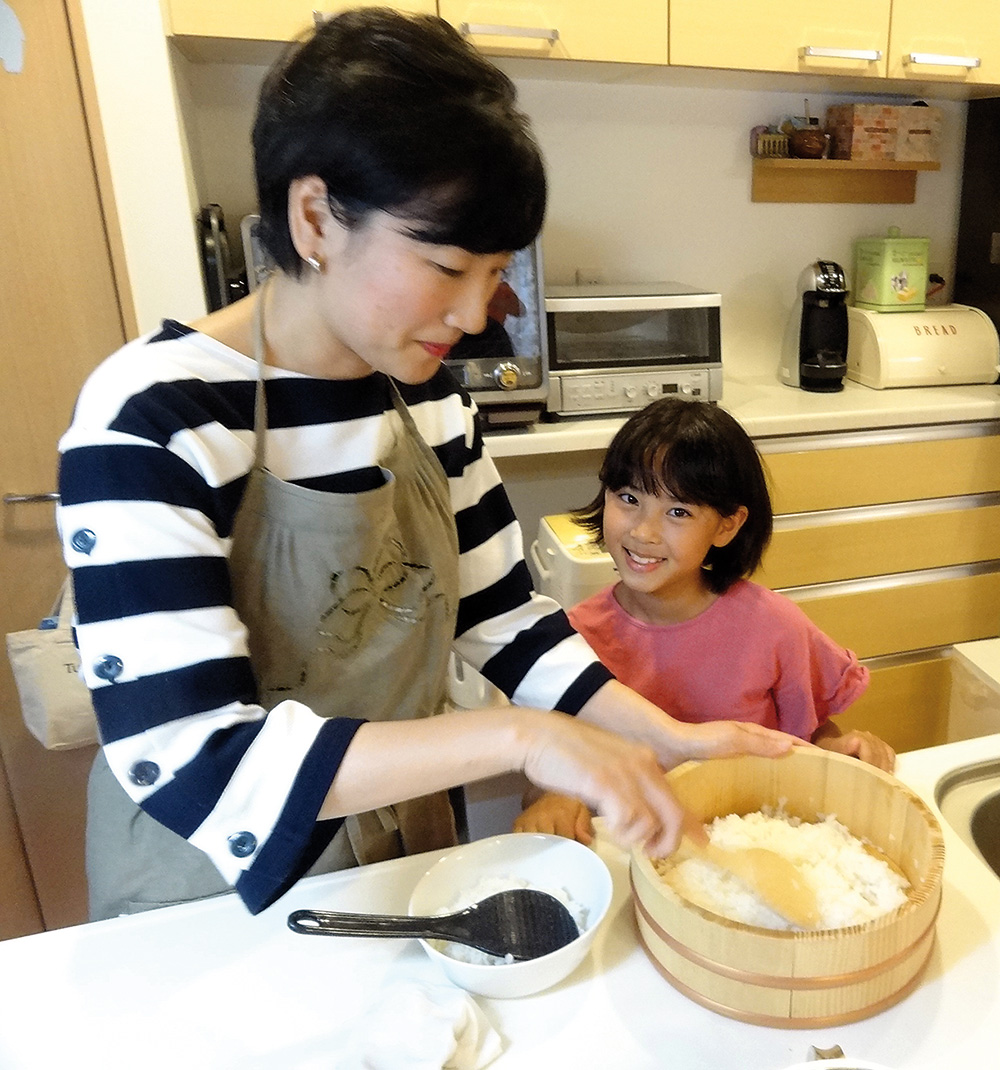 It's time to prepare dinner. Today's menu is temaki-zushi. Yummy!
It's possible to experience several hours of life in the heart of a Japanese family, thanks to Nagomi Visit.
Have you ever wondered what a typical Japanese house looks like, and what kind of life the Japanese actually lead far from Tokyo's bright lights and Kyoto's temples? Now you have a chance to see it for yourself thanks to Nagomi Visit, a Japanese non-profit organisation whose goal is to give both foreign tourists and Japanese residents an opportunity to meet the locals while travelling around the country. Founder KUSUNOKI Megumi created Nagomi Visit (www.nagomivisit.com) in 2011 with a vision of making a social impact in order to foster cultural understanding. Her Japanese-American friend and former colleague, SANADA alisa, soon joined the project, becoming the NPO's Chief Operating Officer. "Our goal is to be a cultural exchange programme that's accessible to anyone, and where real friendships form that last beyond the duration of the programme," SANADA says. "we hope that through our programme people will create meaningful relationships that both value and go beyond their different backgrounds. These are very small steps, but we strongly believe individuals like us can help to have a positive affect on Japanese society and beyond."
Explaining the rationale behind their decision to be an NPO, SANADA says that they wanted to create a programme where hospitality would remain genuine. "all our hosts are volunteers," she points out. "we know the host and guest dynamic changes once money is involved, so we decided to set a fixed participation fee of 3,500 yen (£25) per guest, which includes lunch or dinner prepared by the host. Half of the fee goes directly to our hosts so they can buy the ingredients to make your meal. The other half supports operational costs for the Nagomi Visit team.
"we're aware that there are other 'travel experience activities' out there, but we don't want to commodify our visits. In other words, friendship shouldn't come with a price tag. That's also the reason for avoiding host and guest reviews."
with millions of foreign travellers visiting Japan every year and a new immigration law aiming to attract several hundred thousand workers in the near future, many Japanese, naturally shy in the first place, are justifiably anxious about dealing with people from different cultures. For this reason, Nagomi Visit was created with both the guests and hosts in mind. "we want our hosts to grow too while welcoming people from all parts of the world," SANADA says. "we essentially want to play our part in helping Japan become a friendlier place for all.
"Many Japanese are busy with work or raising kids, and might not have the time or money to engage in cultural exchanges whether through travel, study abroad or acting as a host family to foreign students. The problem is even greater for people who live in rural areas and might not have access to language schools or cultural events."
Considering many Japanese are naturally shy and reluctant to engage with strangers, let alone welcome them into their homes, one might think it would be difficult to find volunteers interested in joining the programme. However, SANADA says many people reacted positively to the idea. "Especially once we started getting more media exposure, more and more people approached us. all our hosts actually long for more contact with people from different nationalities and cultural back- grounds. People with children also want their kids to be engaged with the wider world."
Eight years after launching Nagomi Visit, the NPO has over 1,000 volunteer members (including families, couples and solo hosts) all across Japan, and has helped more than 8,000 guests from 67 countries including the US, Canada, Australia, Singapore and several European countries. "First-time hosts are often worried about how to make the guests welcome," SANADA says. "They ask if they should cook real Japanese food or even 'look Japanese', but in the end these things don't really matter."
My Nagomi Visit
On a hot spring afternoon I meet my hosts, the KANEHIRAS. Masako, 37, welcomes me at the station with her two lovely daughters, 8-year-old Miyoko and 5-year-old Mako, holding a colourful board displaying my name. Outside the station we meet Motoki, 41, who is waiting in their car. The KANEHIRAS joined the programme in March 2018, and have quickly become Nagomi veterans, hosting 11 groups in little more than a year, including travel journalists from Germany, cherry blossom lovers from Argentina and couples on their honeymoon. Even the two girls are far from intimidated by a tall foreigner with a goatee and an earring. Their shyness lasts for about five minutes, but they quickly succumb to my charming smile (!).
we soon arrive at their home, and after playing in their garden with soap bubbles we go inside for a glass of cool barley tea and a chat. Both Masako and Motoki are fluent English speakers, having studied abroad more than once, in Canada and Australia. They actually met during their first stint in Canada. Masako graduated from Osaka Gaidai, a famous university focusing on foreign language studies. She used to work in an English conversation school, and even now teaches at home while raising her children. Motoki works as an engineer designing machines to build camera components, and in his free time enjoys skiing and camping.
"we're always surprised when our guests say they're travelling around Japan for three or four weeks because in Japan we can't really take such long holidays," Motoki says. "at Canon, where I work, they let you take a ten-day holiday every ten years as a reward for being a loyal employee. I've worked there for 16 years now, so I still have four years to go before I reach 20 and get my bonus vacation." Masako hopes they'll be able to travel abroad and visit some of their new Nagomi friends. Motoki and Masako are from Kyoto and Nara respectively so they speak in the Kansai dialect at home. "That's why Miyako and Mako speak a mix of standard Japanese and Kansai-ben," Masako points out. "My first few years after moving to the Kanto area were not easy because we were living in a rural area in Ibaraki Prefecture and I had no friends. More than once I felt homesick. But now we live in Kawasaki, and I have made friends with the other kids' mothers, plus there's Nagomi Visit, so I feel at home here.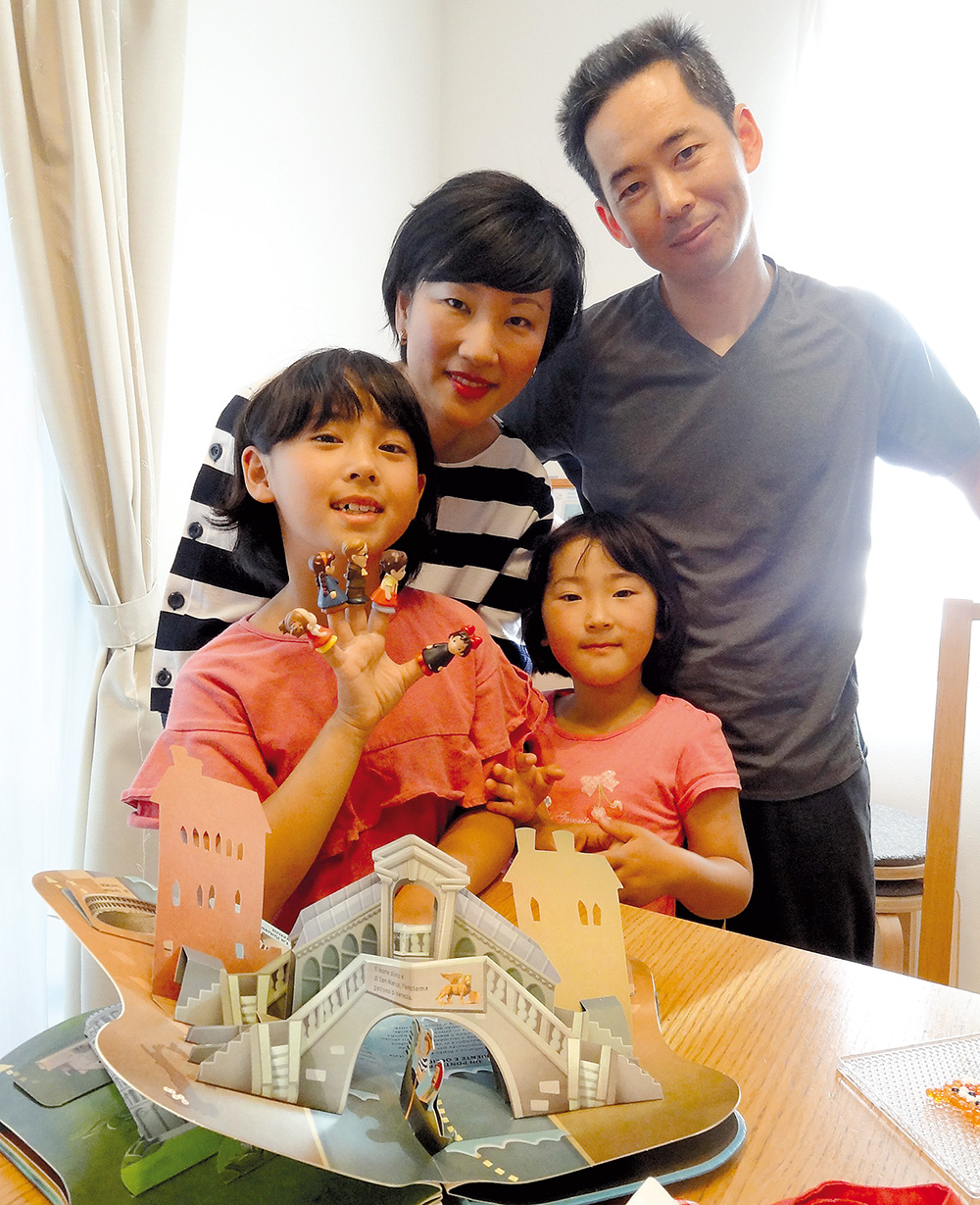 The KANEHIRA family has taken part in the Nagomi Visit programme for over a year.
"There was a time when I dreamed of living abroad, and I really enjoyed my life in Australia where I spent two years. at the same time, though, I realised I was more comfortable living in Japan. Growing up here, I took everything for granted, but when I lived abroad many people asked me about life in Japan, and while explaining what living here is like I was reminded of how much I loved my country. You could say I'm proud of being Japanese." For Motoki and Masako, the good thing about Nagomi Visit is that their daughters get to meet all these people from abroad. "as you saw, they're not shy at all, and little Mako earlier grabbed your hand to show you her toys," Masako says. "This is something Japanese children never do with strangers. Lots of Japanese are shy in the first place, and most of us have never talked to foreigners. But thanks to Nagomi Visit we have met so many foreigners in the last 12 months that Miyako and Mako are now very comfortable around them."
It's time to prepare dinner. Today's menu is temaki-zushi (hand-rolled sushi) and chikuzenni (chicken stew with carrot, burdock, bamboo shoots and mushrooms). "Temaki-zushi has been by far our most popular dish," Masako says. "Our guests obviously love sushi, and here they have a chance to make sushi rolls themselves, which is a lot of fun.
On the other hand, we try to avoid food that foreigners – especially westerners – may find a little odd. The last time we had guests from Germany, they tried natto but they found the taste 'interesting'. On another occasion, our guests from Canada had an 8-year-old girl. She tried a cherry-blossom- shaped manju (a steamed bun filled with soybean paste), but she didn't like it. So I gave her some Country Ma'am cookies, and she declared they were the best thing she'd ever had."
Motoki carefully watches what his wife is doing. "He's actually a very good cook," Masako says, "and is in charge of the kitchen most weekends." It turns out that when Motoki was transferred by his company to Ibaraki Prefecture, he lived alone to begin with, so he had to learn how to cook. Masako confesses that she never cooked until she got married. "when I used to live with my parents in Nara my mother did all the cooking," she says. "when we got married, I used Cookpad [Japan's largest recipe sharing website with more than 5 million registered recipes] and cookbooks to learn how to cook. as I cook almost every day and am busy with the girls, I usually do easy-to-prepare stuff. Motoki, on the other hand, cooks 'for leisure', so he likes to try more complicated dishes. For me, cooking is a job. If I didn't have to, I wouldn't do it, especially every day."
Finally, we all sit around the table to enjoy the exquisite food that Masako has prepared. Miyako and Mako are hungry and squeal with joy at the sight of tuna, salmon and other raw fish. I ask the KANEHIRAS what in their opinion makes Japan unique. "we place a lot of importance on the changing seasons," Masako says. "For each season we have some kind of celebration, like cherry blossom viewing, and girls' and boys' day in spring, and obon (annual festival to honour ancestors) in summer. Every life milestone is celebrated." "Traditionally Japan was a rural society, and the turn of the seasons was important in our lives," Motoki adds. "we couldn't control the climate and were powerless against natural disasters, so we prayed to the gods and our ancestors to protect us. This is a custom that has survived in our seasonal festivals and celebrations." after dinner we play a card game Mako loves, and after that Miyako draws my picture on a whiteboard. By the time they perform a beautiful song-and-dance routine for me, I've completely fallen in love with these adorable girls. Finally, it's time to go home. I've only spent a few hours with the KANEHIRAS, but I already consider them my new friends.
J. D.