No22 [Luxury] The Orient Express made in Japan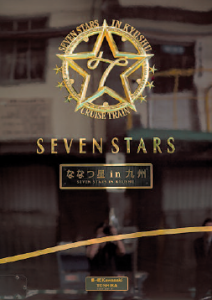 Since last October, you can discover Kyushu Island while on board an exceptional train designed by Mitooka Eiji.
For the last ten years, the island of Kyushu has become a sort of paradise for train buffs in Japan – and now even from abroad. The southernmost of Japan's four main islands, Kyushu, is arguably the place where the excursion train boom was born and the main architect of this phenomenon is Motooka Eiji, a 66-year-old designer and illustrator who has won many awards for his work with the JR Kyushu railway company, including the prestigious Brunel and Blue Ribbon Awards. "I bet you have never heard people say that, 'Kyushu's railways are interesting – at least until now…,'" Mitooka says with a mischievous smile, "…but JR Kyushu has succeeded in building excursion trains that highlight the island's natural beauty, while at the same time keeping in service old routes that ran the risk of being closed down for lack of passengers". Many of these special trains have been designed by Mitooka, but he is quick to deflect any praise to the company's president. "My job is to design trains, but the real engine behind our achievements has been Karaike Koji," he says. "He believes that design is one of the main ingredients in a project's success, and with his support, we have been able to work without worrying". The jewel in the crown of Mitooka's collaboration with JR Kyushu is the Seven Stars in Kyushu, a cruise train so luxurious that it can be compared to a seven-star hotel. "Actually, its name comes from the seven stars of Ursa Minor," Mitooka points out. "These stars have traditionally helped sailors cross the oceans, and our train helps people discover a new way of life. Seven is also the number of prefectures in Kyushu, and there are seven main attractions on the island: nature, hot springs, history and culture, spiritual sites, food, friendliness… and of course sightseeing trains (laughs)!".
Talking about train names gives Mitooka another chance to mention the role Karaike plays in developing each new project. "Even before beginning to design a new train, Karaike-san wants to come up with a name. Usually this is something you think about towards the end of the project, but for him choosing a name is very important. Once you have a name, you can build a story around it, and I use this story to create everything. I design the carriages and the logo, choose the colour and materials, and decide what kind of service to offer the passengers". Mitooka admits that at first he thought the name Seven Stars in Kyushu was too long for a train. "However, Karaike-san wanted to display Kyushu's charms to the rest of Japan and the world, so he considered "in Kyushu" an essential part of the train's name," he says. Even concerning the appearance of the Seven Stars, Mitooka admits he didn't see eye to eye with Karaike at first. "There are already a number of famous classic cruise trains, starting with the Orient Express," he says. "They are more expensive to build and require more time. Therefore, my first intention was to create a train with a modern look because, after all, as a designer you always want to create something completely new, that people have never seen before. But Karaike-san insisted on an old-fashioned design. After all, he said, this is the best way to highlight a train's quality. People are especially attracted to those details that can better express a train's opulence. So in the end we created the Japanese version of the Orient Express". Speaking of opulence, Mitooka explains why the train features so much rich detailing. "Commuters usually spend less than an hour on a train, and even when you go on a trip, you only spend a few hours. However a trip on the Seven Stars in Kyushu lasts up to four days. It's an expensive train ride to be sure, but our customers are used to living the highlife, and their expectations are accordingly very high. You cannot afford to disappoint them.
You can be sure they are going to look everywhere, from the shower to each single drawer, and look for faults (laughs). They want to be sure they spent their money well". The train itself, though, is not enough to satisfy the passengers' needs and expectations. That's where service comes in to play. "My job as a designer is to build a stage on which people are going to act, so to speak. Once the stage is ready, it's not going to change for the next 20 years or so," he says. "Only if the stage is well-designed, can the train's crew perform well. This is of the utmost importance, for whatever I have done means nothing if they don't perform well. It is only through this combination of good design and excellent service that the passengers, who are the protagonists of this story, are going to "perform" well. For example, two other trains I have designed, the Yufuin-no-Mori express train and the Hitoyoshi steam locomotive, feature a buffet. Passengers can have a drink while chatting with the service crew, and these are the things they are going to remember about the time they spent on the train". A four-day trip in the deluxe suite of the Seven Stars costs more than one million yen per couple. Some people may ask how such an expensive train can be so successful in a country that is still trying to recover from a recession. "Many of our customers are people in their 50s and 60s," Mitooka explains. "Until now, for many of them a luxury trip meant travelling abroad. However, they can now find in Japan everything they need to make their dreams come true. After talking to many senior citizens – who are also those who have the money to afford such a holiday – I realized that they were actually waiting for something like the Seven Stars in Kyushu. Until now they have endured long flights and jet-lag in order to visit places where they didn't understand the language. But if you think about it, you can experience a wonderful holiday even in your own country, and this train is the culmination of this process. In the beginning we had some doubts, but the results have proven us right, and tickets for the Seven Stars have quickly become the most difficult to get in the world". According to Mitooka, the Seven Stars is not all that expensive anyway. "Not if you think in terms of quality," he says. "According to my calculations, JR Kyushu doesn't earn a lot of money from the Seven Stars (laughs). They consider this train more like a symbol and a matter of pride. It is a way to show everybody in Japan and the world what JR Kyushu is capable of doing. As for me, my aim is to create designs that everybody can enjoy. If we use public space in a quality way, we can educate people to appreciate high-level design in communion with nature. Aesthetics and ethics go hand in hand, after all. We adults have a duty to create wonderful things for our children, and they have a right to enjoy them. Only in this way can we make a better world".
J. D.