[FOCUS] A passion for Tezuka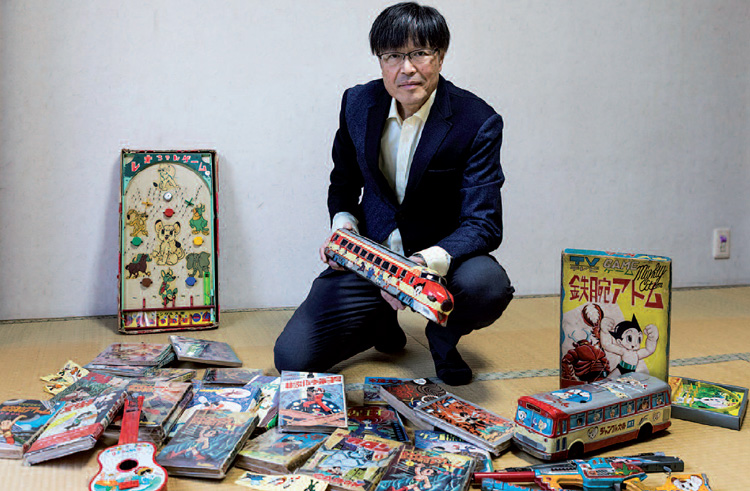 Hayashi Shinji has been collecting all he can connected to the work of the mangaka for more than 30 years.
When visiting Hayashi Shinji's home, you don't expect his rather ordinary house to contain so many "treasures". "My collection has just returned from an exhibition, and I haven't yet sorted it out," warns this teacher from a state secondary school in Inuyama, north of Nagoya, well-known for its castle and hot springs. The first thing you notice on entering is the enormous number of whitewood cupboards all around the place. During our visit to this two storey house, Hayashi Shinji shows us boxes, even rooms, overflowing with his collection. "I've also got a little shed in the garden. Would you like to take a look?" asks the 60-year-old man with the demeanour of a town clerk. Surrounded by his collection, he doesn't stop smiling or and talking, like a child showing off his Christmas presents to his friends. He brings out all kinds of items one after another, from magazines to packets of chewing gum, from stickers to tin toys. One of the oldest items in his collection is a 1947 copy of the magazine Kageki, in which Tezuka Osamu, still a novice, published one of his first manga.
"Tezuka's career began in 1946, so it's difficult to find any publication earlier than this one," the proud collector asserts. Nor does he fail to tell us about the figure of the little robot Astro with a tin gun, which he rebuilt himself out of bits and pieces he found lying around.
Hayashi Shinji can literally talk forever about his collection, but he has no idea how many items he owns. "Among collectors, it's said that those who know the number of objects in their possession are mere amateurs. You only become a true collector when you can no longer count them," he jokes.
Hayashi and Tezuka go back a long way, but their story sums up the experience of millions of Japanese. As a child, like many others of his age, he was captivated by the artist's manga about Astro, the little robot, though he subsequently abandoned this childhood passion. "At that time, manga were considered for children only," he recalls. However, now and again, he'd leaf through Tezuka's work, but nothing more; it never occurred to him to become a serious collector. It took another twenty years before he became completely obsessed with the mangaka's work.
In his 30s, a second-hand bookshop opened a short distance away from where he lived. As he loved reading, he dropped in to have a look, and he found two old Tezuka manga. This was the start of his "career" as a collector. To begin with, he was happy just to buy books, but he was soon collecting all manner of related products. "In second- hand book shops and antique shops, I found objects that I had as a child." From stickers to pullovers, playing cards to tin toys, the number of objects seemed to be unending. Struck by the range available, he started to visit antique shops all around the country at weekends. "In particular, I covered the area around Nagoya, Osaka and Kyoto, even Tokyo sometimes," he says. He often searched auction websites, which proved a more effective way to pursue his research. As he already had a vast collection, the majority of items for sale in second-hand bookshops were no longer of great interest to him. How much has his obsession cost him up until now? When he's asked this somewhat sensitive question, he frowns. "Pro-bably more than 10 million yen (a little less than £ 65,000), including transport costs," he admits. And including the cost of storage? "Ah, I wouldn't like to do the maths," he laughs, a little put out. Among collectors, Hayashi Shinji is considered an expert concerning objects from the 1950s and 60s. Items that old can cost hundreds of pounds, but that's not what matters. "That particular smell of old books, the bad quality ink, all those things unique to the products from that period drive me crazy," he confesses. Indeed, for him, these objects recall the good times of his childhood when Japan was "a booming economy, more humane and dynamic." His passion for items from this period is such that, when he finds one, he repeats to himself: "I'm glad that you've survived for 60 years, so that you can come home with me at last!".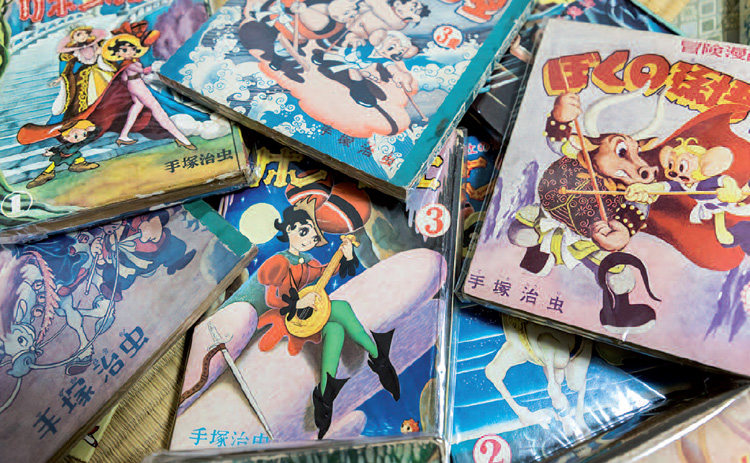 Though he's spent so much time and money collecting innumerable objets, for him, the important thing is that Tezuka Osamu is more than just a great artist. "For me, he's almost a god," the collector confesses. It's through the work of Tezuka, especially his philosophical stories such as Phoenix or Black Jack, that he learned about life. "When I was a child, I found Phoenix, the firebird, almost too difficult to read. But now, the manga has a completely different meaning for me, especially since I lost my mother a few years ago. That made me consider the fact that death comes to us all sooner or later," he says. The encounter with his "god" and then his death were unforgettable events for Hayashi. The first took place around forty years ago during a visit the artist made to Nagoya for a signing session. The conversation with the artist was not very productive, however, as Hayashi was unable to utter a word in the presence of the person he admired more than anyone in the world. Even so, the artist noticed that the serious young man had some rare manga, which were no longer available. He gave him three signatures.
The date of Tezuka Osamu's death on 9 February 1989 is engraved on the collector's memory. Though he'd not wept when his mother died, he cried his eyes out sitting behind the steering wheel when he heard about the death of the mangaka on the car radio. "Ever since, I've been obsessed with the idea of living longer than Tezuku, who lived for 60 years and 100 days. I know it's irrational, but it's the goal I've set myself," he confides. His other aim is to expand his collection as much as possible, but it's a colossal task. "It's obviously impossible to collect everything. There's almost an infinite amount of related merchandise, no one knows exactly how much," he acknowledges. As time goes by, his collection, the result of an all-consuming personal passion, has become a considerable asset in terms of its cultural value. In fact, 50 years ago, no one imagined that Tezuka Osamu would become so famous, so a large number of related objects have already been lost or destroyed. In addition, institutions such as museums do not attach much importance to these items, despite their cultural and historical value. This means that Hayashi Shinji's very extensive collection is unique in Japan. To acquaint people with the value of these items, from time to time, he exhibits some of his collection in places like the gallery in a local cafe, or even the Gifu Prefectural Museum. "It's fascinating to see a grandfather talking about Astro with his grandson. Unlike Tezuka, there are very few mangaka who appeal to all ages. For its part, the city of Inuyama organised an exhibition of the collection in a traditional house to help promote tourism in the region. "Thanks to these exhibitions, my family has finally realised the value of these objects," he quips.
Nowadays the collector, who reached the age of 60 a little while ago, often asks himself a question. What will become of his collection after his death? This question gnaws away at him, as does the risk of fire, of which he's "very afraid". Ironically, that would be a godsend for other collectors. For the moment, no museums or galleries have offered to take the collection. To prevent it from being dispersed, Hayashi Shinji has been trying to make his two young children, aged three and four, aware of the fact that they will one day inherit these "treasures".
YAGISHITA YUTA