No.79 [DAILY PAPER] Close to its readers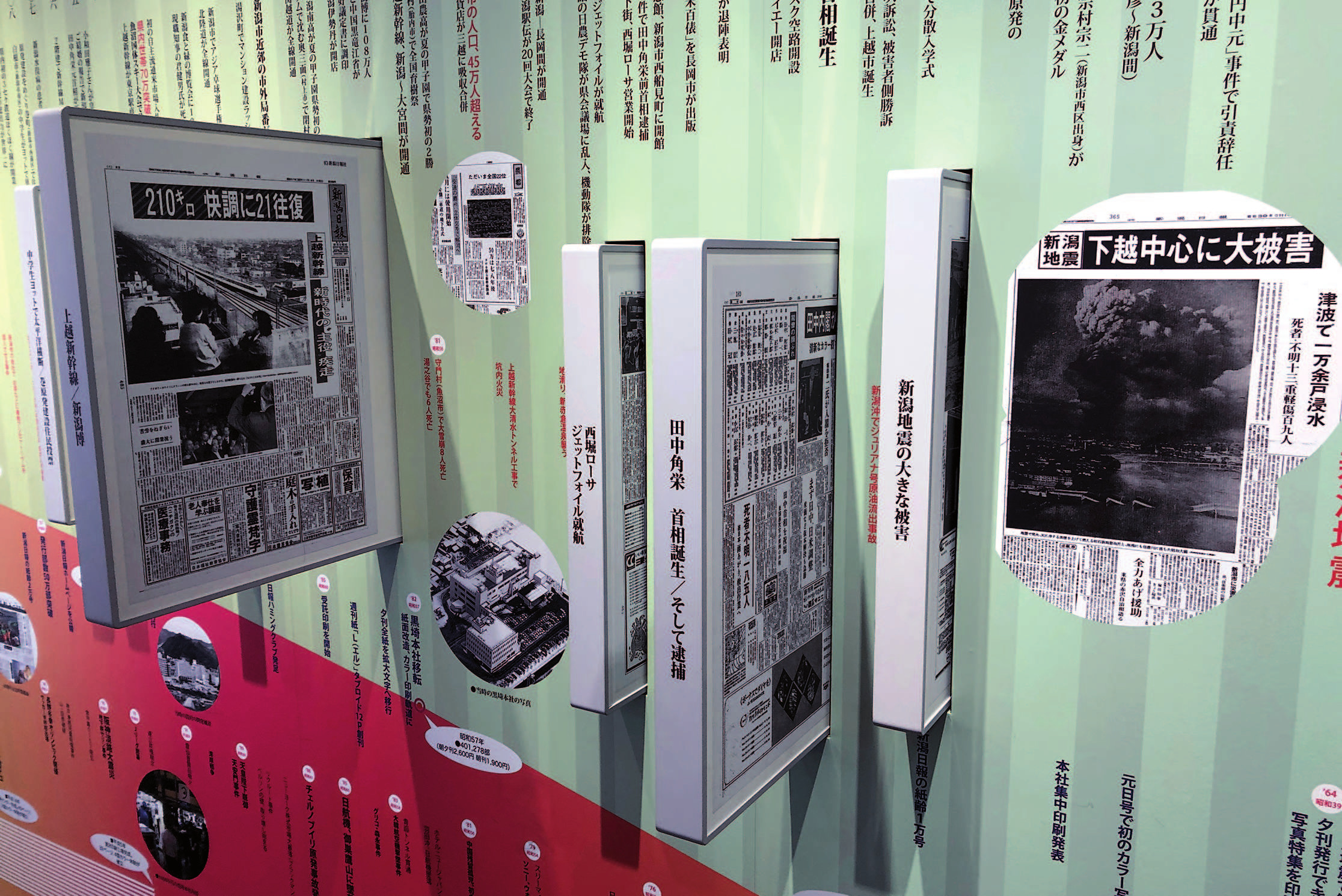 To make young people aware of the importance of reading newspapers, Niigata Nippo has opened a museum on the premises of their new printing works.
With a circulation of more than 400,000, the Niigata Nippo has become a benchmark for the Japanese press.
Niigata may be one of Japan's less flashy prefectures, but its main daily, the Niigata Nippo, has one of the country's finest and most attention-grabbing newspaper headquarters. Located in the heart of the city and a mere ten-minute walk from Niigata Station, the brand-new building is a far cry from their previous bland-looking head office. Completed in 2013, the 105-metre-tall Mediaship is shaped like a sail, and towers above the waterfront and nearby Shinano River. More surprises can be found inside: while most newspaper headquarters are off-limits to casual visitors, this mixed-use building gives a welcoming feeling as it houses restaurants, cafes, shops, and offers free Wi-Fi. You can even climb to the top for free and enjoy a fantastic view from the 20th floor. On a clear day you can actually see a lot of Niigata, including the beautiful snow-capped mountains of the Bandai-Asahi National Park.
TheNiigata Nippowas created in 1942 through the merger of three pre-existing dailies – the Niigata Nichinichi Shinbun, Niigata-ken Chuo Shinbun, and Joetsu Shinbun – and gained national acclaim over the next 80 years by pursuing hard-hitting local news stories and bringing them to a wider public. By doing this, as managing editor BABA Yukio points out, the newspaper has gained the respect of its peers and received several awards for excellence in reporting.
"We got our first Japan Press Association Award in 1964," BABA says, "when we covered that year's Niigata earthquake. This is a seismically dangerous region because there are a number of active fault lines between Niigata and Sado Island." The city, which had just recovered from the Great Fire of 1955, was extensively damaged by the combination of fires, tsunami and soil liquefaction. "The lower part of Niigata City was built on sand deposits from the Shinano and Agano rivers," BABA says. "The trembling caused areas of reclaimed land to liquefy, and several apartment buildings either leant over at an angle or toppled over completely.
" There were even more serious consequences in 2007 when tremors from the Chuetsu earthquake damaged the Kashiwazaki-Kariwa Nuclear Power Plant and caused a leak of radioactive gases. Built in the early 1980s on the coast of the Sea of Japan, its seven reactors make it the single largest nuclear power station in the world. The whole plant was shut down following the 6.6 magnitude earthquake. Units 1, 6 and 7 were started up again in 2009, but after the disaster in Fukushima all units were shut down to carry out safety improvements. As of March 2020, no units have been restarted, and the date for resuming operations remains unknown.
"If a big accident like Fukushima occurs at the Kashiwazaki plant, Niigata City will probably have to be evacuated because the wind would blow radioactivity in this direction," BABA says. "Even without going so far as to call it an 'antinuclear movement', people are increasingly worried by the presence of this massive plant. Time and again, the Tokyo Electric Power Company (TEPCO, the same company that manages Fukushima) has been caught trying to conceal problems and malfunctions in Kashiwazaki, including a deliberate falsification of data in 2002." The 1964 earthquake was followed by a tsunami wave that travelled upstream along the Shinano River. Though the risk of tsunami in Niigata is not as high as in Tohoku, the experts say that chances are a 15-metre-high tsunami will hit the prefecture in the future. As a consequence, several measures have been taken to improve the safety of the plant, including building a 50- metre-deep sea barrier.
"Personally, what I find most troubling," BABA says "is that there are still no solutions to the problem of how to dispose of all the radioactive waste. I like to compare the nuclear energy industry to a mansion without a toilet. You can build the most beautiful house, but if you can't get rid of the waste you produce, it's pretty useless. In my opinion, if they can't solve this problem quickly, we should look for a different way of producing energy which is cleaner and safer. Look at what is happening in Fukushima. I don't think that dumping huge quantities of radioactive water into the sea is the right thing to do.
" In 2000, the "Rocking the Security Myth: Kashiwazaki-Kariwa Nuclear Plant" series was presented with the JCJ Award by the Japan Press Association.
When asked which stories the Niigata Nippo readers are most interested in, BABA is quick to mention Japan-North Korea relations and the thorny abduction issue in particular. Starting with YOKOTA Megumi in 1977, at least five Niigata residents are said to have been abducted by the North Korean secret service and taken to the Hermit Kingdom to teach Korean spies Japanese language and customs. Megumi's case is the one that has received the most attention, particularly because in contrast to the other abductees, who were in their late teens or early 20s when they were kidnapped, Megumi was only 13 when she disappeared while walking home from school.
As Niigata Nippo journalist HARA Takashi explains, a couple of factors made the prefecture a favourite hunting ground for the kidnappers. "First of all, Niigata is Japan's closest point to North Korea as the Sea of Japan separating us is only 900 kilometres wide there," HARA says. "Also, and perhaps more importantly, there is a historical connection between Niigata and Korea: many Korean immigrants who had worked in Japan in the 1930s and 1940s were repatriated after the war, and the ships that took them home would leave from Niigata. So it was easy for the communist spies to infiltrate Japan." HARA is part of the newspaper's editorial department, which has followed the Megumicase since she was abducted. Their tireless work to uncover the truth was recognised in 2004 when the paper won yet another Japan Press Association Award for its "Abduction – North Korea" series.
"The important thing for us is to keep the case open and make sure that the story is not distorted or manipulated by interested parties such as the Japanese right," HARA says. "We have a duty to ensure that Megumi's plight is not forgotten." Editor BABA, 56, is a Niigata Nippo veteran, having worked at the newspaper for the last 35 years, and has witnessed the daily going through several changes. "Currently, 512 people work for the paper," he says. "We used to have a circulation of half a million copies, but in recent years our readership has been negatively affected by the general crisis in the news sector, compounded by the population decline in the prefecture." According to the Japan Audit Bureau of Circulations, in 2019 the paper's morning edition had a circulation of 420,000, with a 70% share of the market in the prefecture, while the evening edition sold more than 38,500 copies. Today, their giant printing facility in Kurosaki, where the previous head office was located, also prints the local editions of several national newspapers such as the Yomiuri Shinbun and Nihon Keizai Shinbun, with a total output of about 60,000 copies daily.
"We have always tried to put people at the centre of our work," BABA says, "not only as readers but also by giving them the chance to actively contribute to our content. For a long time, we have had a lively readers' column called 'Mado' (Window), while once a week, we publish a column called 'Readers' Arts', which publishes contributions of poetry such as tanka, haiku, and senryu (comic haiku). The Niigata Nippo is also said to be the only Japanese daily that publishes readers' short stories."
In 2016, in order to combat the recent slump in sales the old evening edition was replaced by Otona+, a new tabloid that focuses on issues of particular interest to their adult readers. "The biggest theme is how to expand the possibilities for adults living in Niigata to enjoy adulthood and think about their place in society," BABA says. "Fumu fumu, on the other hand, targets students. We are focusing our efforts on cultivating the readers of the future through a series of initiatives whose purpose is to show school children that reading newspapers is important and can be fun. That's why we regularly invite groups of children to visit our Omoshiro Shinbunkan (Museum of Newspaper Wonders) located inside our printing facility."
The Niigata Nippo is also developing Global Niigata, a network of foreign correspondents consisting of people from Niigata who are currently based abroad. Right now, there are four such correspondents who live in New York, Paris, Shanghai, and San Paulo in Brazil.
"This year, at long last, we are going all out to strengthen our online presence by making our website visually more appealing and adding videos. We have also come up with a discount for students. Our readers' average age is quite high. We definitely need to attract a younger audience." Whatever the problems the newspaper industry is going through, BABA has a clear idea about what he wants to achieve in the years to come. "There is still so much news, so many stories out there, that haven't been discovered yet. It is our job and our duty to dig them up and make our readers aware of the issues at stake. Ideally, every time people read the Niigata Nippo they should be filled with a sense of wonder and discovery. My goal is to make our paper a truly worthwhile reading experience."
GIANNI SIMONE