No.69 [FOCUS] Kumamoto, land of hope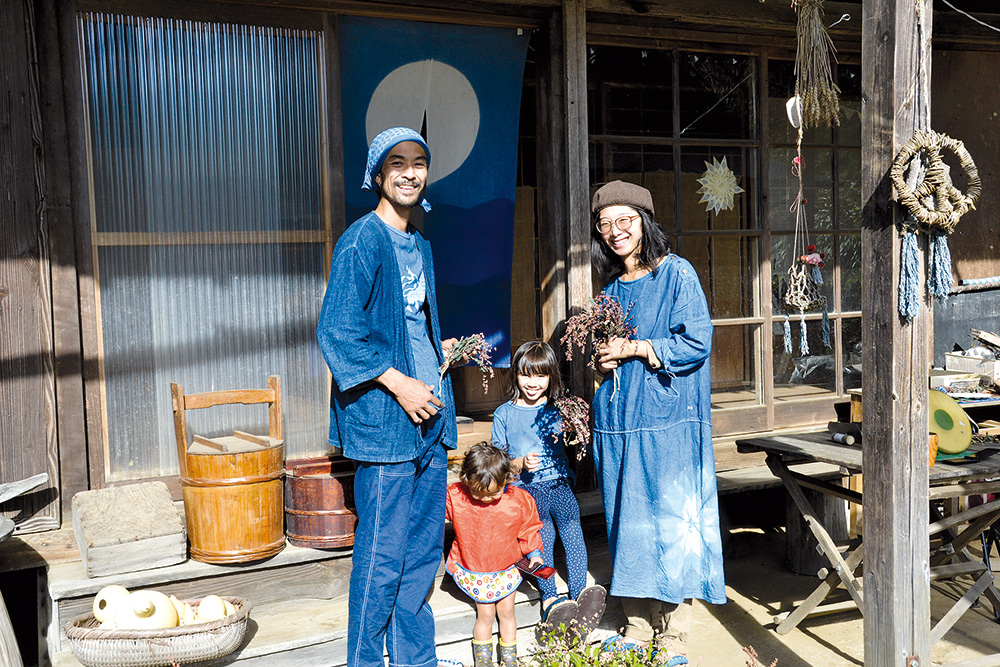 The Kawaragawas settled in Mizukami after the Fukushima disaster and successfully embarked on indigo dyeing.
For a growing number of city dwellers, the prefecture is central to their discovery of an eco-friendly way of life.
The Kato household rises at the crack of dawn. In the icy hours of early morning, Yuji puts logs in the wood stove, puts on the kettle, places bread in the oven and then goes out to polish the rice he harvested himself while watching the day breaking over Mount Ichifusa. Outside, you can hear the bleating of a goat and the cawing of crows. "There's no other house nearby," he says drawing on his cigarette contentedly. Originally from Chiba, a town of 980,000 inhabitants on the outskirts of Tokyo, this 51-year-old gardener left with his family just after the triple disaster of 11th March 2011 in order to settle on a plot of land in the south of Kumamoto Prefecture, as far away as possible from the Fukushima power plant. "When I heard that the core of the reactor had melted, I took my wife and daughter in the car and travelled south. At that time, I didn't know where I was going, but I knew I would never go back," he recalls. After staying with his parents and friends, first in Fukuoka then in Nagoya, the Kato family took the advice of friends and arrived in Mizukami, a village of 2,000 inhabitants, known for the quality of its water. "Without any previous knowledge we started to farm organically! But anyone can do it, it just takes time," smiles his wife while lovingly preparing a picnic with their home-grown produce – carrots, mushrooms, bamboo shoots – which she sells in the local market. The couple earn little, but spend five times less than they did in Tokyo. "In the countryside deserted by the young, you can rent houses for almost nothing and do them up. You just need to know people, everyone helps each other here," explains Yuji, speaking of the alternative support networks that have continued to develop since the spring of 2011. "I've remade my life here from nothing, thanks to the Abe family who found me a delightful house overlooking a paddy-field for 5,000 yen (£34) per month," confirms Kawaragawa Yodai, who also arrived from the capital city after the catastrophe. This thirty-something year-old man who had no particular career seven years ago took up aizome, which is traditional indigo dyeing and which had practically died out in Japan. At present, he and his wife grow the plant, which was always used by samurai who valued its aesthetic and antiseptic properties, and use it to dye the clothes and fabric they make by hand. "Now, I do something I am proud of, and it's all thanks to the people of Mizukami," he says.
Kumamoto has been home to an eco-friendly community since 1956, following the terrible incidence of Minamata disease (see pp. 6-7) caused by mercury poisoning. The inhabitants showed their wish to live as one with nature and they confirmed their ideal after Fukushima. Kumamoto witnessed the emergence of a parallel way of living based on self-sufficiency and the principles of permaculture, the Australian environmental concept that had already been developed after the war by the celebrated farmer and philosopher Fukuoka Masanobu, and other pioneers such as Masahiro and Isoko Abe who migrated to Mizukami 20 years ago.
"We lived without electricity, running water or gas for nine years! But today, we use electricity from the Kyushu nuclear power plant. You must forgive us," jokes Mrs Abe. This lively and spirited sexagenarian wearing a peasant hat has welcomed and given advice to many newcomers to the region including the Katos and the Kawagaharas. "We're not a community as such, but we try to support one another and share in activities such as slash-and-burn farming, which allows the forest to regenerate for future generations," she says, pointing out a dozen or so men and women harvesting hie, a kind of Japanese millet, at the foot of Mount Yuyama. Dressed in traditional peasant clothing with tabi (thonged footwear), tenugui hand towels wound round their heads, and hand-made tool bags around their waists, they all migrated from the cities following the nuclear accident. "Arriving in this fertile land and needing to recharge and start again inspired them to take an interest in forgotten crops such as indigo or hie, which is reputed to be nutritional and economic," explains Mrs Abe. "It's said that it's the poor person's cereal, but it's part of Japanese DNA and makes you as strong as a horse!" adds Seiroku, a tall Japanese Rasta dressed in an indigo kimono and wearing a Jamaican turban from which spills out a mass of dreadlocks. Since arriving in the mountains from his native Kyoto, he has devoted himself to growing thatching material for traditional roofing, another lost art. "I received a mixed welcome here at first, but then the local people saw I was seriously hooked on farming and that I even knew more about traditional methods than they did!" he says, recalling with amusement the faces of the locals when they saw this "wild-haired young man" growing millet. The slash-and-burn method had also been abandoned a long time ago in the region. "We are proud of re-introducing know-how that's 5,000 years old," says Mrs Abe. "Previously, all this land around here produced chestnuts, but the owners grew old so the land was gradually turned over to growing trees for their wood," she says pointing out the straight rows of cypress trees covering the mountain. "Then, a solar farm project failed to see the light of day on this plot of land, so my husband and I decided to buy it and to regenerate the original forest by employing the slash-and-burn method." Starting in 2015 the project, which consists of cultivating land on a four-year rotation system, has been driven by a group whose ambition is to resurrect the forest for the next seven generations. "We want to create a good environment here for our children," she assures us. After finishing harvesting the hie, the group makes its way to the delightful log house built by the person respectfully called "Daiku", the carpenter. "My husband is a traveller, and what's more, for most of the time he is always on the building sites!" explains Mrs Abe. Under the red and gold leaves, each person unpacks their picnic and places it on the tablecloth: tofu with chestnut purée, tsukemono (pickled vegetables) flavoured with togarashi (red chilli peppers), millet bread. "Eating millet is like going back to our ancestors' time," notes Seiroku. "It's just that most of us aim to lead a self-sufficient life based on ancestral know-how, like eating millet!" The Mizukami community is not the only one to find inspiration in tradition to create a new way of life.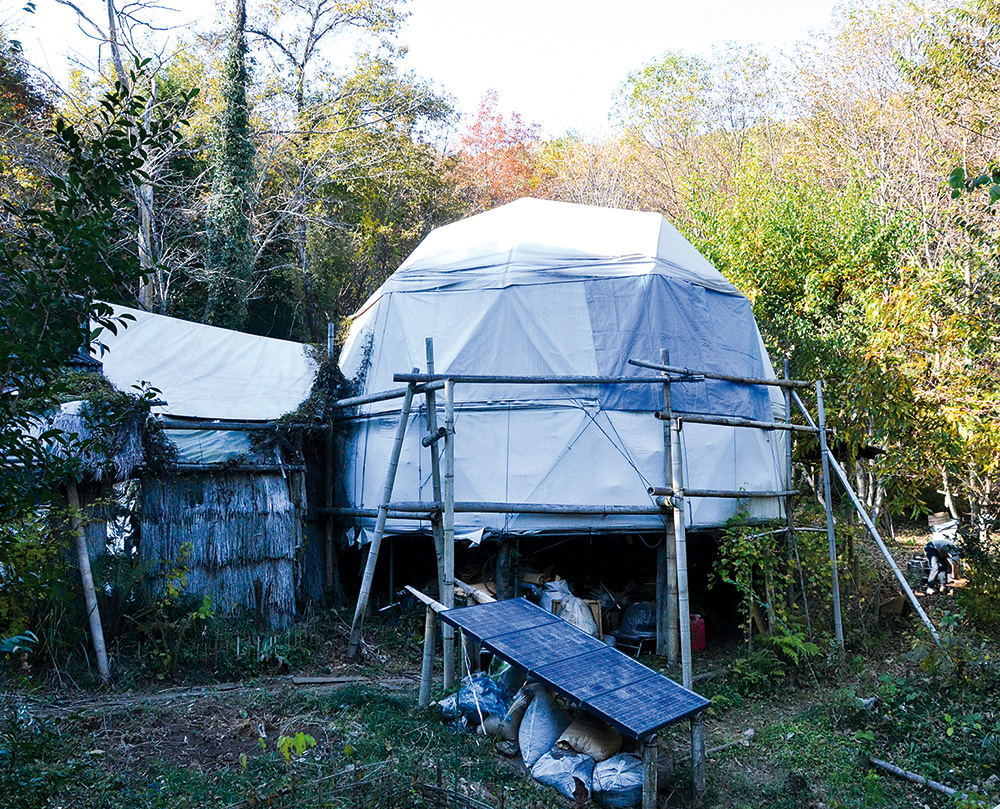 The house built by Yoshida Kengo, alias Kengoma, never fails to impress city-dwellers.
In the north of the prefecture the Kikuchi Valley, known for its waterfalls and autumn forests, also attracts many people in search of new life experiences. "Welcome to the fermentation farm!" says Murakami Kosuke, opening the door to his pretty log house where ears of wheat and cotton wool balls are hanging from the ceiling to dry. This 37-year-old sound engineer and DJ known as Jahmura discovered a passion for a way of life that has disappeared since the advent of industrialisation. "I make everything by hand without using any machines," he says proudly while delicately sprinkling aspergillus oryzae spores over rice to make koji, on which Japanese nutrition is based. His youthful appearance is in stark contrast to his ascetic life style. On the table by the stove, his young wife serves their daily meal: brown rice, miso soup, pickled vegetables and tofu. "We only eat what we produce, so no meat or fish, that's obviously a change from my former life by the coast," recounts the young woman who came to settle here several months ago from her distant home in the city of Kamakura, to the south of Tokyo. Born in Kumamoto, Jahmura was far away from Fukushima on 11th March 2011, but the nuclear disaster triggered a profound change. "I watched loads of people who had come from the east arriving in Kumamoto, a veritable exodus, and I was in a state of shock," he confides. A month after the disaster, he went to Tokyo where he was imprisoned for three months for possessing marijuana. "In the prison library, I found a book about Buddha. I decided to fast and, on my release, to turn my life around," Jahmura adds. So he rented a plot of land in Kikuchi and started to farm organically on the advice of Masaki Takashi, a guiding light in matters of self-sufficiency. "After Fukushima, I heard about the properties of foods based on koji that could prevent the harmful effects of radioactivity. So I began to grow soya to make organic miso to send to the areas devastated by the nuclear accident." An encounter in Kikuchi with an elderly farmer aged 85 was a decisive moment for him. "From then on, I really concentrated on rice cultivation," explains Jahmura while leading us across his paddy field adorned with large brown bundles of rice shaped like hats. It's a natural method of drying rice, which was lost in the wake of agricultural mechanisation. "He taught me a traditional method of transplanting rice called '100 plants in one plant'," he remembers. It's a simple technique: the plants should be spaced 30 to 45cm apart. In this way, fewer plants grow, but they are much bigger." After a year, using just the strength of his own arms, this budding rice grower achieved spectacular results. "I managed to grow rice to a height of 1.60m, almost three times the normal height!" A photo of Jahmura surrounded by his giant plants was posted on Facebook and was shared 1,500 times. "People couldn't believe that you could achieve such results without the use of fertilizers or machines. I received more than 1,000 messages asking me to teach people this technique," says Jahmura, who subsequently gave interviews and lectures throughout the country. "I realised that by employing traditional methods used before the mechanisation of agriculture, you get incredible results," he adds, showing us a plot of land where he grows both wheat and soya at the same time. "The soil is enriched and produces 10t more than when using intensive farming methods." His dream is to buy 7ha of land and live like a hyakusho, a peasant from times past who made everything himself. "Previously, the whole world was hyakusho. If we return to this system of total self-sufficiency, we could withdraw from globalisation and protect our environment," he reckons. It's an ideal that demands a vast amount of time and effort, but it's starting to pay off. "I've calculated that I could live by eating what I grow, wearing clothes made from the cotton I produce, and producing my own seed. That only leaves the cost of fuel, which continues to eat into my budget!" he explains, adding that he's thinking of buying a horse soon to avoid using his vehicle as much as possible. "To aspire to a self-sufficient lifestyle, you must not be dependent on fuel to live," he concludes with conviction.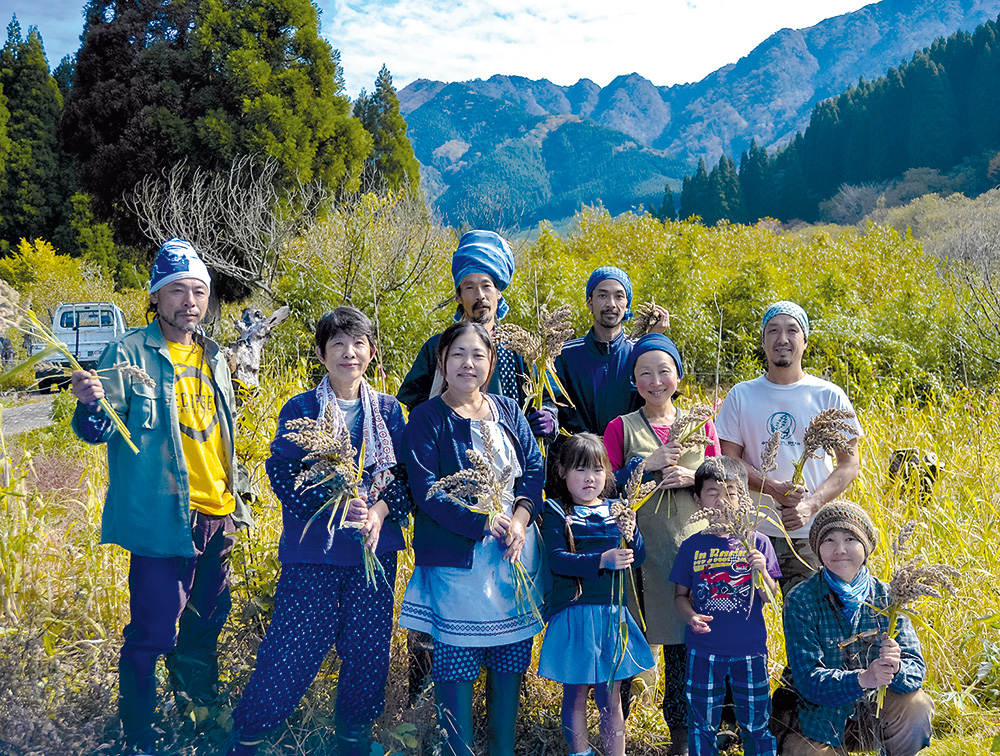 In this part of Kumamoto, the spirit of mutual self-help prevails and is a source of hope to the community.
It's a philosophy shared by Yoshida Kengo. This charismatic 60-year-old nicknamed Kengoman has inspired a number of families to take the first step towards embracing their ideals. For seven years, he lived in a dome-shaped tent in a forest at the foot of the Aso volcano with his wife and children. It's an impressive place after having seen the shopping centres and pachinko [games arcades filled with hundreds of gaming machines that spin around steel balls], which line the streets of Aso. Following a dirt track, you enter the forest strewn with red camellias where you can hear water flowing and birds singing. Right in the centre is a white dome framed by tall stems of bamboo with a solar panel, a chicken coop and a ton of dead wood. "The place has suffered a bit over the years as we've amassed a lot of stuff!" Kengo says with amusement shaking his long dreadlocks. His wife Nobu is preparing an Indian curry on a home-made wood-burning rocket stove in the outdoor kitchen, which also serves as a dining room in fine weather. The interior of the tent, filled to the very last inch, is an amazing cross between a Mongolian yurt, a Japanese tent and an American Indian tepee with a rocking chair, dreamcatchers hanging from the ceiling and a drum kit squeezed between the bed and a kotatsu heating table covered with a blanket. "We've spent seven years of our lives here. Now it's time to move into a larger house, which I'm building at the moment further up the mountain," Kengo says. Born in Saitama, north of Tokyo, this traveller and visual artist used to create models for architecture firms when, one day, the earth shook, causing a tsunami and a nuclear disaster. "I didn't hesitate for a moment. I gathered my six children together and we left for Kyushu in my van," this staunchly antinuclear person explains. "Daddy told us that it was the Hamaoka nuclear power station, to the west of Tokyo, that would explode one day. So we were all ready to flee eastwards, but in the end we had to travel west," jokes his son Shien. Wearing small round glasses and with a mop of hair like his father, this young 22-year-old man was only 15 at the time of the disaster and, overnight, had to leave behind his school and his friends. "I haven't regretted it for one second, even though we didn't have much choice," he says with a confident smile. Things were more complicated for his elder sister who had to leave her job, but unlike most Japanese, the Yoshida family had been prepared for the worst for a long time. "We spent three months on the road camping here and there. Luckily, I already had a dome tent and everything we needed to survive," recalls Kengo, who also used to make a living renting out tents at outdoor festivals. "Eventually, we met Masaki Takashi, and he found us this plot of land," he says. Little by little, the Yoshidas learned how to live in the forest in an area of 4ha. Behind the main tent, there's a stream you can cross by a bridge to reach another tent for guests. "This spring was the reason we were able to settle here immediately," explains Kengo. By way of a bathroom, he installed a bamboo tap and "recyclable" toilets in a straw hut. There's no soap, toilet paper or shower. "They're useless, we have the river in the summer and hot water springs in winter," he adds pragmatically. In a few months time, he hopes to move into his new house, an unusual construction made using thatch, earth and wood, which he designed himself. "I've learned a lot from Abe Masahiro, the carpenter, but it's my son who's particularly good at carpentry and now works with Abe – all I do is enjoy myself!" Built a few metres higher on a sunny platform, the new house has a clear view over Mount Aso. "It was my dream to have a house with a panoramic view over the mountains," he confesses, climbing up a ladder into the bedroom where he's replicated the dome shape. "From here, I can tell whether the volcano is about to erupt," he says, half jokingly. "Formerly, this forest path led to the perimeter of the crater. People who lived in the region would ride their horse along it and lead their cows around the perimeter to get to the villages on the other side," says Kengo, who has already saved up to buy a horse. He earns around 30,000 yen (£203) a month making tents, musical instruments and rocket stoves. "I don't need to grow anything because everyone brings us rice and vegetables. In return, I help them when it's time to transplant the rice." A little further down, his son has just finished building a very art-deco-style wooden house in the shape of a pyramid with the help of two friends. "It took two weeks to build!" says Shien. With his father, he's in the process of preparing a winter camp where around twenty young people will stay for a month and display what they have produced. "Until now, people sold what they produced at music festivals, etc., but we need to set up a proper distribution network. I want to create a real market. Bartering is the key to a parallel economy (see Zoom Japan no.67, December 2018)" asserts Kengo. Always on the search for new experiences, this Rastaman hopes to inspire more young people to come up with innovative ideas with regard to living self-sufficiently. "We must create a new way of living," he insists. It's a challenge that appeals to his son and his friends too, however used they might be to urban comforts. "I've had a good time since being here. You learn to manage with what you have, whereas in the city, you just go and buy what you need," observes Shien. Then he exclaims: "Life without anything, that's really stimulating!"
ALISSA DESCOTES-TOYOSAKI