No22 [Travel] The Inner Sea by bike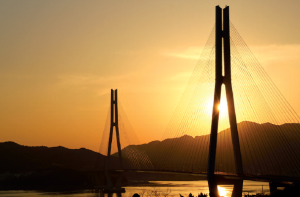 There's nothing like a lovely bike ride from one island to the other to discover one of Japan's most beautiful regions.
Despite the dense steam rising from the onsen (hot spring bath), Jupiter is clearly visible over the twinkling black waters of the Seto Inland Sea. It's not hard to see why this hotel is called Bella Vista. It lies tucked into the hills outside the historic town of Onomichi, commanding sublime views of the sea's labyrinth of misty islands. What's more, the onsen is open to the elements, allowing fresh sea breezes to caress your skin as you boil yourself blissfully to jelly.
The islands are part of the Seto Inland Sea National Park, which is celebrating its 80th anniversary this year, making it one of Japan's three oldest national parks. The centrepiece of the celebrations is the Shimanami Kaido, a spectacular 60 km road and bridge network connecting Japan's main island of Honshu to Shikoku (the fourth largest island). Starting in Onomichi in Hiroshima Prefecture, the route takes you through six smaller islands like stepping-stones before arriving down in Imabari (Ehime Prefecture).
The Bella Vista Hotel makes an ideal starting point. Apart from its ocean views, onsen and infinity pool, it offers a choice of restaurants; Japanese or Italian. The latter specializes in succulent Japanese-Italian fusion, such as puffer fish served on a bed of tagliarini and rapeseed flowers.
Breakfast is served in the hotel's tatami-floored Japanese restaurant, where you can choose Western or Japanese-style food. The menus change every month, but the Western option typically includes delights such as Eggs Benedict with a variety of side dishes, including mushrooms in mikan (tangerine) sauce made with local fruit. In traditional Japanese fashion, there's a feast for your bleary eyes too, thanks to the delightful little Japanese garden outside the window, complete with stone lanterns and delicate blossoms.
Before setting off for the bridges, it's worth spending some time in Onomichi, an old port town packed with ancient temples and literary connections. It's built on a hillside overlooking the sea, and if you take the ropeway to the top of Senkoji Hill, 500 feet above the town, you'll be rewarded with stunning panoramas of town and sea.
From there, the steep, winding trail known as the Path of Literature leads back down into town. Along the way, dotted among the fragrant pines, are twenty-five boulders, each inscribed with a quotation from famous writers who've lived here over the centuries.
By the time you reach the bottom, you'll be ready to sample another Onomichi icon: ramen. One of the most famous ramen shops is the Tsutafuji, a tiny family-run waterfront bar near the JR station that's been going for over fifty years. It's tiny – just ten stools clustered around the L-shaped bar. Consequently, there's always a queue outside. Savvy customers bring manga to read and Nintendo games for the kids to pass the time. Once inside, the cook simply asks "large or small ramen?" and in no time, you get a steaming bowlful of noodles topped with generous slices of pork in a piping hot pork-bone-and-fish broth.
Suitably fortified, it's time to head for the islands. As soon as you're across Onomichi Strait and onto Mukaishima, Island Time takes over: traffic evanesces, the pace slows and you find yourself in a dreamy realm of citrus groves embosomed in the folds of mountains, the trees' dark green foliage contrasting with the sapphire sea. Citrus fruit is big business here, from mikan tangerines, oranges and lemons to hybrid fruits unique to these islands like hassaku and anseikan (a cannonball-sized grapefruit). Setoda Island is Japan's number one producer of lemons, while Ehime Prefecture is known as the Orchard of Japan. There are even mikan trees adorning the roadside verges. Citrus-related products abound too: hassaku cakes and lemon ice- cream, as well as fruit conserves, juices and honey.
As you pootle across the bridges (all seven of them), a head-spinning seascape of endless islands unfolds below you. This part of the route is best enjoyed by bicycle. That way, you can stop and savour the scenery for as long as you like. There are inhabited islands, deserted islands, islands which are no more than a rock with a tufty pine tree clinging to it. And all the while a procession of trawlers, tugs and speedboats idles to and fro. The bridges are magnificent structures, rising out of the placid waters and towering above the somnolent scenery. The cable-stayed Tatara is the world's longest bridge of its type. Its elegant 220-metre-high steel towers represent the folded wings of a crane. At 4,045 metres long, Kurushima Bridge is the longest suspension bridge in the world. It takes a full five minutes just to drive across it. The bridge network may have improved connections between the once-isolated island communities, but as soon as you take a detour off the motorway you're deep in the heart of rural Japan: unbroken greenery save for occasional clusters of houses dotted here and there. Little white-eye birds dart among the branches of the cherry trees. Hawks swoop low to check out the scene, then wheel away on the thermal currents. Yet, for a rural idyll, there's a surprising amount of art and culture to enjoy too. In Setoda you'll find a museum devoted to native son and painter Ikuo Hirayama, famous for his Silk Road paintings.
Nearby on the same island is the phantasmagorical Kosanji religious complex. Built in 1936 by Buddhist priest Koso Kosanji in memory of his mother, this wonderland of temples, pagodas and gorgeous gardens took over thirty years to complete. Each building is modelled on famous temples from different eras in Kyoto, Nikko and elsewhere, so it's like taking a stroll through Japanese history. Once you're finally across Kurushima Bridge and reach Imabari, where the Shimanami Kaido ends, it's worth pulling into the rest area to breathe in the serenity of the scene, where islands float in a sea of mist as boats thread their way in and out of the channels toward the open ocean beyond. Although the Shimanami Kaido is a motorway, it has also been designed with the cyclist in mind. There are bike and pedestrian lanes the whole way, so you can quite literally walk across the sea. Moreover, with fourteen cycle rental terminals along the way, you can go at your own pace, taking as long as you like. If you get tired, just hand in your bike and hop on a bus. More good news for cyclists is that, as of March the 22nd 2014, Onomichi is home to Japan's first hotel designed exclusively for cyclists: Hotel Cycle, just five minutes' walk from the JR station. You can park your bike in your room and the restaurant even has a cycle-through window.
Hotel Cycle is located in the Onomichi U2 building, a former maritime warehouse which also houses a restaurant, cafe and the Shima Shop, specializing in local produce like lemon preserve and dried debera (five-spot flounder), an Onomichi delicacy. Taiwanese bike manufacturer Giant also has a store in U2, catering to cyclists' every need: bikes, accessories and repairs.
From now until October, the Shimanowa 2014 campaign is celebrating the 80th anniversary of the Seto Inland Sea National Park. Dozens of events are planned throughout the islands along the Shimanami route, culminating in a massive cycle marathon on October 26th in which 8,000 people from around the world will participate.
Steve John Powell
Photo: Angeles Marin Cabello