No29 [Travel] A little jaunt to Kanazawa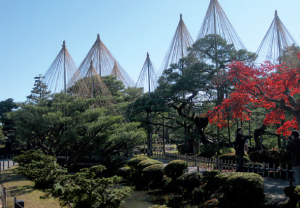 Thanks to a new fast section of railway line, this port city is now only two and a half hours away from Tokyo.
The countdown started a year ago. Now everybody knows that the shinkansen, the fastest train in Japan, will be stopping at Kanazawa from March 2015, taking just two hours and 28 minutes to travel the 590km from the capital. Until then, it will still take between four and four and a half hours, including at least one change, which makes a visit to this beautiful port city rather more complicated than it should be. Now that the line between Tokyo, Nagano and Kanazawa has been extended, it is almost possible to imagine travelling there and back in a day, although it would be a shame not to linger and take advantage of the treasures the city has to offer. For those who are unable to stay in the archipelago for any length of time though, it's another option to consider. The new lines that were put into service last year between Tokyo and Nagano will carry happy tourists at an average speed of 260km per hour through beautiful mountain landscapes. Amidst this convenience, one becomes aware of the difficulties travellers must have encountered years ago when travelling inland. Now, in a little less than two and a half hours, you can discover two faces of Japan; the Pacific coast with the megalopolis of Tokyo and the Sea of Japan with its very different atmosphere.
Now called the Hokuriku shinkansen, this new line (that is, in fact, an extension of the Nagano shinkansen line) offers its stunning "Grand Class" service, first class comfort with ultra-comfortable chairs and a service that will make you forget you are on a train. But whatever class you choose, you'll be surprised at how comfortable it is. Another feature you will be grateful for is how the engineers have found a solution to annoying ear blockages from changes in air pressure when going through tunnels, especially seeing that 40% of the journey goes through such tunnels.
Among all the places to visit in Japan, Kanazawa is definitely in the top 5. It is ideally situated – a port city with a long history as one of the country's main trading centres, and has attracted many craftsmen and artists who contributed to turn the merchants' wealth into art. Saved from the bombs during the Second World War, the city has conserved a lot of its architectural heritage, including old samurai houses in the Nagamachi district (9 minutes by bus from the station's east exit, Korinbo bus-stop) or the old pleasure district, Higashi Chayagai (12 minutes by bus from the station's east exit, Hashibacho bus-stop). Kanazawa also boasts another exceedingly beautiful treasure; the kenroku-en, one of the three most beautiful gardens in Japan, alongside those of Okayama and Mito. Created in 1676, this magnificent park has visitors all year around and is often the first place they stop when in the city (open every day from 7am to 6pm, 5pm from mid-October to March, 300 yen). It is the crowning achievement of a long search for beauty that is hard not to succumb to. Whether covered in snow or vibrant with colour when the cherry trees blossom, Kenrokuen is always worth a visit. For over three centuries, gardeners have been lovingly taking care of the landscape there, and the astonishing beauty can very much be said to be the result of the local inhabitants' deep attachment to this park.
You can also take advantage of the calm in the gardens while drinking some green tea in the Shiguretei Pavilion (700 yen for a macha and a pastry). It is situated right next to the old castle that is now completely reduced to ruins, and also a few steps away from the 21st Century Museum of Contemporary Art (Kanazawa nijuisseiki bijutsukan). As its name implies, this edifice has nothing to do with the city's historic heritage. In fact, one of its strong points is having succeeded in offering something else besides the history and tradition readily available everywhere else in the city. By entrusting its conception to the fabulous Sejima Kazuyo and Nishizawa Ryue from the architecture firm SANAA ten years ago, the local authorities took a big step to change the image of their city. This was around the same time that the station was renovated and transformed by Shirae Ryuzo.
Every year millions of people travel to visit the museum, whose structure itself is also a work of art (open from Tuesday to Sunday, 10am – 6pm, 8pm on Friday and Saturday, free, except for some temporary exhibitions). Among the main attractions are the permanent exhibits: "The Swimming Pool" and "Blue Panet Sky".
After the museum, for which you should put aside at least an hour, it might be time to have something to eat. As with most of Japan, it is very easy to find a restaurant in Kanazawa. Nevertheless, we recommend you to go to the Omicho Market (Omicho ichiba), just fifteen minutes away from the station. Founded over 280 years ago, this market is well worth a visit. The atmosphere is warm and the traders are always happy for you to taste their produce. Inside the market are some good quality restaurants such as Sushidokoro Genpei (tel. 076-261-4349, 11am – 3pm and 5pm – 9pm, closed on Sunday) that offers the best fish in the region, or Kotetsu for crab (tel. 076-264-0778, 11.30am – 3pm, open every day).
After a delicious meal, take a stroll to the pleasure district, Higashi chayagai, that has conserved all its old world charm. Besides the many tourist shops, you can also visit old homes previously used by geisha. The most famous are Kaikaeo (9am – 5pm, 700 yen) with sliding doors that were decorated by artists, and Shima (9am – 6pm, 400 yen) where you could also see geisha accessories. You could also prolong the visit by drinking green tea in a room with a window that opens onto a pretty indoor garden.
Many Japanese enjoy the district with its local craft shops, and you are certain to find a souvenir or two to take away with you. Another great way to spend your time here is walking to Nagamachi, which is famous for its samurai houses. It is a journey through time, and in some places you may even feel as though you're in a samurai movie as you ramble through the little streets. The Nomura Family House (8.30am – 5.30 pm, 500 yen) is one of the most interesting to visit. When returning to the station to travel back to the capital, why not consider picking up an ekiben? (see Zoom Japan no.15, October 2013). Omatsu Ozen (900 yen), sold in a beautiful box, is a delicious choice. Accompanied by green tea or a cool beer, it will help pass the enjoyable journey that lasts just over two hours – unless you were thinking of taking your time and spending yet another day in beautiful Kanazawa.
Gabriel Bernard
Photo: Gabriel Bernard