No38 [Guide] A jazz adventure in Yokohama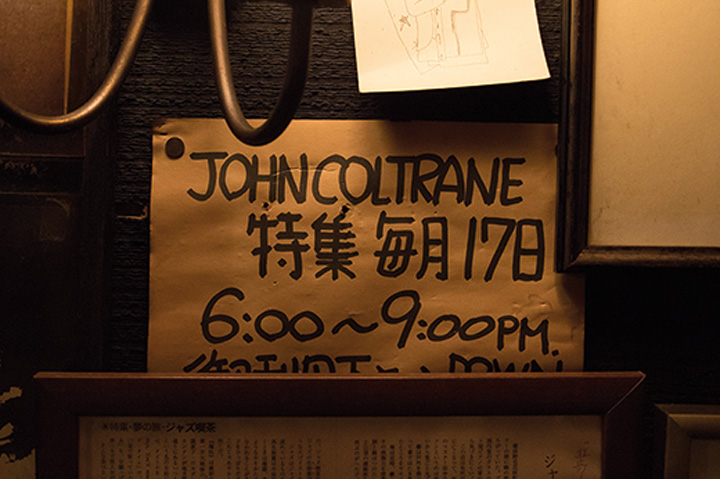 This Japanese city port is famous for its jazz music. Here are some tried and tested venues.
The Sakuragicho district on the Yokohama waterfront is very popular with sightseers.Most people visit the shopping malls and amusement park in the Minato Mirai 21 area to the east of Sakuragicho Station, as well as the Landmark Tower (the second tallest building in Japan). On the 'wrong' side of the station, in a place called Noge hill, you can visit a small but interesting zoo, free of charge. But today we are paying a visit to a different kind of animal: the cool cats who enjoy jazz music. While not far from the glitzy tourist area, the Noge neighbourhood has retained the rough vibe of the postwar years, when jazz cafe culture blossomed in Japan. Its narrow streets are full of bars, small restaurants and other shops, and a comparatively high number of jazz clubs – including Jazz Cafe Chigusa, covered earlier in this issue. While most people now prefer to listen to their favourite records at home, Noge and the districts nearby still have a loyal jazz community that enjoys spending lazy afternoons and exciting nights in their favourite cafe as a kind of social ritual. Here are a few notable places you may want to check out yourself.
Downbeat
The first jazz spot you find when you leave Sakuragicho Station is also one of the best. Opened in 1956, Downbeat is a classic cafe, but it's only recommended to hardcore fans as the music coming out of the speakers is usually so loud that it's almost impossible to have a conversation. It's a comparatively large place, seating about 30 people in the main area and eight more at the slightly quieter counter. Low lights, old posters, photos and newspaper clippings glued to the peeling walls make for a great old-time atmosphere. The music selection is varied and, apparently, the 17th of every month is John Coltrane Day. The menu features coffee, tea, a few simple dishes and lots of booze including an impressive lineup of whiskies.
2F Miyamoto Bldg, 1-43 Hanasakicho, Naka-Ku
045-241-6167 Open 16.00-23.30.
Closed on Sunday
www.yokohama-downbeat.com
Jazz Spot Dolphy
First opened in 1980, this venue manages to seat about 50 people. Highly praised by both visiting musicians and customers for its great acoustics and friendly atmosphere, this bar has a busy live schedule featuring everything from vocal jazz to free experimental jazz. Among the regulars are singer Nakamoto Mari, pianist Itabashi Fumio, saxophonist Sakata Akira and guitarist Akiyama Kazumasa. They even have jam sessions on the fourth Monday of the month. Lots of food and an especially huge drinks menu are perfect for nighthawks who enjoy the bar's late closing time.
2F Dai-Ichi Nishimura Bldg, 2-17-4 Miyagawacho, Naka-ku
045-261-4542
Open daily 18:30-1:00 (Mon-Thu), 18.30-2.00 (Fri-Sat), 18.00-1.00 (Sun and public holidays)
www.dolphy-jazzspot.com
Four more jazz venues can be found between Sakuragicho and Kannai Stations.
Jazz Spot ADLIB
Another venerable jazz club in this old port area, ADLIB is a no-frills place where you can listen to records in the afternoon or at tea-time, and has a bar with a live performance or jam session every night.
2F 3-9 Yoshidamachi, Naka-ku. 045-262-8111
Open 17.00-23.00 (Tue-Fri), 13.00-23.00 (Sat), 13.00-21.00 (Sun & public holidays).
Closed on Mondays.
www.jazz-adlib.info
Little John
Located next to ADLIB, Little John has been in business since 1981, and with only 20 seats, it's one of the smallest jazz venues in the area. It features between six and ten live performances every month, while on the other days it functions as a regular bar. You can make requests from their extensive collection of jazz and blues records while enjoying the oldschool vibe. The only problem with Little John is its erratic opening times, so it's better to call in advance before paying a visit.
2F Dai-Ni Kyodo Bldg, 3-11 Yoshidamachi, Nakaku.
045-251-2131
Open 19:00-24:00.
Closed on Sundays and public holidays.
http://ameblo.jp/jazz-little-john
Yoidore Hakushaku
Despite its name (it means "The Drunken Count"), this basement bar has a lot of style, with sofas, big mirrors and soft lights. It differs from other local venues as it is devoted exclusively to vocal jazz, so it definitely has a mellower, more relaxed vibe. They have live groups almost every day, with three sets between 19.30 and 23.10. On average the entry charge is around 3,000 yen and they serve food too.
B1F 2-5 Suehirocho, Naka-ku.
045-261-0272
Open 19.00-2.00 (Mon-Sat), 19.00-1.00 (Sat).
Closed most Sundays.
www.yoidorehakusyaku.com
Kamome
This new addition to the local jazz scene is on the other side of the tracks, not far from the Yokohama baseball stadium, and in many ways it is a little different from the competition. For one thing, its wide, well-designed space looks more like an ordinary bar/restaurant. Indeed, the food here is much better than elsewhere and its drinks menu includes wine. As a consequence, the clientele isn't limited to hardcore jazz fans. Even the music selection on offer is wider, covering fusion, funk and bossa nova alongside different jazz styles. They have live music every night and the cover charge averages 3,000 yen.
6-76 Sumiyoshicho, Naka-ku
045-662-5357
Open daily from 19.00 (18.00 on Sat-Sun and public holidays).
www.yokohama-kamome.com
Minton House
Far removed from the other places covered in this guide, and closer to Ishikawacho station and Chinatown, Minton House has been in business since 1975, and it shows. It's the ideal place for those who like that nostalgic feeling, and according to many fans this is still the best jazz bar in Yokohama. The long bar counter is lined with bottles of whisky and other spirits and the walls are covered with a collage of the usual array of photos and flyers. The eclectic record collection features big bands, vocal jazz and any other genre you could wish to listen to.
Hamada Bldg, 276 Yamashita-cho, Naka-ku
045-662-2586
Open daily 11.30-14.00 and 17.00-24.00 (Mon- Thu), 11.30-14.00 and 17.00-2.00 (Fri-Sat), 11.30-14.00 (Sun).
http://bar-navi.suntory.co.jp/shop/0456622586/
J.D.
Photo by D.R.