No42 [Discovery] Bicycles and beer forever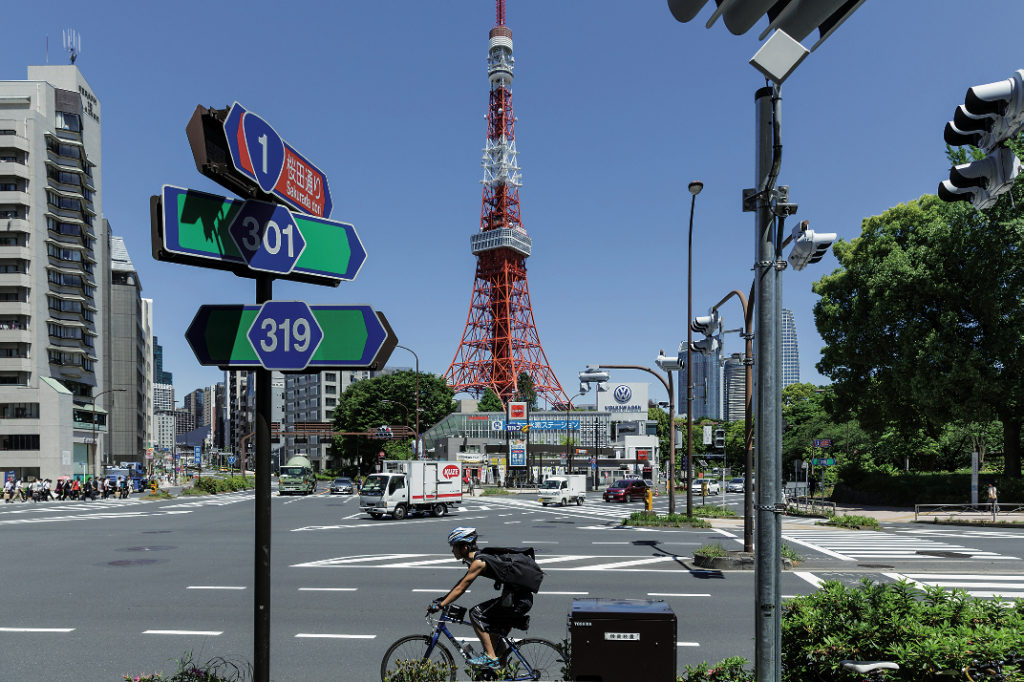 Though public transport in the capital city is very efficient, nothing beats riding around it by bicycle.
Tokyo's Roppongi district on a Saturday morning is a rather quiet place. This is, after all, one of the city's premier nightlife spots, and most of its regulars are at home still sleeping or nursing a hangover. But in nearby Azabu you can sometimes see a colourful group of cyclists hanging out in front of the Grand Hyatt Hotel. They are the members of the Half- Fast Cycling Club.
Started in 2003 by American expat Don Morton, the Tokyo-based group has rapidly attracted many people who like cycling, drinking, and making new friends. "In a sense we are more like a social club", says Morton. "We are open to everyone, regardless of their cycling experience or ability. The club operates primarily in English, but there are many Japanese members as well". The group's love of cycling and drinking is clearly spelled out in Latin around the collar of their colourful club jerseys – 'Cervisia et Birotae' – meaning 'beer and bicycles'. "We actually made up the bike bit… they hadn't been invented when Latin was spoken". adds Morton with a wink.
The club organizes different rides for different people. There are 30-40km beginners' rides to Haneda and Odaiba; 60-80km medium level rides, like the ones along the Tama and Arakawa rivers; and longer rides all the way up to 150km. Beginners' rides are on Saturdays, and, being a beginner myself, I show up a little before 11am with the road bike Morton has graciously lent me. Today we are riding out to Odaiba, the artificial island in the middle of Tokyo Bay.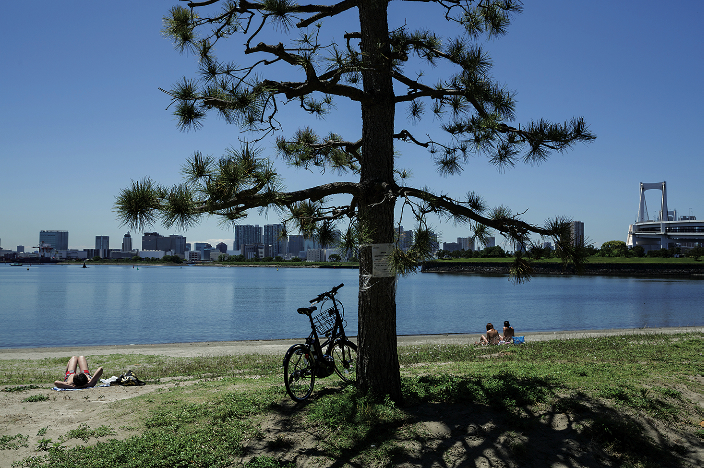 Odaiba is a great place to take in the whole of Tokyo Bay.
"Tokyo is, arguably, the only megacity in the world where you can cycle with any degree of safety and awareness", points out Morton. "If you're careful, you can get around town quite easily. The best strategy to tackle any sort of traffic, is to get out in the centre of the lane and go with the flow, as fast as you can. In Tokyo, it's very easy. You'll actually overtake many cars because you go faster. Your biggest danger is automatic taxi doors. That's where most accidents happen".
According to Morton Tokyo offers some surprisingly pleasant urban cycle rides that are sure to exercise and entertain any bike lover and urban explorer. In particular, today's ride takes about an hour each way, has few hills, and provides a look at a dozen different facets of Tokyo. From Azabu Juban we head towards the bay, passing under the point where three overhead motorways meet. From there we go towards Mita, passing the Tokyo Tower on our left. The road here is pretty straight even though it narrows from a broad four-lane avenue to a one-lane, one-way street. Eventually we reach the JR railway line. Here we take a little pedestrian/bicycle underpass to reach the other side.
About ten people have joined the ride today. Among them is veteran club member and webmaster Mike Sims-Williams. During the week he runs the security service at the British Embassy, but devotes most weekends to cycling. "In 2005 I had a little accident on my way to work that left me temporarily without my motorbike", he says. "I could have taken a combination of buses and trains, but that didn't appeal to me at all. So I dusted off my mountain bike and tried cycling the 20km from my home in Kawasaki to my office. It felt so good that to this day I still commute to work by bicycle almost every day, and even maintain a modest fleet of bikes".
On our leisurely ride we have now reached the left side of the lovely Hama Rikyu, a large, attractive public park, the other side of which faces out onto Tokyo Bay. Originally built in the Edo Period (1603-1867) as a feudal lord's residence and duck hunting park, it has been turned into a public landscape garden that is well worth a visit.
After turning right past the garden we arrive at the world famous Tsukiji Fish Market, which is due to move to the outer skirts of Tokyo in November 2016. When we arrive at Harumidori we move away from the upmarket shopping district of Ginza and instead cross the doublearched Kachidoki Bridge, to ride all the way to Triton Square and beyond.
From this point the street gradually turns to the right and, after a few kilometres, we finally reach our destination. Odaiba is one of Tokyo's major shopping and entertainment centres and is its only pedestrian access to the seashore. We cruise through this kind of futuristic landscape, passing the enormous Tokyo Big Sight Exhibition Centre and the Museum of Maritime Science — that thing that looks like an ocean-liner-shaped love hotel with a red-topped tower. Eventually we reach Odaiba's main area, today's final destination, and take a lunch break at one of the beachside cafes.
On the way back, coming away from the beach area, we skip the Rainbow Bridge (you can actually cross it both by bicycle and on foot) and take the road that goes to the left of the Ariake Coliseum Indoor Sporting Arena, which is used every year as the centre court for both the Japan Open Tennis Championships and the Toray Pan Pacific Open. This road is a fast way out and we soon reach the road we came in on. This time, though, just before reaching Triton Square, we take a right, cross a medium-sized bridge and descend into Tsukishima, famous for the many places serving a distinctive dish called monjayaki. This runnier version of the popular okonomiyaki is said to have originated in this area.
While most of this island is man-made, its northern tip, called Tsukudajima, is a small natural rock that used to be a small fishing village centuries ago. Apart from being the birthplace of tsukudani (small pieces of seafood, meat or seaweed, which have been simmered in soy sauce and mirin – a rice wine condiment), this is a charming small town with traditional red bridges and a cozy atmosphere.
Back on the route we cross the mighty Sumida River by another bridge and, through a maze of backstreets, we go past Ginza, passing between the Tokyo International Forum to our left and Tokyo Station to our right. We can now see the Imperial Palace in front of us. When we can't get any closer we turn right and the road takes us through the centuries-old Sakurada Gate of the old Edo Castle. When we reach Kasumigaseki (the location of most of Japan's cabinet ministry offices) we go right along the moat and cross the street towards the National Diet Building, then up a hill to Roppongi and down another, back to our starting point.
I'm quite tired and I have a sore bum, but if this first-time cyclist managed to reach the end of a 30km ride I guess pretty much anybody can do it. If you find yourself in Tokyo you may want to try it yourself. After all, there are definitely worse ways to keep healthy and visit the city.
Pratical Information
For more information on Half-fast: http://halffastcycling.com.
You can check out our ride here: https://ridewithgps.com/routes/7272885.
Jean Derome