No39 [Tourism] An el Dorado called minpaku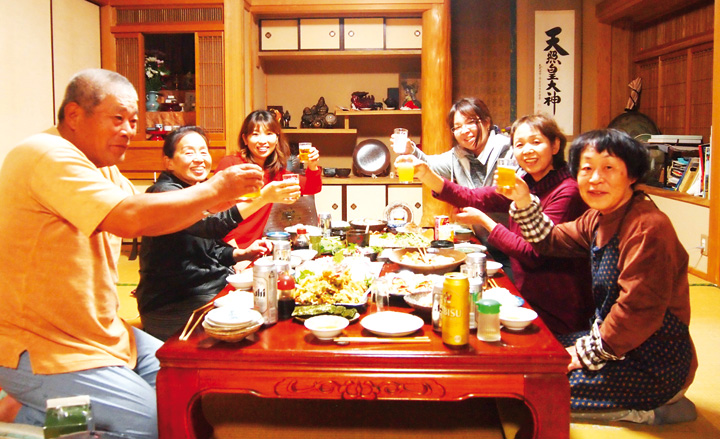 In the face of an expected shortage of tourist accommodation in the regions, there's a growing interest in renting out rooms in private homes.
The Japanese National Tourism Office reported that nearly 20 million foreign tourists visited the country in 2015, a leap of 47% compared to the previous year. It's an unprecedented record for the government, which is multiplying its efforts to increase the flow of foreign tourists even further before the Tokyo Olympics in 2020. Due to this rapid and unexpected growth, the need for more tourist accommodation is already being felt. The Japanese press has recently revealed a study by the Mizuho Research Institute, which found that were the target of 25 billion foreign visitors by 2020 to be met then there would be a shortfall in accommodation for them to the extent of 4,000 beds in the capital and as much as 20,000 beds in Osaka in the Kansai region. In Ota, the largest of Tokyo's districts, the alarm has already been sounded. In the area around Haneda International Airport, where 712,000 people live, hotel bookings are at 91% capacity already. "We are up to our limit," explains Mayor Matsubara Tadayoshi. "So we have decided to take the initiative and have issued a decree allowing minpaku". Minpaku refers to rented accommodation in private homes, with owners agreeing to rent out a room or a second home to a tourist, and it is a first for Japan. Until now, this practice has been illegal. Anybody renting out accommodation had to meet all the rules and regulations applicable to professionals in the hotel trade, that covering numerous criteria, but particularly hygiene standards.
This applies to hotels, as well as to traditional inns such as minshuku and ryokan. Airbnb does exist in Japan, but, at least in principle, it is limited to people who can prove their professional status at any time. However, this new decree in the Ota district will allow for such legislation to be bypassed, as well as regularizing unofficial renting in private houses. "Since last October, our district has become part of a special national strategy defined by the government. For this reason we were able to adopt this new initiative, previously unknown in Japan. Though some activities can go ahead without the usual professional constraints, nevertheless certain limits still apply," the Mayor adds. The "tokku minpaku" decree was passed on the 7th of December. It imposes a 7 day minimum stay "in order not to compete with hotels, which charge more per night, and in order to satisfy foreign tourists who usually spend an average of a week in the capital". Unlike the traditional inns (ryokan and minshuku), neither dinner nor breakfast are served. The price varies according to the quality of the accommodation and "any necessary renovation is the owner's responsibility," states Mayor Matsubara. Last but not least, minpaku providers will not require any special licenses and neither will they pay taxes for offering this service. Matsubara Tadayoshi is happy with this decision. He hopes to revitalize his area that, just like the rest of the country, has an ageing population.
In many of the archipelago's rural regions, 40% of the population is over 65 years old. "The minpaku could be a way of welcoming more tourists to the regions, and reinvigorating their economy," he explains. "I also hope that it will be a way of putting the 62,000 empty homes in the area to good use… a number that rises a little every year". The Mayor's idea isn't all that revolutionary or incongruous though. With the help of the internet, the number of people in Japan offering accommodation to rent in their own homes has soared over the past two years and there could be up to 20,000 unofficial minipaku in the archipelago. In response to the demand, a parallel market has emerged. Last December the Japanese press reported that the police had to intervene when two owners were offering minpaku accommodation to tourists, mostly Chinese, on an intensive scale: they were renting out 36 rooms to between 30 to 70 tourists per day. However, even though it is illegal, the police only rarely interfere in this sector. Although the Japanese Airbnb website officially only offers lodging run by professionals, unauthorized minpaku are also listed. Last November the company revealed that 525,000 foreigners had used their services, resulting in a revenue of 222 million yen (£1.3 million). The popularity of Airbnb has also given rise to complaints of disturbances from local residents. Following the decree, this kind of lodging will be safer, because it will benefit from being regulated. "We are committed to keeping an eye on the districts in order to avoid the kind of nuisance that could arise from such a large influx of tourists," Matsubara Tadayoshi confirms. He doesn't hide the fact that some of Ota's inhabitants aren't happy with the idea of an increase in tourism. When the decree was announced, the Mayor received many visits and letters from worried citizens. "They are worried about noise, about how the waste bins will be cleared and, generally, about the insecurity this could create in their neighbourhood," he explains. Under the powers of the decree, the local authority has the right to investigate certain minpaku if necessary. Since late January, those householders interested in welcoming tourists can hand in an application declaring their offers of minpaku and these take two weeks to authorize. Just twenty-four hours after the application process was announced, around sixty candidates had already applied and the first minpaku opened in February.
Business enterprises were quick to express their interest in investing in houses that could be used for this purpose. Others intend to take advantage of this new opportunity by promoting the various house owners' offers on attractive international English-language websites such as Stay Japan. "With this decree, we can offer better publicity for these offers – a positive development. It's a win-win situation," emphasizes Matsubara Tadayoshi. Because of the close proximity to Haneda Airport, Ota is a pivotal tourist hub. "We are frontline ambassadors of omotenashi – Japanese hospitality," says the Mayor. As such, he has done everything he can to encourage international, as well as local, tourism. He has realized that if minpaku is to flourish, it will be thanks to foreign tourists spreading the word about this form of cheap accommodation in local residents' homes. "Our multicultural centre offers services in fourteen different languages," he adds. Ota's minpaku initiative is already inspiring initiatives across the rest of Japan. Osaka Prefecture is hoping to introduce similar decrees in April across thirty-four cities, including Izumisano where Kansai airport is located. Relaxing the regulations for minpaku could soon help it become an important source of revenue in rural regions. For example, on Teshima, a little island in the Inland Sea, just off Shikoku, nine people already offer minipaku so they can share their everyday lives with tourists. They are particularly generous, and in addition to accommodation, offer to accompany their guests on fishing trips, include them in farming activities or even help them to cook local dishes. The island tourism office is in charge of reservations. The only problem for foreign tourists is that they need to understand Japanese to make the reservation online in order to stay with a local resident. Even today, the language barrier presents an obstacle for foreign tourists visiting Japan. For example, only a few traditional inns offer services in different languages, so despite foreigners' great attraction to this type of accommodation, it is still difficult to access. And although they have been strongly encouraged to do so, many proprietors remain reluctant to learn English or Chinese. This is despite a worrying situation in the industry – Japan only has around 43,000 ryokan, less than half the number thirty years ago. In some rural regions the level of occupation barely reaches 35% capacity, despite the overall lack of tourist accommodation across the country.
Johann Fleuri
References
stay japan : https://stayjapan.com Teshima :http://benesse-artsite.jp/en/stay/minpaku
Photo by DR