No.53 The holy land of otakism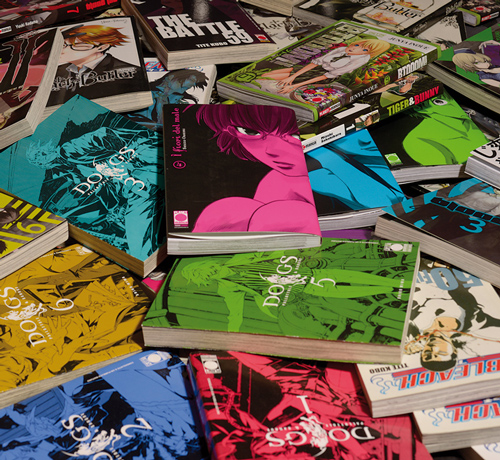 Not everyone can achieve their dream of making a living in Japan out of their passion for manga and cosplay.
Otaku culture has never been so popular around the world. It is celebrated at countless conventions, while Japanese comics and animation are widely available in many languages, thanks to the indefatigable work of many professional and amateur translators. Online communities have popped up everywhere, and in many countries there are now even dojinshi (fanzines) fairs and cosplay events. Some people go so far as to learn the Japanese language in order to enjoy manga and anime in their original versions. In other words, it's much easier today to get your daily fix of your favourite genre of otaku. However, for an increasing number of people the only way to fully experience Japanese pop culture is to go on a pilgrimage to the holy land of otaku itself. Many of the people featured in this special edition did exactly this, either in their teens or early 20s. They even went a step further; they moved to Japan and/or tried to turn their love for Japan into a viable job. Taken as a whole, their stories clearly demonstrate the excitement such a bold decision entails, but also the challenges one has to face while living abroad, and trying to make sense of a country with very different cultural and social values.
People who aspire to working in anime seem to face the biggest problems. As American-born Henry Thurlow told the BuzzFeed website, a few years ago, he managed to get hired by an anime studio only to discover what the term "work hell" really meant: regular six-day working weeks of 10 hours a day, which turn into sixweek non-stop marathons without a single day off when they have to respect a deadline. All this for a salary that – unless you're a top artist – is invariably way below the minimum wage. Eventually, Thurlow managed to keep doing what he loves most, without going crazy or becoming ill, by creating his own animation studio, D'Art Shtajio. Its mission is to act as a link between the Japanese animation industry and outside markets, particularly in assisting foreigners seeking to produce animestyle videos in Japanese studios.
At the other end of the spectrum, independent foreign video game professionals seem to have managed to prosper in Japan while creating a tightly-knit community, based mainly in Osaka and Kyoto. They both develop their own games and help bridge the gap between Japanese indie developers and the West by acting as advisors and organisers. The headline message is to avoid working for established publishers, as a lot of mainstream game development seems to be stale and rigid. As veteran game programmer Dale Thomas wrote in Quora Digest, "It is really frustrating for foreigners who come in and can easily see how to make things so much better, but are not allowed because of the rigidity."
The manga industry seems to be another impregnable bastion, even though, once in a while, a few chosen foreigners manage to get published in Japan. One such case is Åsa Ekström, who moved to Tokyo from Sweden in 2011, and began posting her four-panel comic Nordic Girl Åsa discovers the Mysteries of Japan on her blog while studying graphic design. Eventually, her manga was picked up by publishing giant Kadokawa, who put out a compilation book of her comics. In our special edition, you will read a similar story with a happy end about Italian mangaka Caterina Rocchi. So, is it easy to have a career in an otaku-related field in Japan? Definitely not. But nor is it impossible, as long as you have certain qualities and are not easily discouraged. As anime studio Production I.G's PR Francesco Prandoni says, "I'd already worked in the industry for more than a decade back in my own country. I went for an interview, and they took me on. As a matter of fact, I.G has a long history of non-Japanese employees. We currently have people from Korea, China, France and Italy, and none of them is in the animation department. I really cannot say I'm an exception here."
Just remember that even though Japanese culture is popular worldwide, it doesn't mean that the Japanese are fluent in other languages. As Prandoni adds, "What most people sending e-mails to our HR department tend to forget is that being proficient in both spoken and written Japanese is not simply a plus, but a sine qua non in order to work in a Japanese company like this, because that will be the only language your co-workers will be using and understand."