[FOCUS] A visit to Tezuka Productions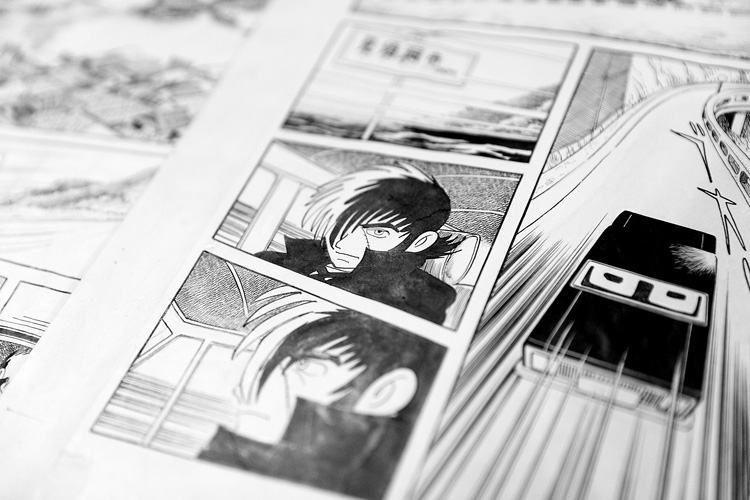 Black Jack is one of the most famous manga by Tezuka Osamu.
The company aims to keep the memory of this brilliant artist alive, and to preserve and display his original work.
Saitama may not be considered exactly cool by many Japanese, but in the last few years this prefecture just north of Tokyo has become a major point of attraction for manga and anime fans as it has featured in a number of successful works. Today, however, we are here to pay our homage to Tezuka Osamu, an artist whose work pre-dates manga and anime's huge popularity abroad (and the recent "otaku pilgrimage" phenomenon).
All Tezuka Productions' work used to take place in Takadanobaba, in central Tokyo. Then, in the early 1980s, Tezuka decided to move his studio to the suburbs near his house, and finally found the right plot of land in Niiza, Saitama. However, even today, Takadanobaba remains the heart of Tezuka's world. As soon as you get off the Yamanote Line train, you're welcomed by Atom's theme song playing through the station's loud speakers. Just in front of the north exit, you can admire a wonderful mural featuring all the famous Tezuka characters, while the company's main office is located a short walk from the south exit. Of course, the company's premises are off limits, which is a pity because the lobby is full of Tezuka merchandise, and even the stairs and corridors are decorated with colourful illustrations.
But back to Niiza, the Number 1 studio, as it's formally called, opened in 1986. Here the anime production facilities (art, directing, and drawing) are all gathered under one roof, together with Tezuka Osamu's old workroom. His original manga manuscripts and animation-related materials are also preserved here, in a room resembling a bank vault. Our guide is the studio's deputy director, Kubota Minoru, a 40-year-old animation veteran, all of them spent at Tezuka Productions. "I even had a chance to work with Tezuka Osamu himself for about ten years, before his untimely death," he says.
When we arrive at the studio, we are told to leave our shoes at the entrance and put on a pair of slippers – a very Japanese thing to do, but not so common when visiting a workplace. The semi-dark lobby is full of Astro Boy/Tetsuwan Atom dolls and figures, big and small, and other assorted Tezuka goods. We visit the vault first, and archivist Tanaka Hajime guides us inside the small cramped space. This room is a veritable Tezuka fan paradise. The indefatigable Tezuka Osamu was famous for his almost super-human energy. During his long career, he created more than 700 titles and illustrated 150,000 pages. Nearly all his output is preserved here. Tanaka is kind enough to show us some of the original manuscripts in all their raw beauty, white-out traces and glued speech bubbles included.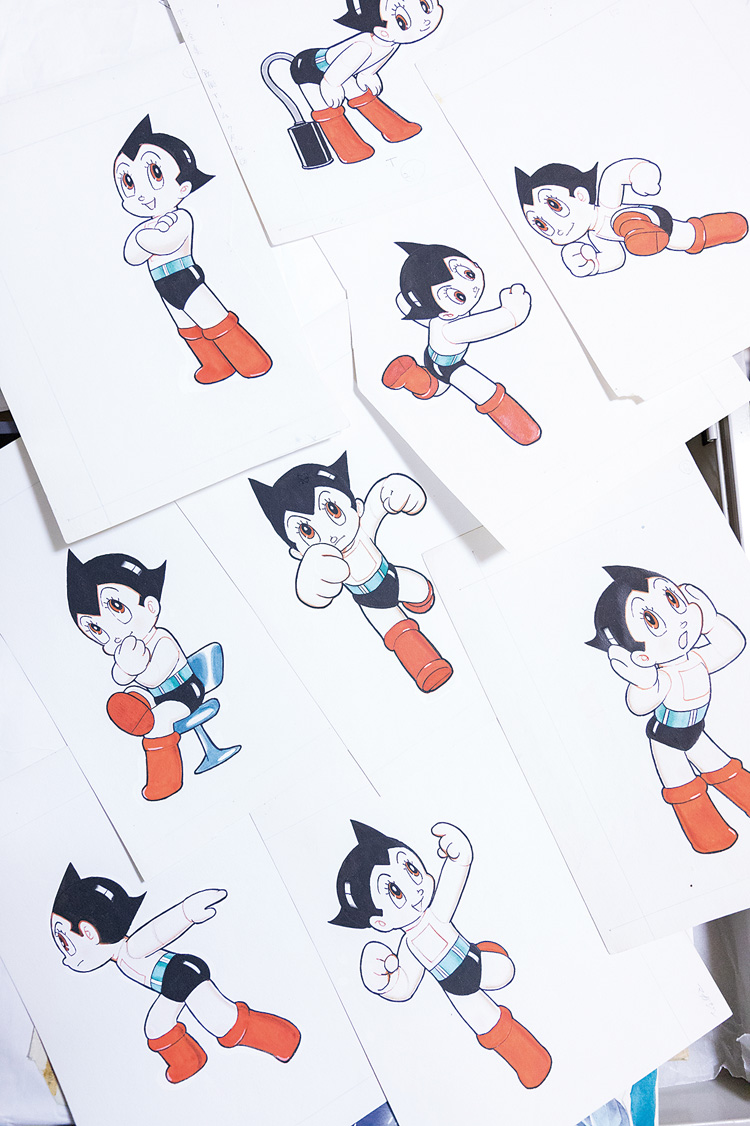 Original drawings of Mighty Atom by Tezuka Osamu.
Next, we go upstairs where about 30 staff are working on a number of projects. As Kubota points out, Tezuka Productions no longer produces its own original works. "Right now, we are hired by other studios to work on their titles, following their instructions," he says. "We take care of drawing, animation, storyboarding, colouring, but we don't do any photography." "When I started, back in the day of hand-drawn animation, we used transparent cels, which we'd superimpose on the background and photograph, one frame at a time. Now, of course, everybody uses AE (After Effects). The good thing about digital technology is that it's clean. Now that 35mm films and cels are gone, you don't have any waste to deal with. On the other hand, though, it lacks the warmth of analogue animation. At least that's what I feel. As an old timer, I miss that special charm. Digital animation is too uniform for my taste. With hand-drawn, hand-painted animation, there's an added risk of making a mess, but those little imperfections add a particular flavour to the final work." The studio is located on three floors, each one devoted to a different task. First, we take a peak at the drawing department where several animators are busy at work, tracing drawings on a light-box. Upstairs, other staffers are working on a CG film, running a check on the motion capture.
Nowadays, computers may play a major part in anime-making, but the studio's overall atmosphere is very much "analogue": every floor is a huge mess, with big piles of paper sitting precariously on cluttered desks and dusty shelves, or just lying on the floor. Watching these people at work is like witnessing art rising out of chaos. We climb another flight of stairs and, on the next floor, we find a few people drawing landscapes and backgrounds, while in a different area the finished parts coming from the animation desk are imported into the computer and coloured by digital painting. This is the phase when the work of the animators finally starts to look like the colourful anime we know from TV and cinemas. "This job used to be done by hand, applying the colour to the transparent cels," Kubota says, "but as you can see, recently, even this part of the creative process has gone completely digital. With the increase of the CG element in current animation, the studios have an opportunity to experiment with different ways of tackling a project, using lots of different methods. So, in the end, there's no real difference in the time it takes to make a digital work compared to analogue animation."
Though, in Japan, computers have been used for many years now in the colouring and composition of anime, many studios still prefer to draw individual frames by hand and then scan them in for digital manipulation, as they believe that there are certain things you can't express effectively without using pencils to depict motion. However, last year, an increasing number of theatrical films and TV series were either partially or completely animated using 3-D software. In this sense, 2017 may be remembered as the year Japanese 3-D animation came into its own.
J. D.