No.74 [MONUMENT] Tora-san, a Japanese hero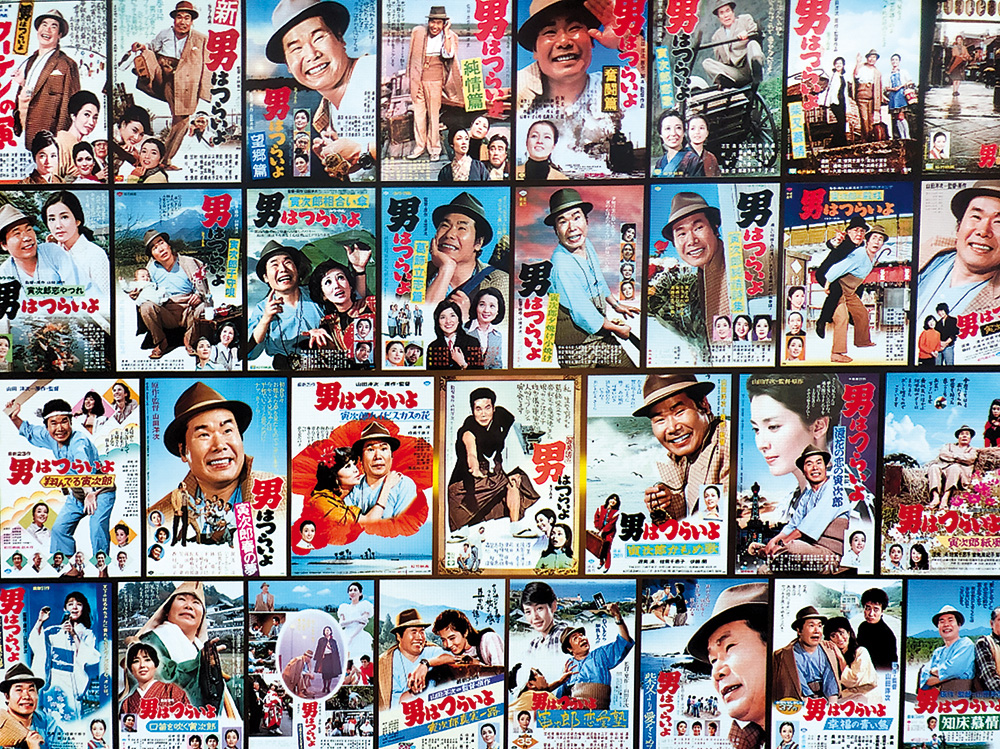 With its 50th film about to appear, Otoko wa tsurai yo is the longest series in cinema history.
This mythical character of Japanese cinema inextricably linked to the district of Shibamata enjoys cult status.
I can't believe my Japanese wife has never been to shibamata. I mean, she is old enough to be acquainted with Tora-san, the protagonist of the Otoko wa tsurai yo (It's tough being a man) film series and one of Japan's most famous pop culture icons. even my 18-year-old university students know him – they have never seen his films, but at least they know the who he is.
My wife has actually seen a couple of instalments of the 48-film series (a guinness World Record for series starring a single actor). Also, and even more amazingly, her university teacher appeared and sang in a Tora-san film back in the 1980s. so the least I could do was to take her to shibamata and guide her around the area where Tora-san's family lived. This year is also the series' 50th anniversary, one more reason to reassess its importance in Japanese society.
Shibamata is arguably Katsushika's little gem. If Tateishi has a sort of rough beauty that reminds us of the postwar showa period, shibamata's character is more refined. People have lived here for a very long time – a grave and various tools dating back to the fifth or sixth century were unearthed in the grounds of the local Hachiman shrine – but nobody really took any notice of the area until a major Nichiren Buddhist temple was founded in 1629. The temple is devoted to Taishaku – one of the guardian deities of Buddhism who is in fact the Hindu god Indra in Buddhist clothing – hence its name Taishakuten. A temple market developed around it, making things even more interesting.
There was a time when the sumida River in central Tokyo was a de-facto border within the city, and the residents of Yamanote – the wealthier western districts – had no interest in paying a visit to the working-class flatlands east of the river, where most people were farmers or worked in small manufacturing companies.
Probably for this reason, shibamata has always felt somewhat remote, and in the past travelling to this "frontier town" was an adventure. For example, the first train line serving shibamata opened in 1899, but it was made of human-powered "trains." each of its 64 carriages seated six passengers and was actually pushed by one person.
Then along came Otoko wa tsurai yo (first the TV drama in 1968, then the feature film in 1969) that firmly put shibamata on Japan's cultural map and gradually turned the little temple market town into a cool place to visit. For those who don't know Tora-san, his real name is Torajiro and he is the archetypal Edokko: a sort of Tokyo cockney, flamboyant and sharpwitted, irascible but with a heart of gold, whose dreams are big, but who is always disappointed at the end of every instalment.
Tora-san is a tekiya, a hawker who peddles his wares around Japan going wherever there is a fair or festival, usually in other temple markets and small towns like his native shibamata. He periodically returns home to the delight and despair of his uncle and aunt, who run a Japanese sweet shop, and his younger sister sakura.
I first visited shibamata when I arrived in Japan in 1992, and 27 years later the area around the temple has hardly changed. Well, actually, there is something different: a bronze statue of Torasan was placed in front of the station in 1999 (the series' 30th anniversary) and one of sakura was added two years ago. The wandering peddler is portrayed as he's again set to leave his hometown, pausing for a moment to wave goodbye to his little sister.
After a two-minute walk, we arrive at the entrance of Taishaku-sando, the district's traditional shopping street that leads to the main temple. The great thing about shibamata is that it's a very compact area, and most points of interest are only a few minutes apart from each other. Also, it looks like old-time Japan without feeling like a fake.
YAMADA Yoji, the series' director, once recalled that he discovered shibamata thanks to a friend, writer and Katsushika resident SAOTOME Katsumoto. When the director came up with Otoko wa tsurai yo's plot he remembered the place and particularly Taishakuten and its market street. The district had miraculously been spared from the ravages of war, and many old-style one-story buildings with tiled roofs had been beautifully preserved. He found the market street itself quite charming: not a straight line of shops like Asakusa's Nakamise-dori, but a gently curving narrow street gradually revealing what lies ahead, enticing the visitor to walk on until Taishakuten's majestic gate finally appears in the distance. The director found it picture perfect. Thanks to Tora-san's popularity, the old district even managed to escape postwar redevelopment, and today looks almost the same as 50 years ago.
Inaugurated in 1911, Taishakuten-sando is lined with shops and restaurants on both sides. some places have been in business for a long time, like 250-year-old Kawachiya. It used to be famous for serving carp from the nearby edo River. Carp is still served today, together with eel and tempura, but it is more likely to come from some safer fish farm.
Other shops sell senbei (rice crackers), sweets, and tsukemono (Japanese pickles), but one thing every Tora-san fan wants to try are dango (dumplings made with sticky rice flour), the same food sold at Tora-ya, Tora-san's family shop. His uncle in particular makes kusa dango that contain yomogi (mugwort) and are topped with anko (red-bean paste).
One place where you can taste kusa dango is Takagiya, in business since the early Meiji period (1870s) and best remembered for being the place where actor ATSUMI Kiyoshi – who played Torasan until his untimely death in 1996 – and the rest of the crew used to relax between shoots. Dango aside, Takagiya attracts customers in search of memorabilia. Indeed, inside the spacious shop you'll find the actor's autograph, Tora-san's pictures and other objects related to the series. ATSUMI's favourite table is now off-limits to other customers. A big "Reserved seats" sign makes it clear that the shop owners are waiting for his eventual return, someday. pictures and other objects related to the series. ATSUMI's favourite table is now off-limits to other customers. A big "Reserved seats" sign makes it clear that the shop owners are waiting for his eventual return, someday.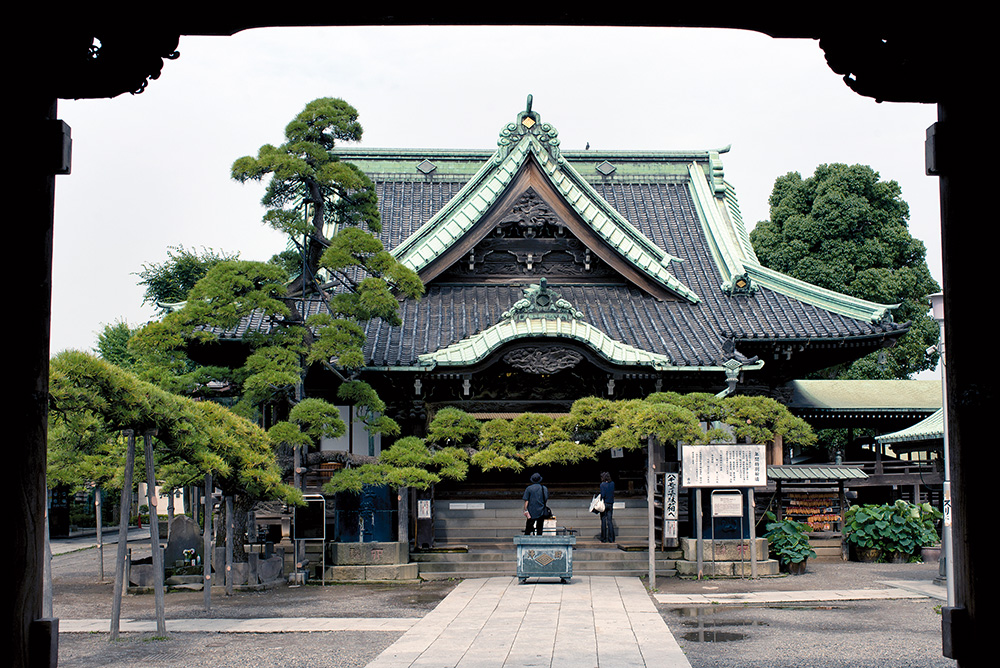 Taishakuten, built in 1629, stands at the end of of the shopping street Taishaku Sando where Tora-san's family used to live.
At the end of the narrow temple market road stands Taishakuten's gate. In the film series, the temple abbot is played by RYu Chishu who starred in Tokyo monogatari (Tokyo story) and many other Ozu Yasujiro's films. The temple itself deserves to be explored not only for its many treasures, but for its atmosphere. Coming from the crowded and noisy shopping street, one is suddenly plunged into the temple's quiet, almost magical realm, further enhanced by its beautiful garden.
Our next stop is another, later, addition to the shibamata landscape: the Tora-san Memorial Museum. While shibamata's real-life locations are prominently featured in the films, the indoor scenes were shot at shochiku's studio No. 9 in Ofuna, south of Yokohama. All the sets have been faithfully preserved, including the dango shop with its kitchen and living room. Tora-san's clothes and his trademark hat and suitcase are here too, of course.
Other displays are devoted to the Madonnas – the beauties for whom Tora-san fell head over heels again and again. Appearing in one of the instalments was considered a great move to acquire star power in Japan's competitive show business. One of the reasons YAMAdA chose shibamata to shoot the Tora-san movies is that, at the time, the area surrounding the temple market was full of fields and open spaces and had lost nothing of its old charm. Needless to say, shibamata has changed quite a lot since the late 1960s. You only have to walk east of the station along the main street to see "real," contemporary shibamata, virtually undistinguishable from other Tokyo suburbs. Yet life here seems to be lived at a slower, more relaxed pace.
The area's character is best represented by the edogawa, peacefully flowing nearby, and strolling along its embankment is the perfect way to end our walk. depending on the time of day, you can see early risers doing calisthenics, students commuting to and from school, and an endless stream of joggers. Tora-san himself is often seen dozing on the river bank, philosophising about life or doing some people watching.
From the elevated embankment one can see Yagiri no Watashi, Tokyo's last manpowered ferry which connects Katsushika to edo River's other side in Chiba Prefecture. This service began in the early seventeenth century and, in the old days, only farmers who worked on both sides of the river were permitted to cross while avoiding the payment of customs duties.
Considering its enduring popularity with tourists and its connection to the film saga (in the very first episode, Tora-san comes home along this route), the rackety old boat should be carrying people across edogawa's sluggish waters for many years to come.
YAMADA says that he never tires of Shibamata and every time he comes here he feels better. Having spent his childhood in Manchuria, he didn't really have a place to call home until he discovered Shibamata. "every time I arrive, everybody greets me like I'm family," he says. "even the modern neighbourhoods, though they look different from the 1960s, have maintained that quiet, unhurried feeling of life in the slow lane. And the Edogawa is still there, lazily snaking its way through green fields."
Indeed, nostalgia for the "good old days" is what prompts people – most of whom are in their 50s or older – to visit this place. Museum visitors often end up reminiscing about their own childhood and how their hometown used to look like Shibamata. The younger generations may not care about Tora-san – or the country's past, for that matter – but Tora-san is surely here to stay… especially now that a new film is coming out this winter.
GIANNI SIMONE