No.77 [A MUST-SEE] Tokyo-Broadway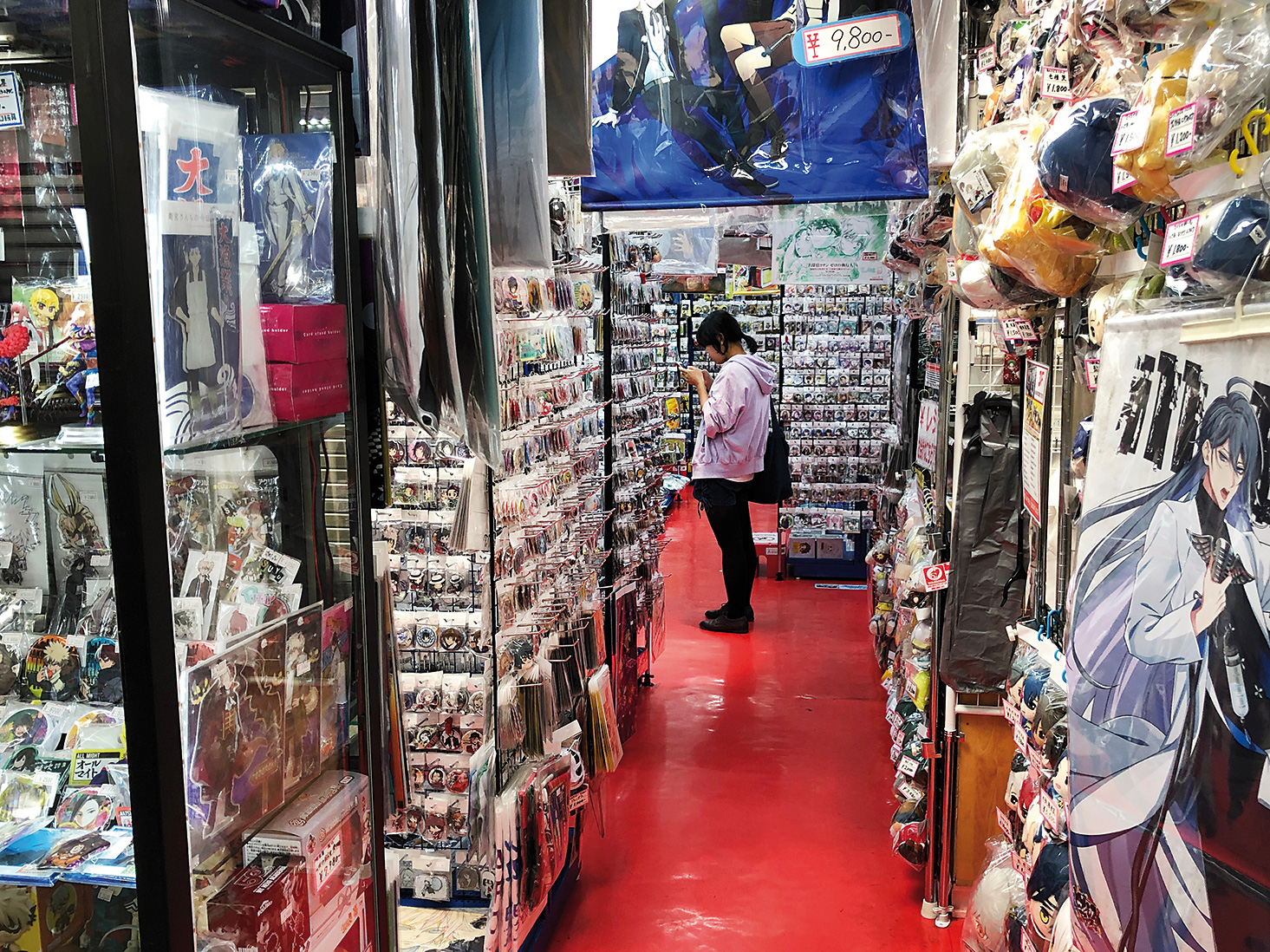 Something to suit all tastes and purses.
A 5-minute train journey from Shinjuku, Nakano district has established itself as one of the major centres of Otakuism.
If Akihabara is the official, attention-seeking side of Otaku Tokyo, Nakano is its opposite, both geographically and temperamentally, quietly going about its business without fanfare, yet attracting thousands of dedicated manga and anime fans by the mere strength of what it has to offer. Nakano is just a five-minute train ride from Shinjuku, yet it couldn't be more different from its glitzy, naughty neighbour. To be sure, there was a time when Nakano was considered trendy and many celebrities called it home. In the '60s and '70s the ward became the centre of a revitalisation project that transformed it into an upmarket district. 1966 saw the completion of Nakano Broadway, a luxury apartment complex with a four-story shopping mall and six more floors of apartments. The building cost a then record-breaking six billion yen and featured a garden and pool on its rooftop. Then, in 1973, Prime Minister TANAKA Kakuei himself inaugurated Nakano Sun Plaza, a 21-storey cultural and amusement complex featuring a concert hall, a hotel and a wedding hall.
However, the good times were not meant to last and in the '70s and '80s Nakano was gradually overshadowed by hipper areas like Kichijoji further down the Chuo Line. It was around this time that avant-garde anime circles began to move into the area, with bookstore TACO ché distributing cutting-edge comic magazine Garo along with underground literature while, in 1980, former Garo contributor FuRuKAWA Masuzo opened a secondhand manga store called Mandarake in Nakano Broadway. This tiny shop (only 6.6 square metres wide) proved so successful that more and more otaku outlets followed FuRuKAWA's example, turning Nakano Broadway into one of Japan's major centres of otaku activity, probably second only to Akihabara.
A visit to Nakano Broadway
The JR Chuo Line conveniently divides the area in two parts: the sleepy residential south side and the fun-loving north side, which is where you should head. Cross the plaza in front of the station and go into Sun Mall, a 240-metre-long glass-covered shopping arcade whose 100-plus stores sell everything from food and booze to clothes, shoes and watches. As soon as you exit the mall you'll see the entrance to Nakano Broad- way in front of you. Don't be fooled by all the non-otaku shops in the basement and on the first floor selling clothes, watches, medicines, electronics, food, etc. Most of the fun awaits you on the second, third and fourth floors. At this point you have two options: if you don't have a lot of time, plan your visit in advance and concentrate on a few shops. Otherwise, you can just leisurely roam the aisles, take in the unique atmosphere and dis- cover unexpected delights. The mall's layout is rather haphazard, and the hallways have been arranged with the apparent purpose of making you lose your way. However, if you are not in a hurry your visit will become the strangest shopping expedition of your life. Just try to avoid weekends and holidays when it gets seriously crowded. Also, remember that most otaku shops (unless otherwise noted) are closed on Wednesdays.
Even if your interests go beyond browsing and shopping, Nakano has the big advantage that everything is close to the station and concentrated in a very small area. The area east of Sun Mall is especially worth exploring because its shop- and bar-filled narrow streets (sleepy during the day, quietly alive at night) have retained a nostalgic retro atmosphere that will give you a fairly good idea of how Showa-era Japan looked and felt.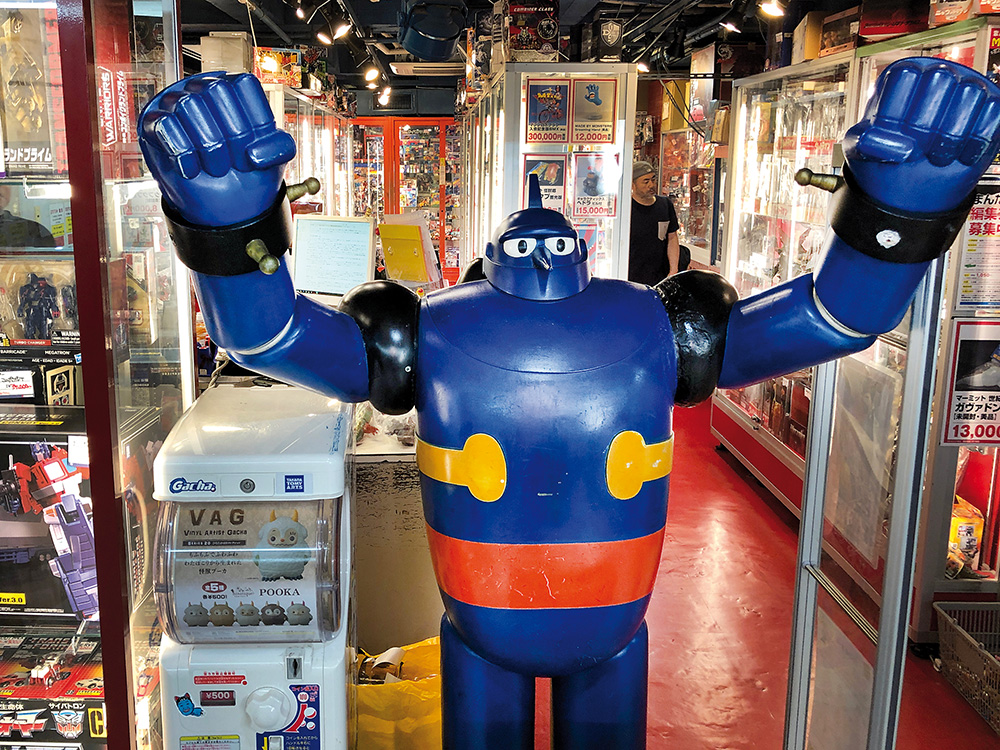 The windows of the shops specializing in pop culture are full of treasures.
Mandarake (Floors 1-4)
Open daily 12:00-20:00
www.mandarake.co.jp/shop/index_nkn.html
While second-hand otaku goods chain Mandarake has a cool underground store in Shibuya and an eight-floor Complex in Akihabara, Nakano is its home base. In fact, with 25 different shops spread across four of Nakano Broadway's five floors it's an inescapable presence. Luckily, each store is devoted to a different genre so you won't lose your sanity having to go through all the one million different items. This is one of the few places in Tokyo that goes so far as to include among its staff people who can actually speak English and other languages. Here's a brief description of some of its 25 branches:
門(Mon) (1st floor): Studio Ghibli goods. Live-kan (2nd floor): ladies dojinshi (amateur manga publications).
Galaxy (2nd floor): video game software and hardware.
Deep-kan (2nd floor): dojinshi for men.
∞ (Infinity) (3rd floor): Boy idols (Johnny's) and voice-actor-related goods.
Anime-kan (4th floor): anime scripts and cels (illustrated celluloid sheets), signed sketches. 変や(Hen-ya) (4th floor): novelty goods, vintage and antique toys.
Mania-kan (4th floor): vintage manga magazines and books (including TEZKA Osamu's original editions), records (anime, tokusatsu "live action film/TV drama"), film scripts.
Plastic (4th floor): dolls (Volks, Blythe, Licca-chan), doll wigs and other accessories
Special 1-6 (2nd — 4th floor): each store is devoted to a particular genre of figures and models.
TACO ché (3rd floor)
Open daily 12:00-20:00
http://tacoche.com
While Otakudom has its own version of the indie world (dojinshi and the like), what about the "off-off" scene, i.e. the cutting-edge artists whom no mainstream shop dares to carry on its shelves? TACO ché is the perfect starting point for your exploration. Apparently, they have more than one million publications in stock (small-press books, alternative comics, zines) plus DVDs (mostly of the weird variety), CDs (grindcore, noise, and what-the-hell-is- that music), T-shirts, badges and illustrations by such underground masters as UMEZU Kazuo, MARuO Suehiro and TAWARAYA Tetsunori. From time to time they even hold exhibitions and other events.
G. S.