No.78 [TASTE] Veganism Japanese-style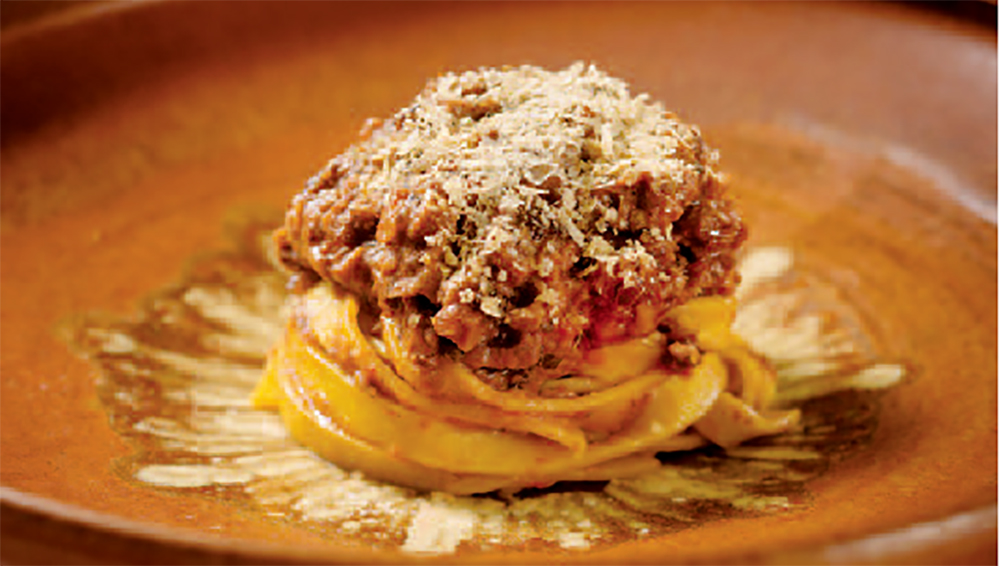 Vegan spaghetti Bolognese as served in Faro restaurant.
Japanese chefs are committed to showcasing what they consider to be a "new cuisine".
The term "vegan" has made only a tentative appearance in Japan, and there are still few restaurants serving vegan food. Some can be found in Tokyo and Kyoto where there are lots of foreign tourists, and are mainly vegetarian cafés, vegan burger stalls or places serving vegan ramen. yet, it is interesting that a vegan is not limited to eating just fast food in the Archipelago, as first-class vegan cuisine has begun to emerge. Faro, a luxury restaurant in the chic district of Ginza run by the famous cosmetics brand Shiseido is an example. NODAKotaro, head-chef for the past year, offers "vegan Italian food" on the menu. He also runs a michelin-starred restaurant in Rome, Bistrot 64. In a country where "foreign chefs serving Italian food" find it hard to gain recognition, he managed to win over both Italian and international clients. With barely time to enjoy a taste of his success, he launched a new challenge: to popularise vegan cuisine in his home country. The enterprise was made all the more difficult because, to begin with, his regular clients must have been confused by the drastic changes. eating in his restaurant, you'll be truly amazed at the possibilities offered by a vegan cuisine, where vegetables take pride of place. It is well worth trying out even if you're not vegan. In autumn, the principal dish served is a whole large turnip cooked in a spicy crust that delicately flavours the root vegetable, and is just one of a range of tasty meals you wouldn't want to swap for a meat dish. The chef recounts how he has discovered a wealth of vegetables since returning to Japan. His restaurant also focuses on local Japanese produce, and he maintains that vegan cookery is a very appropriate way of making the most of them. To enhance the flavours subtly, he experiments with different methods of fermentation, or combinations of ingredients that contain naturally occurring amino acids. What is interesting about this restaurant is that it serves "vegan" and "non-vegan" versions of the same dish, which allows you to compare them. His signature dish, "spaghetti with potatoes", comes in two versions. It is like looking at the same scene painted in oils and in acrylics. yONeZAWA Fumio, the former sous-chef at the three-starred restaurant Jean-Georges in New york, is presently head-chef at The Burn, in Aoyama, and has just published a cookery book with 90 vegan recipes. They look delicious, even to those who simply like to eat good fruit and vegetables: grilled avocado with chimichurri sauce, peach and lemongrass salad, fried cauliflower with a tahini and lavender sauce, white asparagus confit fried with espelette chilli powder… you can also read about some of the main features of the New york culinary scene, not yet as well known as they should be. The recipes reflect a true metropolitan dynamism, and represent a delightful collection of Latin American, Asian and Arabian culinary culture. The readership of the book's publisher is principally made up of professionals, though the recipes are simple enough even for amateurs. The editor of the publishing house maintains it would be a very helpful book for the large number of people who want to cook vegan food, but have no idea where to begin. The recipes are full of advice such as coating carrots with orange and lemon juice before roasting them, as well as which kind of vinegar and citrus fruit to use, how to prepare a black olive purée or roasted onion juice… you will effortlessly learn how to give flavours extra depth and dimension. Though both chefs cook vegan food, their styles are very different. One is sophisticated, subtle and elegant, the other, joyous, colourful and full of contrast. NODA notes that, while reading his colleague yONeZAWA's book, it was interesting to see how European cuisine to start with, then evolved in its own way. Vegan cuisine is no longer uniquely one-dimensional, as those who are not vegan tend to believe, but it is made up of innumerable influences depending on the country or culture it is part of. And moreover, neither chef is vegan. Both of them assert that they are not trying to convert people to veganism, but encourage them to discover a "new cuisine". NODA Kotaro maintains that eating vegan food now and again could be a way of thinking about the environment, while yONeZAWA Fumio is convinced that offering vegan food in a restaurant serving meat gives people the choice of "eating food in different ways". Furthermore, he adds that as a chef in a meat restaurant, it's important to think of a way of eating more ethically in order to be able to continue eating meat in the future. They both agree that vegan cuisine is not restricting, but a "new cuisine" that has recently sprung up in the West where, until recently, the emphasis has been mainly on animal protein, and there has not been a vegetarian culinary tradition, such as for some Asian cuisines. Their approach may appear somewhat lax in the eyes of some "real" Western vegans. yONeZAWA uses the phrase "flexible vegan", which, by definition, cannot exist. One could say this is another arbitrary Japanese-style re-reading. But this gentle reinterpretation is undoubtedly the best way to introduce this cuisine to more Japanese people, so they can learn to cook and eat this delicious food.
SEKIGUCHI RYÔKO
▶︎

PRACTICAL INFORMATION
FARO,8-8-3, ginza, Chuo-ku, Tokyo.
Tel. 03-3572-3911.
Open from 12:00 to 15:30 and 18:00 to 23:00. Closed Sundays.
THE BURN,

1-2-3, Kita-aoyama, minato-ku, Tokyo. Tel. 03-6812-9390. Open from 11:30 to 15:00 and 17:30 to 23:00. Closed Sundays.
VEGAN RECIPES,

by YONeZaWa Fumio. photos by HaTTamasaharu. pub. Shibata Shoten, iSbN 978-4-388-06318-5