No6 [Music] They won't keep their mouths shut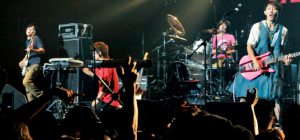 All around the world, dozens of artists and bands fight to defend their right to be different. It is no exception in Japan despite its reputation for reticence.
Don't keep quiet. Use music to assert yourself and make your voice heard! Such is the motto of many modern Japanese artists who wish to make use of their talent to communicate certain values and to proclaim their right to be heard. Most of them are independent and they refuse to be controlled by Tokyo's music industry. Some of these musicians have succeeded in imposing their alternative outlook on big record companies. The latter need to accept that music is changing and that Japan's little world of pop (J-pop) will never be the same again. When some artists, such as RC Succession, tried to raise a debate on nuclear power in the archipelago with their song "Summertime Blues" back in 1988, their record company suspended sales, despite the success of their version of Eddie Cochran's song. In the land of consensus, issues that might upset people cannot be raised. Nevertheless, Imawano Kiyoshiro, leader of RC Succession, did not give up and pursued a solo career, during which he used his talent to try and wake up a sleeping society. In the same way as Serge Gainsbourg turned the Marseillaise into a reggae tune, Imawano Kiyoshiro covered Kimigayo (the Japanese national anthem) as a rock tune in his album Fuyu no jujika [Winter's cross] in 1990. This was widely seen as a desecration of the piece that was originally written in 905 and only played on instruments for the first time in 1880. Imawano's death in May 2009 sparked a wave of emotion throughout the country, but his commitment and desire to use music to raise a different voice, in contrast to the dull voices of the J-pop singers, spawned many emulators.
All over the country, bands or solo artists have emerged, and succeeded in increasing their audiences thanks to concerts, internet promotions and the ability to produce their music more easily with online tools. Over the last fifteen years, Japan has faced a small musical revolution that might just turn the whole market upside down. This does not mean that protest music never existed in Japan before Imawano Kiyoshiro. In the nineteen-sixties, when Japanese students where radicalising and protesting against the Japan-American security treaty, artists (most of them folk-musicians) became a conduit for this unease, but at the time they were not as well received as Tha Blue Herb and Takahashi Yû are nowadays. The internet has completely changed the way things work. Shinsei Kamattechan is a good example of a band that has built its notoriety with its use of the internet. In many of its songs this band from Chiba raises the issue of bullying at school (ijime), which caused its leader to hide away from society (A phenomenon known as hikikomori) before finding a way of expressing through music the difficulty of living in a society in which differences are not accepted and the ugly duckling is always left out. Nevertheless, this difference is just what many rising rock bands are making use of. Many of them are from outside the capital. They make great play of their origins and refuse to adapt to the trends developing in Tokyo. They embody a deeprooted movement that is taking over the whole country: regionalism. The hip-hop band Tha Blue Herb is a perfect example. This group, probably one of the best in Japan, was formed in Hokkaido. Like others beforehand, they fought to maintain their local character, and created a label to promote artists like themselves and ensure that the influence of Tokyo will not put a stop to their progress. On the other side of Japan, in Okinawa, Cocco also defends her cultural heritage in her music, proof of which can be found in her latest album Emerald. After having spent two years as a beachcomber, in 2003 she organised a concert with only one song: Heaven's Hell, calling for a change in attitude among the population in Okinawa. Her performance had a great impact and she became an icon for the poorest region of Japan. However, do not imagine that Japan has been transformed into a place of constant protest with music as an expression of dissent. The music scene is still dominated by middle of the road artists. Although now, there are also musicians all over the country, who use their talent to question the state of society, with a rising number of young people fighting against poverty and injustice. Takahashi Yû is one of them. In his songs, this writer-composer tells of the growing difficulty his generation encounters in the search for happiness. Other artists, such as Taiyozoku from Hokkaido, are not as dark in their approach, but they also demand their share of happiness, and do not appear ready to give up their claims and just keep quiet.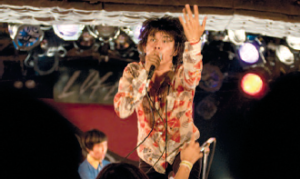 [Organization] – Joining forces
A successful launch for Tokyo Boot Up! – the first indie scene market.   
From the 3rd to the 5th of September 2010, Watanabe Ken wanted to set fire to Tokyo and set up a new event dedicated to the music industry. "Although Japan's record industry is second in the world in terms of sales, there isn't an event dedicated to it in the archipelago. Everybody knows MIDEM, but there is nothing like it in Japan. Faced with this Japanese complacency, I wanted to take advantage of the indie scene's energy to organise the first Tokyo Boot Up!" says the man who has been working in the music industry for 35 years. Amongst other things, he took part in promoting Dreams come true on the international scene. "In the US there is South By South West (SXSW). It's a very important business meeting and was launched by managers of independent artists who wanted to promote their protégés. In Japan, there was nothing like it. And it's all the more a shame since Japanese rock is experiencing its golden age. The Japanese indie scene is maybe one of the best in the world, with first rank artists. Despite this, Japanese record producers do nothing to support them or promote them to their audience. They seem completely closed to the idea," says Watanabe. During the 2012 event that took place from the 6th to the 8th of October, over 90 bands performed, including Motion, Marz and Marble, and it allowed them to demonstrate their talent to an audience who did not know them beforehand. Watanabe Ken considers his initiative as an essential step in a band's career if it wants to move beyond the local scene.
"It's a shame that most Japanese artists adopt this state of mind. There's so much more that can be done," he adds. Considering the country's evolution and the trend of some bands to involve themselves in debates about society, he believes it to be ever more important to support them. "I believe that a great number of these artists are concerned about the social divide and that they want to fight it. But in order for it to be of any use, they need to be heard outside the independent scene. Gaining the confidence of big record producers is not easy nowadays and I believe that most young artists are aware of this. So, they need to proceed differently and invite a wider audience to understand their approach". The founder of Tokyo Boot Up!'s ambition is crystal clear: to become the number one talent hunter. Amongst the dozens of bands he saw and heard during the 2010 Event, Watanabe Ken was particularly taken with Owarikara, Sonic Attacks Blaster, Okamoto's and Counterparts. He chose them because they offered more than just their pleasing artistic qualities. "The freshness of something new," he summarizes. "Nowadays it's very important for listeners, especially the young. They don't wait for traditional media to tell them about this or that band anymore. It doesn't mean they're not interested in music anymore, they just want to participate in discovering new talents," says the founder of Tokyo Boot Up! That is precisely why he developed this festival, to include the audience and give more weight to his initiative. Nevertheless, Tokyo Boot Up! will require a little more time before becoming an unmissible event, such as MIDEM and SXSW, but Watanabe Ken is a believer. He is already preparing for the 2013 event. Until then, he intends to promote it as much as possible to convince those who still doubt that the music scene needs such an international event. "Japanese artists have wonderful qualities to export. But it is essential to give them the tools to do so, and make sure they are aware of them," he adds.
Odaira Namihei