No8 [Crisis] A recipe to escape the stew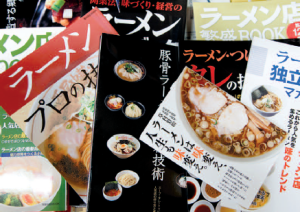 No only is it good to eat, nowadays ramen has a significant economic role to play in the country.
In Japan, as in other developed countries, publishing is not doing so well. Publishers struggle to attract readers who are spending more and more time with new digital technology but they have found a subject on which the Japanese continue to spend money: publications focusing on ramen. There are countless illustrated books that offer minutely categorized lists of the best restaurants. They are classified by region, by ramen type and even by price. All these detailed specifications allow the number of books to increase year-on year, as well as the revenue they generate. Lately, the Japanese economy has appeared to be moving in slow motion (the GDP decreased by 0.9 % during the third quarter of 2012) and it would be good to find anything that could encourage it to speed up again. Ramen seems to offer a remedy. It is a dish that many people like and it is affordable. Unlike other kinds of restaurants, which are feeling the full force of the crisis with fewer people eating in them, those selling ramen are holding up well. They are even more popular than some of their fast food competitors, such as McDonald's. The Japanese branch of this American heavyweight has lately announced that 110 restaurants are to be closed throughout the archipelago, whereas the publishers of Kyukyoku no ramen [Ultimate ramen] have counted 879 new ramen restaurants in Tokyo and in the surrounding region this year. What is happening in the capital is also true over the whole of the country, where ramen is bringing some hope to the battered economy. Many tourist guides are appearing, using ramen as a way of encouraging consumers to travel to one region or another. It is a fact that the Japanese love their food and it has always been an important reason for travelling. Ramen's growing popularity has encouraged the regional authorities to help preserve and develop local specialties, to ensure tourists continue to visit. Some regions have more to offer than others, even though there is at least one ramen restaurant in every city. From north to south, the main ramen centres are: Sapporo, Asahikawa, Hakodate, Kitakata, Niigata, Tokyo, Yokohama, Hiroshima, Hakata, Kumamoto and Kagoshima. In Sapporo, on the tenth floor of a building right next to the central station, is the Republic of Sapporo Ramen (Sapporo ramen kyowakoku), a group of specialised restaurants that attract thousands of people every day. Kitakata, a small town in Fukushima prefecture, makes sure to advertise the fact that one of the oldest ramen restaurants can be found there. Genraiken was started up in 1920 by Fan Jinxing from China and is still owned and run by one of his descendants. In Yokohama, one of the so-called birth places of ramen, two museums have been opened: The Shinyokohama Ramen Museum (www.raumen.co.jp) in March 1994 and the Cup Noodles Museum (cupnoodlesmuseum. jp) in September 2011. In the meantime, in Kyushu, people are hoping that their famous white broth tonkotsu ramen, made from stewed pork, will be awarded official government recognition. It is obvious that the economic hopes surrounding ramen are high and taken very seriously by the Japanese.
O. N.
Photo: Jérémie Souteyrat