No13 [Memories] A river runs through it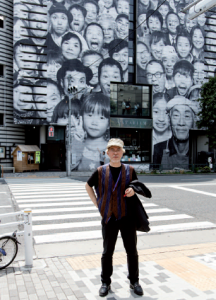 Watari Koichi, director of the Watarium, was born and raised in Harajuku. He will guide us through this area so dear to him.
Harajuku is more than just a place on a map, it is a state of mind. For example, there is a station with such a name, but a district called Harajuku does not actually exist. Most of the area is actually called Jingu-mae. Still, everybody knows where Harajuku is. In order to shed some light on the subject, Zoom Japan spoke to one of Harajuku's more prominent citizens, Watari Koichi, who, together with his sister Etsuko, runs the prestigious Watari Museum of Contemporary Art. We meet in front of the museum and he immediately points out a yellow building on the other side of Gaien Nishi Street. "That's the nursery school that I went to," he says. "Then I attended Aoyama Elementary School in front of Gaien-mae Station. Since then I've kept one foot in Harajuku and the other one in Aoyama. Harajuku is synonymous with street culture – starting with the so-called Takenoko-zoku (Bamboo Shoot Tribe) in the 1980s – while Aoyama has always been more highbrow and sophisticated, with fashion designers like Miyake Issey. Now I live on the other side of Aoyama Street, between Aoyama and Azabu, which still is quite close to this district". We start walking toward the Meiji Jingu stadium complex when, after about 300 metres, we suddenly take a narrow street to the left. "Many years ago this was the Shibuya River," Watari says. "Most people don't know this but the river still flows under this street before surfacing south of Shibuya Station". Along the way we find a couple of old-looking stones on both sides of the street. "This is the spot where a bridge used to stand," he says. Watari explains that in the Edo period (1603-1868) many feudal lords had their mansions in this area while the rest of the area was mostly comprised of rice fields.
Following our guide, we finally reach one of Harajuku's main arteries, Meiji Street. Here we pass in front of BEAMS Harajuku, one of the area's more popular shops for men's fashion. "This is the first brand that opened in Harajuku, back in 1976, together with United Arrows and other shops," Watari says. Today the BEAMS flagship store has been joined by nine more shops, all clustered near Meiji Street, ranging from clothes to records, art and collectors' items. I ask Watari for his opinion on how Harajuku has changed over the years. "When I was a child the district had a stronger American flavour," he says. "After the war they built a big camp for the American forces behind Harajuku Station, so a number of shops opened to cater to them: Kiddy Land, the Oriental Bazaar, etc. A little further from here, near Gaien-mae Station, they opened the first bowling alley in Tokyo. It was considered a very cool place and everybody used to go there, including my father. And in Aoyama Street, next to the Brooks Bros. shop, there was the upscale Yours supermarket that specialized in imported goods. It was open until 3.00 a.m. so many hostesses from Ginza would do their shopping there after work". Watari has especially fond memories of Kiddy Land. "For me it was like a dream land. I particularly loved the top floor where they kept all the imported toys. The kids could actually play with the samples so for me it was a very special place. When, in 1974, they closed down that floor I was SO disappointed!". We cross Meiji Street and quickly disappear into a quiet area full of trees. This is Togo Jinja. "The original shrine was built in 1940 in memory of Admiral Togo who had defeated the Russian fleet in the 1905 Russo-Japanese war," Watari says. "It was destroyed during the Second World War and rebuilt in 1964". Unfortunately we cannot visit the inner shrine today because there is a Shinto wedding taking place. From a distance we can see the kimono-clad couple slowly walking to the shrine while traditional gagaku music is playing. "For me it's like a park," Watari says. "I like to walk through the shrine on my way to the station because it's so peaceful. I almost forget I'm in Harajuku". Following the tree-lined path, we reach a short flight of stairs leading to one of the loudest places in Harajuku: Takeshita Street. Turning right one quickly reaches the station, but we go left instead, back to Meiji Street. On the way we pass by the spot where Palais France once stood. "They sold clothes, accessories, furniture and other goods," Watari says, "and at the time it was the epitome of elegance. There was also a cafe where you could listen to classical music. At the same time, there used to be a number of love hotels on Takeshita Street where the American soldiers would take their Japanese girlfriends…". Watari also reminisces about the area's musical past. "The younger generation probably don't know this, but Harajuku used to be an interesting place for music lovers too. Rock star Yazawa Eikichi, for example, used to play rockabilly at a local club called Cream Soda with his group Carol". Around the mid-70s Harajuku became a popular meeting point for rock and roll fans who loved such fashion brands as Jun and Van. Predating street culture's later flair for combining disparate styles, the boys would typically mix big afros with long Chinese jackets. They used to gather on a stretch of Omotesando Avenue that was closed to traffic on Sunday. This area became so popular with amateur bands, their fans and casual observers that eventually the metropolitan government decided to stop the practice in 1996. Crossing Meiji Street again, we quickly reach Neighborhood, one of the original Ura-Harajuku stores that mixes biker culture with outdoor and military elements.
"The other shops have moved up to Aoyama's more upscale district, but Neighborhood has stayed faithful to its roots," Watari says. Speaking of business, I ask Watari about the time between 1995 and 2001 when he was the chairman of both the shop owner and neighbourhood development associations. "Every time a new company or shop opens here we have meetings and explain our rules," he says, "like our campaigns to keep the streets clean. We also make sure that the new buildings along Omotesando Avenue are not much taller than the trees. Even during the bubble years, when the banks where opening new branches everywhere, we kept Omotesando bank-free". Watari thinks that the business environment has changed in the last 10 to15 years. "In the beginning all these young entrepreneurs were opening their shops here because it was cheap, but since the street fashion boom rents have increased by 3-4 times. Then big brands like H&M and Forever 21 have moved in, making things even tougher for small businesses, so now only the really successful names can stay in Harajuku". Watari recalls how he became involved with the local organizations. "In 1995 our museum organized a big project called 'Ripple across the Water'. We invited 40 artists, each of them contributing a site-specific piece. It was a huge project, way too big for a small family-run museum. The chairman at the time was a 70-year-old guy. He helped us a lot, but at the end of the exhibition he asked me to replace him, and of course I couldn't say no. It was very stressful but at the same time it helped us create a network of contacts that we could use for future projects". Temples and shrines are another important yet overlooked feature of the area. "They were built in order to protect Edo Castle," Watari explains. "In a sense they functioned like a wall". On our way back to the museum, we pass in front of one of them, Myoenji, belonging to the Nichiren Buddhist sect. According to a sign we find here, the name Harajuku (Literally meaning "lodgings by the field") comes from an inn along the road that connected Tokyo to the city of Kamakura. "Harajuku" definitely disappeared from the official postal address system in 1965, when it was replaced by Jingu-mae.
G. S
Photo: Jérémie Souteyrat