No13 [Trend] Harajuku's little princess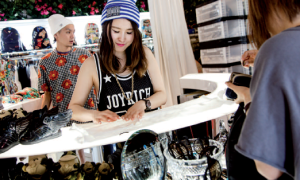 Artist Chocomoo has become very popular with many brands. Here she tells us more about her favourite places. 
This year's rainy season has been quite dry so far, so Zoom Japan's dynamic duo (this writer and ace photographer Jeremie Souteyrat) decide to head to Japan's street fashion capital: Harajuku. Our mission: meet artist Chocomoo. The Kyoto-born rising star of Harajuku youth culture is now 29 but she still looks 23 – the same age when she turned her lifelong passion for drawing into a career. "I've drawn all my life," she says, "but didn't think much of my work. Then about six years ago I was contacted out of the blue by a Tokyo-based brand. They had seen some of my drawings on my blog and asked me to work for them. At the opening party I met singer Ai-chan, who asked me to design some goods for her next tour. And so on, one project led to the next one, and here I am!". Since then she has collaborated with such brands as Milkfed, Override and Ravijour, and has designed tour goods for "Japan's Lady Gaga", Kyary Pamyu Pamyu.
Today Chocomoo will show us some of her favorite spots in Harajuku. We are not alone though, as an NHK World TV crew has joined us. It's a sunny warm June afternoon and with it being a Friday, the streets are not as crowded as in the weekend. Our first destination is Spinns 02 Harajuku. This popular chain's brand new outlet is located next door to such fashion heavy weights as Laforet, H&M and Forever 21. Spinns' original location – just down the street – only opened in 2010 but has fast become one of the favorite brands of the hip Harajuku crowd. Chocomoo has illustrated both the front and the interior of the new shop and her black and white drawings are everywhere. "To complete this particular assignment it took me about 5-6 hours," Chocomoo says. At the opening she performed one or her famous live paintings that are quickly becoming one of the must-see events of the vibrant Harajuku nights. "Because of my look and the kind of work I do, I'm often labeled a 'Harajuku girl' but I used to be very shy. Even now, when I'm in Kyoto – where I still live – I spend most of the time at home drawing, a little otaku-like. It is only recently that I've somewhat overcome my shyness, what with all the interviews, the live paintings, parties, etc". Back outside, we immediately dive into Laforet next door. Opened in 1978 on Meiji Street, this historical place has contributed more than any other store to shift the center of Japanese youth fashion from Shinjuku to Harajuku. Our visit is perfectly timed as on the second floor we can admire Chocomoo's latest and biggest collaboration yet: a new collection for influential LA-based brand Joyrich. Next we cross Meiji Street and enter the area informally known as Ura-Harajuku, the maze of backstreets where most street fashion is made and sold. This is a relatively quieter area where the boutiques share space with residential buildings.
Our next destination is one of those niche shops you are likely to miss unless you know what you are looking for. Avantgarde is a tiny basement store that specializes in tattoo stockings. "They are incredibly popular among Harajuku girls right now," says Chocomoo. "The interesting thing about this place is that you can actually try the stockings on. It's quite unique!". At this point we decide to take a break and head to the nearby Piazza Eco-Farm Cafe. "Because of my job, I spend a lot of time in this neighborhood," she says. "Every time I have a break I like to hide in this cafe". We talk about Chocomoo's artistic influences while sipping an ice tea. "Obviously I like such artists as Jean-Michel Basquiat and Andy Warhol but my biggest influence comes from Japan. I've had no formal art education, but in elementary school I learned traditional calligraphy and was also fond of Indian-ink painting and woodblock print. I like Japanese art's monotones. That's why my works are all black and white. Also, my grandfather was a kimono designer so I may have inherited his love for tradition. In the beginning my style was closer to a streetwise punk sensibility (my favorite designer is Vivian Westwood), but when I started working for the shops in this area I was asked to smooth the rougher edges and draw something more kawaii to match Harajuku's overall image. So now I alternate these two styles". We also talk about her creative process. "Drawing for me is very random. I don't really like to start a new work with a definite image in my head, and I never use drafts or rough copies. I directly apply my arsenal of markers, sharpies and acrylic pens. I keep drawing, improvising on the spot, until in the end the final image materializes in front of my eyes. If something goes wrong, I'm very good at covering my mistakes," she says laughing. We resume navigating Ura-Harajuku's maze.
Our next destination is Mishka Tokyo, the sister store of Mishka New York. Along the way we see many tiny shops and boutiques. Chocomoo points out Japan's diversity in comparison with other countries. "Usually in the US, Korea or Taiwan one fad follows another, but here you can see several different trends and styles at the same time and people are not afraid to experiment and freely mix them all together. Harajuku's youth have a particular fashion sensibility and you can just see it by walking around here. Also, the whole subculture scene is very active, with many magazines and websites fuelling the interest for designers, artists, musicians and DJs. It's an endless party here!". Mishka is a small but stylish shop packed with hats, t-shirts and jackets as well as the designer's toy collection. The shop is worth visiting for the interior decoration alone. "The designer is a good friend of mine," Chocomoo says, "and we share a love of weird toys. By the way, there's a great toy shop in front of Mishka!". So our party of seven heads to Omochaya Spiral, where all the available space is taken by dolls, anime-inspired figurines and whatever else a toy lover may dream of. "My room is full of toys," Chocomoo says". I often go to flea markets, and even when I return from my travels abroad my suitcase is always full of toys". Our mission accomplished, we head back to Harajuku's main crossing where we say good-bye. Be sure to visit the NHK World TV booth at the upcoming Japan Expo from July the 4th to the 7th where you will be able to see Chocomoo in action.
Gianni Simone
Photo: Jérémie Souteyrat