No22 [Cooking] Nasu Dengaku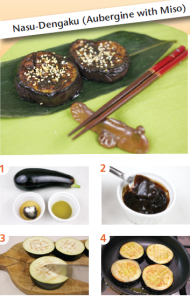 Nasu Dengaku (Aubergine with Miso)
Dengaku is a style of Japanese cooking with sweetened miso paste. Ingredients are typically cooked under the grill, but I modified this recipe so you can finish it off in a frying pan. Classified as a fruit because it has seeds, aubergine needs a generous portion of oil to achieve a creamy texture. The intensity of dark miso paste with its hint of bitterness alongside the luscious texture of the fruit is a marriage made in heaven. The excess oil will be removed while placed on a bed of kitchen paper before applying the miso paste, so no need to worry about running an extra mile to burn it off!
Ingredients:
Serves 2
● ½ large Aubergine
For the Miso Paste
● 2 tsp Dark Miso Paste
● 2/3 tsp Sugar
● 1 tsp Mirin
● 2 tsp Water
● Sesame Seeds
● Vegetable Oil
How to prepare
1. Mix the ingredients for the miso paste in a small bowl until smooth and silky. Cut the aubergine into 4×3 cm thick discs.
2. Cover the miso paste bowl with cling film and, heat in the microwave at 600 watts for 45 seconds.
3. Score one side of the aubergine with knife
4. Add the vegetable oil to a frying pan to a depth of at least 1cm and cook the aubertine over medium heat for 3 minutes on each side or until both sides are slightly brown and cooked. Rest the aubergine on some kitchen towel to absorb the excess oil. Spread the miso paste over the scored side of the aubergine and sprinkle with some sesame seeds to serve.