No22 [Focus] The railway world renewed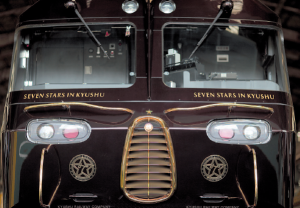 The idea of special excursion trains was first developed on Kyushu Island. They are now multiplying across the rest of the country.
Travelling by train is always a pleasure in Japan. Trains are punctual, clean and convenient. Trains will take you everywhere, including places where there are no other means of transport. These days though, travelling by train across the archipelago, at least in some regions, is all about special luxury sightseeing journeys. For several years, faced with a decrease in the use of some of their lines, railway companies have started to think of ways to reverse the trend by revamping their trains. Rather than closing down some of the least profitable lines that are still used by local people, the line managers have thought of a better way of attracting new passengers while at the same time boosting local tourism in those regions that are rich in natural resources or are of historical interest. The JR Kyushu Railway Company is at the cutting edge of this resourceful strategy and has encouraged others to follow their example. With a large network, but not enough passengers to make a profit and maintain their railway lines properly, JR Kyushu started developing special trains with names that refer to the adventures they'll take you on. Yufuin no mori (Yufuin Forest), Asobov, a pun on the verb to play (asobu) and Mount Aso across which the train travels, Hayato no kaze (Wind of Hayato) and Nanatsuboshi in Kyushu (Seven Stars in Kyushu) are just a few of the many trains that have been given a strong identity related to the region they travel through. CEO Karaike Koji considers it essential to attract new passengers, particularly those from abroad. He has partly managed to reach his goal as the number of foriegn customers has increased considerably in the past few years. They are mainly Asian, including many from South Korea, thanks to the sea link between Fukuoka and Pusan. Passengers can enjoy the scenery while travelling in comfort, as most of these trains are equipped with large viewing windows that allow the passengers to enjoy the landscape. Others, such as the Orenji Shokudo (Orange Restaurant), in service since the spring of 2013, focus on another local attraction: the cuisine. Between Sendai and Shin-Yatsushiro, the passengers can eat delicious food while enjoying wonderful views of the sea. In just a year this train has entertained over 10,000 passengers but now JR Kyushu would like to attract more Europeans. New direct flights between Amsterdam and Fukuoka (4 times a week with KLM) are a first step towards achieving this. The railway company has also decided to reserve a few seats on the Nanatsuboshi for foreigners only. Their are so many Japanese wanting to travel that it's necessary to make a reservation a year in advance. It's an enterprising strategy that other companies have started to copy and JR East has recently announced its intention to launch an excursion train similar to Nanatsuboshi. they have already created the Tohoku Emotion, a train inspired by the Orenji Shokudo.
Odaira Namihei
Phptp: JR Kyushu