No27 [Travel] Behind the scenes in Asakusa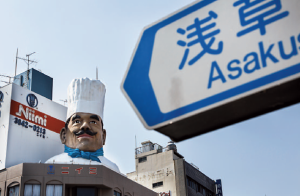 Everyone comes here to see the famous Thunder Gate (Kaminarimon). However, the district has many other surprises too.
The eastern district of Asakusa is one of Tokyo's more popular areas, for it retains that shitamachi (downtown) old-time feeling that has all but disappeared from the rest of the city. Unfortunately, it has also become a very touristy place, where commercialism often comes before anything else, and most people usually end up visiting the same spots. However, there is also another side to this neighbourhood, so Zoom Japan asked Tokyo historian Machida Shinobu to show us the less-known face of Asakusa. We meet Machida on a sunny Saturday morning. As usual, Kaminarimon (the big entrance gate to Sensoji temple) is incredibly crowded.
Our first destination is the Asakusa Yomin Bunka Shiryokan 30-tsubo no Himitsu Kichi (Asakusa 100-square-metre-wide Secret Popular Culture Museum). This small gallery is as funky as its name implies. It was opened in 2011 by Kudo Yuji, who used to be the president of wellknown video-game maker Hudson-Soft. Machida, who is also the museum's honorary curator, says that when Kudo was 50 years old he sold the company to his brother. "He really loves Asakusa, so he spent 150 million yen to set up this place that for him is just a hobby," he tells.
The museum is open all year round. Entrance is free and its temporary collection changes every three months. The day we visit, the place is full of vintage radio cassette players, the bulk of which come from a collection owned by one of Machida's friends. "He is the number one collector in the world," Machida points out. "Not only does he have about 2,000 radio cassette players, he also collects TV sets, washing machines and other electrical appliances, and fixes them himself". Some rare machines feature small TVs and even a mini-keyboard, and we even discover an Aiwa TPR-101 from 1968, which is widely considered to be the first radio cassette player ever produced.
Kudo-san arrives and tells us how this museum came into existence. "I'm very interested in Tokyo's past, and especially in popular culture," he says. "People mostly come to Asakusa to enjoy this particular retro feeling, so I decided to show my own and other people's collections." It turns out that Kudo also runs a restaurant theatre nearby, and the entrance hall features even more retro artefacts. Several beautifully detailed dioramas by Yamamoto Takaki portray Asakusa during the Meiji period (1968-1912), while dozens of old advertisements – part of Kudo-san's 300-item collection – hang from the walls. The most valuable of them all is a Glico poster that would sell for 300,000 yen on the collector's market. We say good-bye to Kudo and mention that our next destination is a small eatery run by Yatsume Seiyaku, a Chinese medicine manufacturer, where we plan to eat yatsume unagi (lamprey).
"It's not all that tasty," is Kudo's reply. "I remember even when I was a kid nobody would eat it. It was mainly used as an ingredient for medicines and vitamin supplements".
At the lamprey place we are welcomed by Yatsume's president Kajii Shotaro and PR representative Oshima Yuko, who explain that the company was founded in the Meiji period. This is the only place in Japan where one can eat yatsume unagi, and apparently we are their first ever caucasian customers.
We are treated to a dish of kabayaki (fish dipped in soy-based sauce and grilled), and we confess that even after Kudo's bad publicity, the fish tastes surprisingly good. Next up, Kajii-san pulls out some curious objects that look like gold stones. Actually they are vitamins that are made according to traditional Chinese medicine. Wrapped in 24k gold leaf and made of ox gallstones, they smell of plants and taste a little like bitter chocolate. Kajii says that making traditional medicine is getting more and more difficult as the Washington Convention forbids the import of certain important ingredients. In order to better explain what he is talking about, they take us to their Chinese pharmacy across the street. In the window and in the glass displays inside the shop, we find all kinds of weird stuff, like yuutan (bear's gall) that is used as a medicine for the stomach, a charred monkey's head and a pit viper. Some of the more prized items are a rhino's horn that sells for 10,000,000 yen, and a tiger's penis that was used as a sort of Viagra in the old days.
While talking about Asakusa, we learn that the Kanto Festival is about to begin in a few minutes, so we thank the good folk at Yatsume and hurry towards Sensoji to take a look. On the way we run into one of Machida's many local friends, Kono Michio, a comedian and whale-meat restaurant owner who is mostly famous for shouting "bakayaro" (you idiot!) every time he is invited onto a TV show.
We arrive just in time to see the Kanto Matsuri begin. This is a famous festival from Akita Prefecture in which the participants balance massive 12 metre-tall lantern poles (kanto) weighing around 60 kilograms on their hands, foreheads and shoulders. It's lunch time, and though the lamprey was good we need to put something more substantial in our stomachs, so Machida takes us to Peter's, a funky little curry and rice joint run by a kind old lady. The place is housed in a dilapidated building way off the tourist path, but it is actually a certified Bclass gourmet establishment (meaning the food served is cheap and home cooked). Inside, one of the walls is completely covered by a beautiful mural that was painted by a kamishibai (picture story show) artist. Our legs can hardly fit under the table, as both the tables and chairs were apparently made for much smaller people. "They were perfect for the smaller Japanese of old," says Machida, although it turns out the place was only opened in 1964.
Our last destination is Kappabashi, a street near Asakusa famous for its many shops supplying the restaurant trade. We have an appointment with Niimi Hitoshi, whose store was founded more than 100 years ago by his great-grandfather and is the biggest and most distinguished shop in Kappabashi. They have everything, including some fascinating oversized items, and on top of that they own the giant chef's head which has become the area's symbol.
Niimi-san shows us a huge kettle. It is surprisingly light as it is made of aluminium. Apparently a smaller model was used by Arnold Schwarzenegger around 40 years ago for an instant-noodle commercial in Japan. "This giant stuff is often displayed or actually used at big events like local festivals," Niimi says. "We got ten orders, so we asked a master craftsman to make them for us. Unfortunately, he died while he was working on the third kettle. Now, one of these would sell for around the same price as a used Toyota Corolla (about 5-600,000 yen)".
We go inside for a tour of the shop. This is a onestop place where both professional and amateur chefs can find any kind of kitchen utensil they want – and then some. "Everybody comes here, not only restaurant and hotel people, but even embassy and Imperial Household Agency employees," Niimi explains. The only items they don't sell are those plastic samples that foreign tourists love so much. "We used to, when most of the items were ready-made. Then more and more restaurants began to request specially made samples, so we pulled out of the market".
Finally, Niimi-san leads us through a door and up the stairs all the way to the roof, so we can admire the giant chef's head from close range. "That's actually a copy of my grandfather's head," Niimi explains. "When this store first opened in 1907, my family chose a stylized cook's head as a logo. Then my father inherited the business, and he decided to create a three-dimensional version of the original logo. He chose his father's face as a model, then added the moustache (laughs)". Up close the head is even more impressive, as one can admire all the fine detail. "I heard from my father that it was made by the same artists who worked on Cinderella's Castle at Tokyo Disneyland," Niimi says, "and the face was hand painted. Now it looks so clean because it's just been repainted, but with time it will get a nice tan because of all the pollution".
Jean Derome
Photo: Jérémie Souteyrat