No27 [Cooking] Gyoza with pork, prawn and chives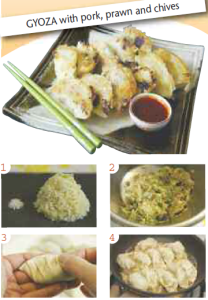 Gyoza with pork, prawn and chives
Gyoza is a kind of pan-fried dumpling that is typically filled with ground pork, garlic, chives and lots of chopped vegetables. They are soft on one side but crispy on the other, making for a totally mouth watering nibble. It is often a bit fiddly to fill the wrapper at first, but you are guaranteed to have fun. My recipe is a slightly original variation with fresh prawns as an additional ingredient, and is perfect to serve with a chilli and soy-vinegar sauce and a chilled drink!
Ingredients:
Serves 2-3
Gyoza llings
● 120g Finely Chopped Cabbage with 1/4 tsp Salt for preparation
● 75g Finely Chopped Chives
● 1 Clove Finely Chopped Garlic
● 1/2 tsp Finely Chopped Ginger
● 75g Ground Pork
● 75g Finely Chopped Fresh Prawns
● 1 tsp Soy Sauce
● 2 tsp Sesame Oil
● 1/4 tsp Ground Black Pepper
● 1/4 tsp Salt
● 1/2 tsp Sugar
● 25 Round Gyoza Skins, 3 to 4 inches in Diameter
● Flour (for dusting)
● 1/2 Cup Water
● Sesame Oil Dipping sauce
● 3 tsp Soy Sauce
● 3 Japanese Rice Vinegar
● 1 tsp Chilli Oil
How to prepare:
1. Mix the ingredients for the dipping sauce in a small bowl and put to one side. Moving on to the filling, start by placing the cabbage and ¼ teaspoon of salt into a bowl and mix together. After 15 minutes, squeeze the liquid out of the cabbage by hand, which will reduce the volume and help enhance the taste.
2. Add all the ingredients for the gyoza into a large bowl and mix them together until they become smooth and sticky.
3. Dust a tray or large flat plate with flour. Place a gyoza skin in the palm of one hand and add about 1 tablespoon of the filling to the centre of the skin. Next, dip a finger in the water and wet around the edge of the skin, before using the index fingers and thumbs of both hands to fold the skin and pinch it together. Place the gyoza on the tray with the folded side up and repeat the process until all of them have been wrapped.
4. To cook, preheat a medium sized, non-stick frying pan over medium to high heat, add a table spoon of sesame oil and lay 12-13 gyoza out in a single layer. Fry for 10 seconds, then pour on half of the water and cover the frying pan with a lid to cook or 4 minutes. Remove the lid, drizzle a little sesame oil over the gyoza and cook for 2 minutes until the skin becomes crispy. There is no need to turn the gyoza over while cooking, so go straight on to repeat the process for the 2nd batch. Once all of them are done, serve immediately with the dipping sauce.