No23 [Travel] Yanaka, an oasis of peace in Tokyo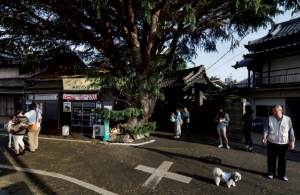 Yanaka has become one of the capital's most popular locations, yet it is still one of the most peaceful. Let's give you a guided tour.
Allan West adds the final touches to his latest work before climbing down from his stage-like workplace and joining us out in the street. The American artist has lived in this neighbourhood for the last 32 years, since his student days, and will be our guide through these narrow winding streets. His atelier sits quietly between Honmyoin's cemetery and a huge beautiful Himalayan cedar, and will be the starting point for our walk. "A property developer has been trying to get rid of the tree in order to build a block of flats," West says. "Of course there have been protests, and tens of thousands of people have signed a petition to save the tree, including many foreigners. This is one of the things that I love about Yanaka. Compared to other Tokyo districts, there is a greater sense of community. Maybe it's because many people who live here have their businesses in this area".
After passing the huge tree and taking a gently sloping street on the left, we arrive at a funky little curry and rice restaurant whose front is decorated with dozens of images and statues of cats. Cats seem to particularly like the area, and we will have a chance to meet many of them during our walk. In front of the restaurant we find the entrance to a very narrow alleyway. "There are many in Yanaka, but this is my very favourite," West says. The winding path takes us past many old wooden houses to Gyokurinji. This Buddhist temple has a statue of Chiyonofuju (one of the most famous grand champions in sumo history) and another very old tree behind it, and if you look at the scene from a certain angle it looks like you are at a mountain temple, far away from Tokyo.
Back on the main street, we turn left again and reach Kinkaido, the shop where West buys the colours he uses for his Japanese -style paintings. Inside there are rows and rows of jars lined up on the shelves. "Two thousand, to be precise," the owner says, explaining that "These natural mineral pigments are especially used to paint Nihonga style traditional paintings". The shop was originally opened by his grandfather and the neighbourhood has somewhat changed in the last 40 years. "The townscape itself hasn't changed as much as the people living here," he says. "In recent years, Yanaka has become quite trendy because it's a quiet place with a lot of history, so more and more young people have moved into this neighbourhood".
On the same street, but on the right side this time, we find another shop, Tanabe Bunkaido, which sells brushes made of hair. "They are mostly used for calligraphy, so I don't buy my brushes here," West says, "but this is actually quite a famous place. The proprietor's father, for instance, used to make brushes for the likes of Miro and Picasso". Those same brushes are on display in the shop window. "This store was opened about 50 years ago by my father-in-law," says the gentle old lady who welcomes us in. "Here you can find some very special brushes, made with hair from different animals, like weasels, squirrels, and a rather peculiar looking one made with the hair of a sheep from China".
Heading back to West's atelier, we next go back in the opposite direction, passing in front of another Buddhist temple, Zuirinji. The temple is closed, but we can admire a beautiful carving just under the eaves: a family of dragons which look like they are playing ball. "They are actually throwing jewels," West explains, "but it's a funny scene, besides being a remarkable artwork". This area is full of temples because the Buddhists believe that evil spirits come from the north north-west, so they established all these temples in order to protect Edo (Tokyo's old name) from their evil influence. On the way to our next destination, we pass in front of Kayaba Coffee, a stylish cafe housed in an old two-storey house. "I've being going there since I was an art student at the university," West says, "This building is one of the things I thought wouldn't survive the area's renovation plan, but as you can see, it's still here and going strong".
On the way to Yanaka Ginza – the area's most popular shopping alley – we pass several shops selling ceramics and other traditional ware, and also the Asakura Sculpture Museum, which has recently reopened after being renovated. "To a Western eye the works housed here may not be the most exciting sculpture because they are just your typical statues," West says, "but Asakura has a special place in the history of Japanese sculpture because he was the first Western-style artist who worked with metal casting. As for me, the best thing in this museum is the gorgeous building itself".
At last we arrive at Yuyake Dandan, the famous steps that overlook Yanaka Ginza. We have timed our arrival perfectly. Standing at the top of the steps, we look down at the busy street just as the sun is setting and the lights are turned on. It's a charming scene, obviously complemented by another big group of cats roaming the alleys.
Jean Derome
Photo: Jérémie Souteyrat